Greeley's Ghost Resides in Marks Hall
Hang on for a minute...we're trying to find some more stories you might like.
Residing in Marks Hall, the Welcome Center aims to give prospective students an informative guide to the Pleasantville campus, although these tours may leave out information; such as Choate House was used as a sanitarium and presidential candidate Horace Greeley died within the walls of the sanitarium.
Horace Greeley (February 3, 1811- November 29, 1872) was an influential American newspaper editor who founded the New York Tribune and also served as a reformer, politician, and outspoken opponent of slavery. However, the fall of 1872 proved to be tragic for Greeley, as he lost his wife Mary Greeley who passed away due to terminal illness weeks before the result of the presidential elections. Greeley ran for Presidency in 1872, but was defeated by Ulysses S. Grant. After his loss, Greeley fell ill and checked into Dr. Choate's Sanitarium.
Built in 1867, the Choate House was constructed by shoemaker Samuel Baker, and would later become the residence of Dr. George C.S. Choate. Later on, Dr. Choate added a wing to the house in order to be used as his private sanitarium for wealthy patients who suffered mental and nervous disorders. It is at this location where presidential candidate Horace Greeley would later check in to due to his illness. Greeley, who owned a farm in nearby Chappaqua, passed away at the sanitarium weeks after check-in.
Later in 1896, Dr. Choate would pass away himself. The sanitarium stayed open for another decade. In 1909, Anne Hyde Choate, Dr. Choate's widow, had a section of the original Choate House moved to it's now present location. Mrs. Choate resided in the house, which was pulled and moved from the original location inch by inch via teams of horses, till her death in 1926. The house would later have different private owners till it became the residence of Wayne C. Marks. An alumnus of the Pace College in New York City, Marks went on to present the residence as a gift to Pace, resulting in Pace open a branch in Westchester. Pace named this building Marks Hall.
"It's a fascinating part of history. We had a national figure die here," Associate University Librarian Steven Feyl said. "We live in a very historical area. It may be a cliché, but if we don't know where we come from, we don't know where we are going in the future. We have come a long way from that small school that resided in just three buildings; this huge expansion with the master plan allows students to understand that they are also part of Pace history; which holds a great historical significance."
Although Greeley's death in Choate House had been described in texts like Mount Pleasant by George Waterbury, Claudine Waterbury, Bert Rui and New Castle: Chappaqua and Millwood edited by Gray Williams; the exact location of his deathbed within the house remained unclear. However, in an article of The Sun dated November 30, 1872; the room in which Greeley passed away in is described as "a large one on the northwest of the first floor of Dr. Choate's house." A small layout of the room is included in the article which shows a large rectangular room housing a fireplace. Looking at Choate House, there are no large rooms located on the northwest side of the house. However, although no blueprints of the original Choate House were found, it can be inferred that Marks Hall use to be attached on the northwest side. As described in Opportunitas: A History of Pace University by Marilyn Weigold, Mrs. Choate "had the sizeable wing her husband constructed moved to its present location [Marks Hall]."
Based off observation, the south side of Choate seems to have old and complicated architecture, while the north side is smoother and appears to be renovated. This then explains the strange sightings in Marks Hall.
"Many years ago, a security guard came up to me one time and said that he saw a mysterious figure on the third floor near where the fire escape is located. He went on to investigate, but no one was there," said Mathematics professor Peter Knopf, whose office resides in Marks Hall. "The joke is that it is Horace Greeley's ghost wondering the building."
Though the ghost stories haven't been proven to be true, the legacy Horace Greeley has left remains to play a significant role in the history of Pace, especially with the 50 year anniversary of the Pleasantville campus. The New York Tribune building, which was home to the newspaper Greeley founded, is now One Pace Plaza and served as the home to the foundation of Pace University. Ironically, he died in the sanitarium portion of Choate House, a building that is now also part of the Pace University.
"I think it is very fitting that there is interest in Horace Greeley at this time we are celebrating the 50 year anniversary at Pleasantville," said history professor Marilyn Weigold, who wrote Opportunitas and served as the university historian. "Greeley was a great reformer and was a person who made a difference in his life time. Here at Pace, there has been an ongoing commitment on preparing students on becoming contributors to their communities in the future. For that reason, I'd like to think of him as a sort of role model for Pace students."
As of now, it seems that Horace Greeley spent his last days residing in what is now Marks Hall. There are two large rooms within Marks Hall that contain fireplaces; however the building has received renovations that make it difficult to determine the exact whereabouts of Greeley's deathbed. According to the Sun article mentioned earlier, his last words include, "I know that my Redeemer liveth—it is done," and also "I died before I was born." Regardless, students can pay a visit to the historical site and also try their chances with running into Greeley's ghost.

About the Writer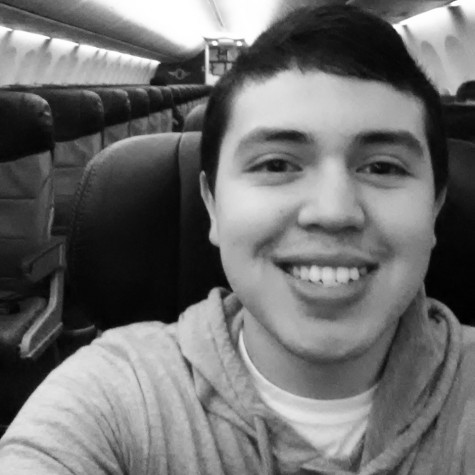 Jonathan Alvarez, Web Editor
All the way from Mesquite, Texas; Jonathan Alvarez studies Communication Arts and Journalism with a minor in Latin American Studies. Jonathan began his...