Pep, Prizes and Setter Pride: Spirit Week Recap
Last week students were encouraged to show their Pace pride by participating in Spirit Week. Happening only the Pleasantville campus, Spirit Week culminates on Saturday, October 26 with the Pace football homecoming game against Bentley at Pace Stadium.
Organized by Student Development and Campus Activites, Spirit Week offered an on-campus event each day of the week leading up to the homecoming game. On Monday, an event was held on Miller lawn to raffle off prizes to lucky students. That same evening, a bingo game was held in Gottesman which raffled off prizes such as an apple watch, a TV, gift cards and more. 
On Tuesday, students were invited to "make their mark" on Pace by writing their names or affiliated clubs on the 2019 Spirit Week banner. Students were encouraged to attend the soccer game happening that night, where the Setters took on Adelphi but ultimately lost in a heartbreaker 2-3 in double overtime.
On Wednesday, tables were set up outside of Kessel for students to partake in "minute to win it" challenges, where they to complete tasks in under a minute to win Pace swag. After that, a mobile food pantry was set up to provide fresh food for anyone in need. 
The volleyball team took on Le Moyne on Thursday but lost in three sets after a well-fought match. That same night was the annual Step'n'Stroll competition in Goldstein Fitness Center where students stepped and strolled to big prizes. 
 On Friday, homecoming weekend started off with a volleyball game against Assumption. That night, the annual Pace Spirit Parade saw hundreds of students march their way to the bonfire in parking lot D, where they kicked off the homecoming pep rally. Students enjoyed food and music, the fall sports teams were announced and the 2019 Homecoming Royalty were introduced. 
Erika Schmid, the Coordinator of Student Affairs, said the hope of spirit week is to generate excitement for homecoming and have everyone show their Pace pride.
"We feel it is a great way for faculty, staff, and students to show their Pace Pride and support for one another," Schmid said. "Our hope is that the student body will take part in some of the extra activities we have to offer and be proud of the different clubs, organizations and athletic teams they are a part of. We would love for students to continue to get excited about Spirit Week to help build new traditions to get excited about."
Supporting sports teams and organizations on campus is another hope for Spirit Week. Getting people excited during the middle of the semester, while midterms are happening, can be a challenge. Schmid hopes to continue getting the Pace community involved and making traditions that will last for years to come. 
"Spirit Week is new so some students have been curious why we are doing a Spirit Week," Schmid said. "The feedback has been positive and we have encouraged students to share with their friends to continue to spread the word. We hope to make this an annual tradition at Pace where we can get more student feedback to improve each year."
About the Contributor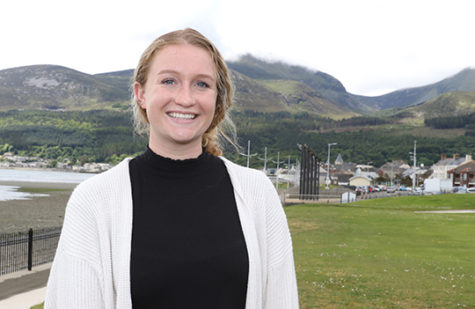 Alexis Nieman, Media Editor
Alexis is a junior Communications major and Public Relations minor. At Pace I am the News Editor for the Chronicle and a member of Entrance One PR club....