U.S Customs and Border Patrol Controversy
On October 17th, Pace University students received a message on Handshake about an online "webinar" with U.S. Customs and Border Patrol (CBP) to recruit students and learn about career opportunities.
This announcement raised many questions in the NYC student population. Majority felt that inviting CBP to interact and recruit at Pace juxtaposes University beliefs and ideologies of safety and acceptance. Students in the Pace NYC Student Government Association (SGA) and the club Political Science Society (PSS) released statements to Career Services and the University which expressed their concern and disdain with the webinar. 
PSS students, in their letter to the University, wrote:
"There is no doubt when it comes to the questionable behaviors of those who work on the U.S-Mexico border. Unfair and cruel detainment of children being one prominent issue…Many students believe that by holding this event, Pace University is being compliant with these issues."
PSS goes on to say that CBP has issues that are "rooted in institutionalized and systematic racism and the rhetoric of dehumanizing immigrants." Several people at Pace NYC told PSS they would not show up to school if CBP were present on campus out of fear. PSS and SGA called for the event to be canceled. Frustrated students began commenting on Instagram and Twitter, tagging President Krislov, Career Services, and starting the hashtag #PaceisComplicit. 
Dean of Students in NYC, Marijo Russell-O'Grady, and Chief Diversity Officer, Tiffany Hamilton, replied to students in a post that was shared on Instagram. They acknowledged the discomfort the webinar may have brought students, and encourage anyone who felt concern for their safety to reach out to either one of them. 
A statement released by Provost Vanya Quiñones addressed to the Pace community stated:
"In inviting various employers or organizations to speak to our students—whether through Career Services, school deans, student organizations, or Development and Alumni Relations—Pace University is not making political statements in support of a particular administration or company. We are simply giving students a chance to learn more about career paths that might interest them."
Knowledge of this webinar was not well known on the Pleasantville campus. Pace Pleasantville junior Emiliana Hokr believes it is a touchy subject for students. 
"I think Pace has a very diverse population," Hokr said. "We have a lot of students of Hispanic descent, including myself. The main goal for Pace and career services is to promote jobs and opportunities for students. I think its more of an ethical thing."
Despite the backlash, the webinar is still posted on Handshake and will be continuing as planned. On October 29th, CBP will host "Individuals with Disabilities Recruitment", and on the 30th, they will host a "U.S Border Patrol Recruitment".
About the Contributor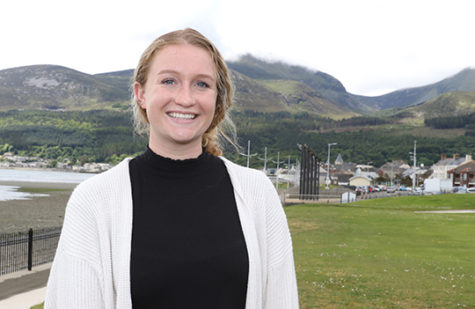 Alexis Nieman, Media Editor
Alexis is a junior Communications major and Public Relations minor. At Pace I am the News Editor for the Chronicle and a member of Entrance One PR club....