Redefining Pace: The rebranding process underway   
Pace partnered with Mindpower, a strategy and branding execution agency, and is currently in the first and most crucial phase of it's rebranding process.
Over the summer, University Relations carefully selected Mindpower after sending out requests to three different branding agencies. Once Mindpower was selected, qualitative (textual research) and quantitative (numerical research) was conducted to capture the perception of Pace.
Several surveys were sent out to Pace students, faculty and staff to gather information with an excellent response rate. Leila Franchi, the Interim VP of Marketing and Communications for University relations, is ecstatic at the response rate and explains that it shows how much Pace constituents care about the university.
"It is clear that the Pace community, including students, faculty, staff, alumni, and leadership, is invested in the process and outcome of this branding initiative," Franchi said. "This has been a truly collaborative process, and I thank all of those who are participating."
Franchi expressed that Pace is due for a formal rebranding. The budget for this project was approved and prioritized as something that is important for the university. It is seen as a way to effectively reach the next generation of Pace students.
"Pace has an impressive story to tell," Franchi said. "I am excited that this rebranding will identify the positioning language and creative execution that are authentic to Pace and tells the story in a distinctive way that sets Pace apart from other institutions."
Achieving this positive reputation is one overarching goal of this initiative, but there are several objectives Pace hopes to hit along the way.
For marketing purposes, consistency is key. By the end of this process, all of Pace's messaging will be uniform. Everything from social media posts to videos to written letters will be consistent and line up with Pace's values. Pace's voice and visuals should be consistent so that they are recognizable to the external community.
Another objective is to create relevant and customizable messaging. Every school and college at Pace promotes their individual brands, but the goal is to have all of their messages in line with Pace's values.
"Pace's mission is to cultivate student success and it's something that this University has been successful at for more than 100 years," Franchi said. "A critical part of telling the Pace story is its brand."
The timeline of the rebranding process is well on its way and changes will be made visible soon. In a few weeks, the research findings will be returned and University Relations will continue to work with Mindpower to come up with strategies for possible brand concepts. Around February, the 'brand expression,' or big reveal, is set to take place.
Other decisions, like changes to the website and creation of videos, will be made early in the spring semester. By next fall, the changes will be obvious and Pace will be completely rebranded.
"This undertaking will demonstrate to the external community and to prospective students that the Pace University brand and mission are strong," Franchi said. "I think that is so important to the success of everything we do here."
About the Writer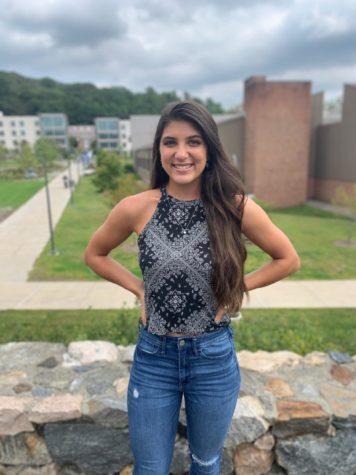 Christina Bubba, Editor-in-Chief
I am a senior Digital Journalism major with a minor in Public Relations. On campus, I am Editor-in-Chief of the Pace Chronicle, captain of the Cheerleading...