Experience of a lifetime in ten days: Faculty-Led Abroad in Costa Rica
Hang on for a minute...we're trying to find some more stories you might like.
Gaining the experience of going on a study abroad trip without having to actually leave the country for several months, is one of the major appeals of Pace's faculty-led study abroad program. The program, which takes students to places like India, China, France, Finland, England, Ireland, Spain and one of the most popular destinations, Costa Rica, takes students on trips for approximately ten days. These shorter trips are jammed packed with experiences to last a lifetime. 
One of the most recent faculty-led trips took place during winter break. The destination was Samara and San Miguel in Costa Rica. The class was ENG 223F, Writing About Cultures, led by Dr. Jane Collins, an English and modern language studies professor. The class was taught online during the Fall 2019 semester, and came to fruition with a ten-day trip to Costa Rica, where students were able to explore the jungle, hike to waterfalls, learn how to make traditional pottery and so much more. 
One of the most prominent things the class did, however, was volunteer at a local children's organization in Samara. Students interacted with less-fortunate children and did activities such as creating small science projects, playing games with them and teaching them things. 
Alex Jareck, a junior Public Relations major, was one of the students who was in Writing About Cultures and traveled to Costa Rica.
"​I definitely enjoyed the trip," Jareck said. "I chose faculty-led because of the length of the trip. I, personally, feel I would not be very successful had I studied abroad for an entire semester. I am a homebody and would most definitely get homesick. The faculty-led study abroad was a great opportunity because it satisfied my want to study abroad without keeping me too far from home for too long." 
Along with Jareck, there were twelve other students on this trip; eleven other girls and one boy. Only three of the students were from the Pleasantville campus, with the rest from the city campus. 
"​My favorite thing during the trip was how much it didn't​ feel like study abroad," Jareck said. "Although we had to write blog posts and volunteer at an organization, I didn't feel like I was fulfilling requirements. Every day I did something new. I bathed in a hot tub heated by a fire, hiked into a volcano to see a waterfall, zip-lined across a different volcano, watched three turtles lay eggs, went surfing, was woken up to the sound of howler monkeys every morning, and ate the most incredible food I've ever tasted. This did not feel like I had an obligation to do something. Even volunteering at CREAR, I woke up every morning excited to see the children I had made connections with. I am extremely happy I took this opportunity."
The other trips that took place during winter break were Brussels & London, Italy, and Singapore & Malaysia. 
About the Writer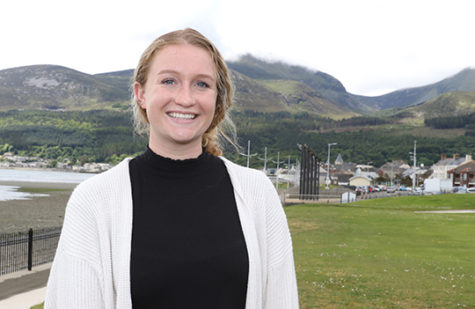 Alexis Nieman, Media Editor
Alexis is a junior Communications major and Public Relations minor. At Pace I am the Media Editor for the Chronicle and a member of Entrance One PR club....