Out of toilet paper? Here are the real reasons people are 'panic-buying'
There are a few situations that truly capture the desperation of the human race. A worldwide pandemic is one of those situations. People are rushing to grocery stores to stock up on things in case we all need to bunker down in our houses for the next month. Unfortunately, this "panic-buying" as it has been called, leaves many people out of the essential items that they may need. 
Face masks and sanitizer were the first to go, followed by disinfectant wipes and Lysol spray. Then, many types of frozen foods, pasta, soups and finally- toilet paper. Major grocery retailers such as Wegmans, Walgreen and Walmart have announced policies to "limit sale quantities that are in unusually high demand", and cut store hours in order to have the chance to clean and restock. News outlets and social media have been flooded with pictures of empty shelves across the country.
Last week, President Trump stated in a press conference that executives from major grocery firms urged him to tell Americans to avoid panic-buying. 
"You don't have to buy so much," Trump said. "There's no need for anybody in the country to hoard essential food supplies."
There are multiple reasons why people are stocking up way more than needed, even when retailers and government officials are urging them not to. One reason is that people want to have a sense of security, or "take back control" in an uncertain situation that changes daily. There is comfort in knowing that you and your family have food and supplies that will last a while. 
Another reason is something called a "fear contagion." A worldwide pandemic is incredibly stressful for many people. During a stressful time, people tend to look at what others are doing. If they are stockpiling and panic-buying, you most likely will do the same. Empty shelves in grocery stores also can trigger panic-buying, because it tells you that other people are buying in bulk. 
Additionally, receiving or seeing conflicting messages from the Center for Disease Control (CDC) and the government will entice panic and cause confusion. This past Sunday, Dr. Anthony Fauci, the director of the National Institute of Allergy and Infectious Diseases, warned that the US could soon face a similar crisis as Italy if Americans do not fully participate in self-isolation and social distancing. According to an article by CNN, when Fauci was asked whether hundreds of thousands of Americans could die, he said: "It could happen, and it could be worse." Later that same day, in a White House press briefing, Trump stated that: "It's a very contagious virus. It's incredible. But it's something we have tremendous control of."  However, public health experts, such as Fauci, say that the virus isn't even close to being contained.
 "The worst is yet ahead for us. It is how we respond to that challenge that is going to determine what the ultimate endpoint is going to be. We have a very, very critical point now," Fauci said.
This type of contradiction from two authorities confuses and causes more panic for people who are trying to figure out how to handle the situation.
In one of the most infuriating news stories in the nation, the New York Times reported on Matt and Noah Colvin, brothers in Tennesse who traveled about 1,300 miles in a U-Haul truck to buy out stores across the state of hand sanitizer and disinfectant wipes. During their road trip, the Colvin brothers have amassed around 17,000 bottles of sanitizers. Matt Colvin immediately began selling sanitizers on Amazon and eBay and sold 300 bottles that were priced between $8 and $70 each within the first day of being listed. The next day, Amazon and eBay suspended their account for price gouging. After huge backlash from people across the nation, who accused them of profiting off of the pandemic, Matt and Noah Colvin have decided to donate their remaining stockpile to churches that will distribute it to those in need. 
The bottom line is that there is no need to panic-buy. There is no need to price gouge. While it is important to purchase things you and your family may need, buying essential items like toilet paper in bulk leaves other people scrambling. Many people cannot afford to buy in bulk and are left in the dust. In the words of activist Coretta Scott King:
"The greatness of a community is most accurately measured by the compassionate actions of its members."
About the Contributor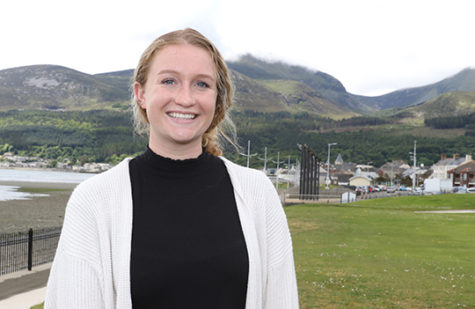 Alexis Nieman, Media Editor
Alexis is a junior Communications major and Public Relations minor. At Pace I am the News Editor for the Chronicle and a member of Entrance One PR club....