Coronavirus outbreak causes uncertainty in soon-to-be graduates
As graduation approaches, seniors may have to alter their future plans due to the global pandemic
Total nonfarm payroll employment–goods, construction and manufacturing companies–fell 701,000 in March due to the coronavirus outbreak. This drop in employment has potential to affect graduates as they search for their first long-term position.
"What is important during this crisis, is to keep applying and keep engaging with employers," Director of Career Services, Paula King said. "Even if some employers are on a hiring 'pause'," they will remember your interest when it is time to hire again."
For senior health science major Vincent Simpson, the pandemic has already affected his future plans which were vital to getting into graduate school.
"My plans for post graduation have altered since now I have to put my apartment hunt on hold," Simpson said. "I originally planned to take two summer classes to fulfill a prerequisite requirement of a grad school program I was interested [in] but now I'm in a state of uncertainty since in-person classes will still be, theoretically, suspended."
Although it may be more difficult to pursue a job in certain industries at this time, according to King, there are increased opportunities in health care, consumer products and technology. She also expressed that there are ways to find remote positions nationally and globally.
"Our employer relations team has relationships with companies hiring all over the greater NYC area and beyond," King said. "We are developing opportunities in real time throughout this pandemic, to bring you the most current job openings, identifying opportunities that are just right for our students, including remote work."
Career Services' prior experience with virtual operation allowed them to transition to online platforms with ease so students could continue to book appointments through Zoom, Skype for Business and Blackboard Collaborate. All of their services are still available and they are also offering virtual employer events for students. They recently launched a new initiative to connect parents to job opportunities if they have been laid off due to the coronavirus outbreak.
"While the pandemic has impacted the job market, some of that impact creates opportunity," King said. "Our job search strategies are agile, we know how to adjust to changes in the market with the advantage of numerous employer relationships."
Their employees, including student interns, are able to continue their jobs from home. Liz Fontanelles, a sophomore student assistant for Career Services, has been working from home and offers advice to graduating seniors.
"Don't forget to take care of yourself and prioritize your mental and physical well-being during this really stressful and uncertain time, and remember that this is all temporary," Fontanelles said.
Since Simpson's original plan for his future may be put on hold or change, he is taking each and every day one at a time.
"I'm just taking things day by day, keeping myself sane by reading, completing schoolwork, working out, cooking new things and binge watching bookmarked shows on Netflix as everyone else is really," Simpson said.
About the Writer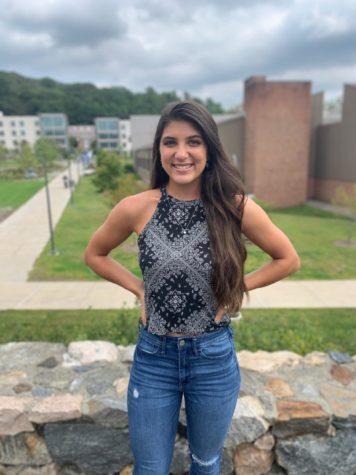 Christina Bubba, Editor-in-Chief
I am a senior Digital Journalism major with a minor in Public Relations. On campus, I am Editor-in-Chief of the Pace Chronicle, captain of the Cheerleading...