Setter Spotlight: Freshmen Record-Breakers Annabell Keppel-Palmer and Sophia Howard
Kwadar Ray, Managing Editor
March 24, 2018|60 Views
Hang on for a minute...we're trying to find some more stories you might like.
Freshmen Annabel Keppel-Palmer and Sophia Howard burst on to the swimming and diving scene this season with performances that earned them a trip to the 2018 NCAA Division II Swimming and Diving Championships earlier this month in Greensboro, N.C.
The two first-year athletes may have been unknowns to the NE-10 and Division II athletics before the season began, but Coach Dan Allen saw their potential, which led him to inform both he expected them to make the Swimming and Diving Championships.
"When coach told me he wanted me to make the NCAA [Championships], I was like, 'What? I don't think so. That's probably not going to happen,'" Howard, a biology major, said.
Despite initial skepticism, the pressure to produce instantly did not obstruct Howard or Keppel-Palmer's natural instincts and they remained disciplined with their crafts.
Keppel-Palmer and Howard's relentless assault on the record books were acknowledged and praised throughout the season. Among multiple accolades, Keppel-Palmer was named the NE-10 Rookie of the Week eight times and Howard was named NE-10's Diver of the Week five times.
The several awards both swimmers won is remarkable, especially for freshmen. However, Howard's performances this year were especially unique considering she was a late bloomer to diving, as her primary focus was on gymnastics until her senior year in high school.
"I was doing gymnastics since I was four, and when I was younger, I thought I was going to the Olympics," Howard said. "Gymnastics taught me to be obedient and that kind of paid off and carried over to my diving career."
Similar to Howard, Keppel-Palmer was a multi-sport athlete as well. She was a ballet dancer for years in the United Kingdom.
"I suppose my mom saw I liked tutus and she decided to sign me up for ballet," she said. "I fell in love with it. It was very disciplined, and I had a very strict ballet teacher and she taught us how to be a perfectionist. I really enjoyed watching ballet from a young age and I watched the older girls do difficult stuff and I aspired to be like one of them."
However, Keppel-Palmer had to choose either ballet or swimming, as both were asking for multiple hours of commitment.
"It was a very hard decision, but I'm happy I stuck with swimming," she said. "Sometimes I do think about what life would be if I stuck with ballet, but I would not have met the friends I have today, and I would not be here at Pace."
Howard did not have the privilege to decide between the two sports because she tore her ACL three times and had to give up gymnastics, a sport she initially planned on going to college for. Instead, Howard joined her high school's diving team her senior year and soon earned a scholarship from Pace.
Despite neither athlete still being involved in the sports they began as toddlers, they see a correlation between them and swimming and diving.
"Both were individual sports, and that mindset of doing your own thing carried over to diving," Howard said. "I trained really hard, tried my best and always pushed myself, and gymnastics helped me with that."
"With learning how to do ballet and having that discipline, I can channel that into everything I do now," Keppel-Palmer said. "I use that discipline to the best of my availability and with swimming I know even if there is a set that I really do not want to do, I know it is going to help me in the future and I get to push myself. I think that's how it correlates with swimming."

About the Writer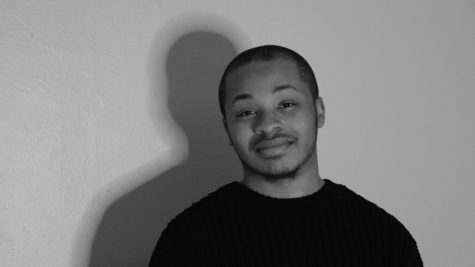 Kwadar Ray, Managing Editor
My name is Kwadar Ray and I am a senior digital journalism major at Pace. Since I was 13, I knew I wanted to, and ultimately had to, work in the media...