$2 million Athletic Gym AKA Ianniello Fieldhouse exclusive to athletes
Student athletes at Pace have duel access to both on campus gyms. They have access to the Goldstein Recreation Center like the rest of their peers, along with  exclusive access to the Ianniello Fieldhouse, which was designed specifically for student athletes.
The Fieldhouse was funded by Pace graduate and former football player Joseph Ianniello. Ianniello, the CBS Corporation Officer, gave $2 million to turn the fieldhouse into a reality. The Ianniello Fieldhouse is primarily where athletes complete team workouts, although there are open hours that vary each week.
"I prefer to workout in Goldstein because I like having conversations in between sets and taking my time," senior football player Brenton Elon Demarquez Allen said.
The other gym, Goldstein Fitness Center, is open to all students from 6 a.m. to 11 p.m. Among the many amenities offered at Pace, the gym is one of the free facilities students have access to.
The Ianniello Fieldhouse, which was built in January 2016, is a 14,010 square-foot athletic facility. It has a strength and conditioning room, locker rooms and offices for coaches.
The strength and conditioning center is located on the second floor of the building. It is approximately one-fourth the size of the Goldstein Fitness Center and it does not have any cardio machines.
"I prefer Ianniello because, though Goldstein has an amazing view of the baseball field, the equipment I use in my workouts are easily accessible and I never have to wait for weights," senior baseball player Felix Camacho said.
Ianniello Fieldhouse was built as part of Pace's master plan to consolidate the Westchester campus with the Briarcliff Manor campus. Before the Briarcliff campus closed, many of Pace's athletics teams practiced and played there. Football and men's lacrosse practiced at Briarcliff; women's lacrosse, soccer, and softball both played and practiced on that campus.
"Ianniello was built as a way to to replace what we had in Briarcliff, but also as we started to add more residents on this campus, try to free up the Goldstein rec center gym for our student population," Mike Winn, assistant director of athletics, said.
The Briarcliff campus offered several athletic facilities, including: coaches' offices, a training room, locker rooms, and a weight room for varsity athletes.
Athletic teams do utilize the Goldstein Fitness Center for their team workouts when they involve cardio, or when Ianniello Fieldhouse is overbooked. The open hours that Ianniello Fieldhouse has are for student athletes who cannot attend or do not have team workouts. The equipment slightly differs in both facilities, as the Ianniello Fieldhouse is geared towards athletic training.
"It has dumb bells that go up to 125 pounds, so it can allow you to test your strength more than in Goldstein," Camacho said. "The 30 yards of turf also is a positive as it allows athletes to sprint, and do many other workouts that utilize this area."
There is a strength and conditioning coach that works in the Ianniello Fieldhouse who is there to train teams as well as help individual athletes.
About the Contributor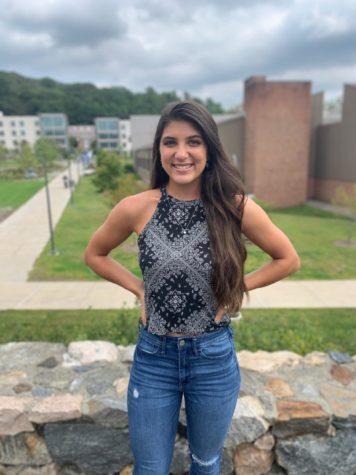 Christina Bubba, Editor-in-Chief
I am a senior Digital Journalism major with a minor in Public Relations. On campus, I am Editor-in-Chief of the Pace Chronicle, captain of the Cheerleading...