From Student to Star: Pace Alumna Cheers for Miami Dolphins
Carina Francisco was just another member of the Pace dance team in 2009, majoring in education with the hope of someday working with children. She is far from the classroom now, though, following a career path that certainly did not seem likely a decade ago.
Growing up, Francisco always loved sports and would attend professional basketball and football games. However, she was most intrigued by the dancers on the sidelines. She knew that she wanted to be just like them, so at 16 Francisco began taking dance lessons. Once she discovered her passion for dance, there was no going back.
She spent much of her collegiate life learning about herself. She turned to her professors and advisors to guide her in the right direction, which meant changing majors halfway through.
"I ended up changing my major to media and communications, and through that, I got a couple of internships," Francisco said. "I spent much time discovering myself at Pace, which I thought was helpful."
Her first internship was with The Wendy Williams Show, working in production. That first step helped Francisco learn that she genuinely wanted to work in the television production industry. Her next internship was with Viacom and MTV, and eventually, she landed a job as a technical recruiter, which she despised. She couldn't help but long for the life behind the television screen.
"It made sense because when I was younger, I liked recording myself speak," Francisco said. "I would always pretend I had my own radio show, but it was all just fun and games then."
Throughout each of these experiences, she committed auditioning for NFL and NBA dance and cheer teams. She trained with the Pace dance team and took classes in New York City to learn and master more skills and techniques. She eventually began taking preparation classes for NFL and NBA teams.
While she was studying to receive her masters degree at Pace, Francisco auditioned for the New York Jets cheerleading team twice before getting tired of hearing "no." She would make her way to finals, but always get cut at the last second.
"I was just running around like a chicken without a head auditioning for agencies, NFL teams, NBA teams, and I even went to Philadelphia to try out for the Sixers," Francisco said. "I felt like 'no' was my second language. I just learned to be a little tough-skinned because not everything is handed to you; you have to work hard for it."
She began researching other teams outside of New York and came across the Miami Dolphins. The Dolphins prides themselves as an NFL that cares a lot about the people in their organization and spend a lot of time and effort helping out the South Florida community. They also teach kids clinics, which fell in line with Francisco's love of helping kids. It was a perfect fit.
"I booked a one-way ticket, and I hoped I didn't come back. Craziest thing I've ever done," Francisco said.
She arrived in a completely new dance scene; women of all different sizes, shapes, and backgrounds were auditioning alongside Francisco. She knew that this was where she belonged. The auditions were a two-week long process, and at the end, they called the names of the girls who continued. Her name wasn't called.
"It was one of the biggest heartbreaks because I was all-in," Francisco said. "I put my heart out on the line."
She moved on to her fourth year of auditioning. She trained harder than she ever had before. Francisco auditioned once more for the Dolphins, but this time her name was called. Her years of tireless work paid off, and she cheered for the Dolphins for two years.
"To be a Dolphins cheerleader is also being an ambassador to the team and a role model," Francisco said. "It was everything that I thought it was going to be and more, and the best part is that they value their cheerleaders. I feel grateful that they cared about my life after cheer."
Her experience as a cheerleader for the Dolphins was fulfilling. She represented an organization she was proud of while doing what she loves. The 2014 Pace graduated bonded well with her team and considered them to be like her family. Not once did she ever lose the excitement that she had the very first game.
"When they first announced, 'Now let's welcome your Miami Dolphins cheerleaders,' I couldn't believe that was real life," Francisco said. "I felt that every single game and never wanted to let it go. I still get goosebumps talking about it."
The Dolphins staff inquired about what Francisco wanted to do after she stopped cheering, and she professed her love for the television industry. She had experience at The Wendy Williams Show, Fox 5 News and Viacom, so they considered her to be extremely qualified for a position in the Miami Dolphins production team. Now, Francisco has a full-time job working as an associate producer. But as great as it it is to live under the Florida sun, she doesn't see her staying there forever, though.
"I love Florida, but I'm hoping to be closer to my family," said the Yonkers-native. "I will move for my career, and I realize things can change whenever. I'm hoping that within five years, I find myself on camera or off-camera. I would love to be more in pop culture news. That for me is so fun."
Francisco is thankful what Pace and its professors have done for her. She believes that without their help, she may still not have found her path.
"Not everyone's journey is the same, and that was the hardest thing to accept," Francisco said. "There's no right way to do it. Professors in the industry showed me that there is no specific way, but you have to keep working hard."
However, today she says is working for a supportive organization with whom she feels deeply connected. Some days involve staying home and working through her laptop, while others consist of shooting the players to showcase their personalities. Francisco's now able to use all that she's learned at Pace, through both the dance team and media and communications department, to create her path.
About the Contributor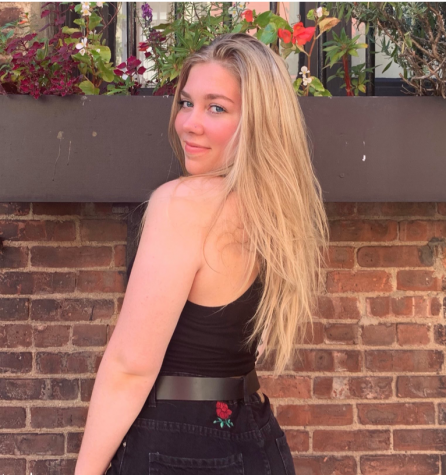 Sequoia Cumming, Editor In Chief
Sequoia Cumming is an honors-level junior majoring in Digital Journalism and minoring in Sports Media and Broadcasting. While starting as a contributing...