THE 55th GRAMMYs
Sunday night was filled with glitz, glamour, and talent as the 55th Grammys took place on CBS. Both familiar and new faces were at this year's music award ceremony. From red carpet to the seats, the artists took center stage on the biggest night of music. However, this year Grammy officials decided to take a new approach.
The network officials sent out a wardrobe advisory via e-mail to the stars. The memo addressed the modesty of outfits the expectations for the ceremony dress code.
"Please be sure that buttocks and female breasts are adequately covered. Thong type costumes are problematic. Please avoid exposing bare fleshy under curves of the buttocks and buttock crack. Bare sides or under curvature of the breasts is also problematic. Please avoid sheer see-through clothing that could possibly expose female breast nipples. Please be sure the genital region is adequately covered so that there is no visible 'puffy' bare skin exposure."
Although the memo did cause stir before the award show, all was forgotten as talents took stage performance after performance.
The opening act consisted of Taylor Swift's "We Are Never Ever Getting Back Together, with an Alice in Wonderland theme with a circus act twist.
Once things kicked off, other performers took the stage which included an Ed Sheeran and Elton John duet performing "The A-Team."
Pitbull, Jennifer Lopez, and her revealed leg took center stage to announce Adele's Grammy win for Best Pop Solo Performance with "Set Fire To The Rain [Live]."
""I loved Adele, I love the way she presents herself," freshman nursing major Katrina Villacorta said. "I didn't like the way JLo was dressed, she isn't Angelina Jolie, and she can't pull that off."
Fun.  performed their song, "Carry On," with a performance that utilized rain to add to the performance. Miguel and Wiz Khalifa gave a quick, but fun performance, while Rihanna and Jack White opted for a more emotional ballad, "Stay."
"Rihanna dressed very nice," freshman marketing major Imerlyn Vnetura said. "Although she may not be the best live performer."
Justin Timberlake reentered into the music game with his double performance which included his new single, "Suit and Tie," which featured Jay-Z and an ensemble of backup singers and live band.
"I'm excited, but I'm not sure how I feel about Timberlake's new style," Ventura said. "I liked him better in pop, rather than R&B."
Other performances included Alicia Keys and Adam Levine singing "Girl on Fire," Mumford and Sons "I Will Wait,' a tribute performed by Kelly Clarkson, a lively Black Keys performance of "Lonely Boys", an entertaining and passionate Jack White act, and a visually and vocally stunning Carrie Underwood performance.
""Carrie Underwood's dress visually enhanced the performance," Villacorta said. "The way the lights created patterns and designs on her dress was great."
A Bob Marley tribute included the talents of Bruno Mars, Sting, Rihanna, and Ziggy Marley that was well received by a crowd that sang and danced along to the performance.
"The Bob Marley Tribute was a great performance," Ventura said. "It was a great collaboration."
An emotional and touching Levon Helme tribute was sung by multiple artists and Frank Ocean had his first Grammy performance as he gave a visually interesting show, but a questionable vocal performance as he sung "Forrest Gump".
"I love Frank Ocean, he's beautiful and has great music," freshman nursing major Jordan White said. "I thought he did well, it was obvious he was nervous though."
Record of the Year went to Gotye's "Somebody That I Use to Know," as did Best Pop Duo/Group Performance with featured artist Kimbra. Gotye also won Alternative Album for Making Mirrors.
Fun. took home song of the year with "We Are Young," including Grammy award for Best New Artist.
Kelly Clarkson's Stronger won Best Pop Vocal Album.
Skrillex won Best Dance Recording with "Bangarang," which featured Sirah. Skrillex also took home Best Dance/Electroncia Album.
Mumford and Sons won two awards, including Album of the Year for "Babel."
Black Keys walked away with the four awards, including Best Rock Album.
Frank Ocean's Channel Orange won Best Urban Contemporary Album and Best Rap/Sung Collaboration for his work on "No Church in the Wild" with Jay-Z, Kanye West, and The Dream.
The Show concluded with a performance cut short due to timing by host LL Cool J.
"Above all, I appreciated how they paid respect to the music teachers." Ventura said. "A lot of people forget about music teachers, and they play a vital role in the creation and growth of musicians."
About the Writer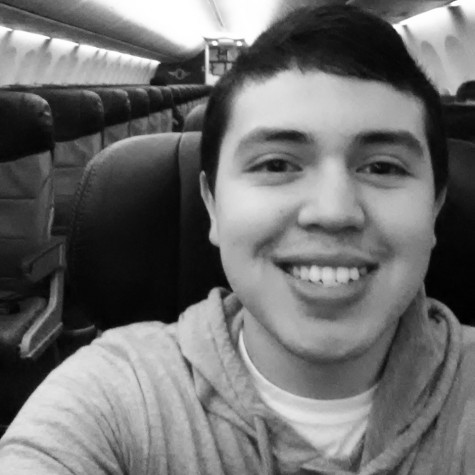 Jonathan Alvarez, Web Editor
All the way from Mesquite, Texas; Jonathan Alvarez studies Communication Arts and Journalism with a minor in Latin American Studies. Jonathan began his...