Pace Alumni Offer Advice at Communications Event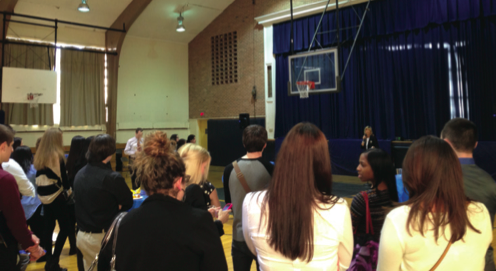 Public Relations Editors and Producers (PREP) student organization and the Media Communications and Visual Arts department hosted the annual Connections in Communications event in the Willcox gym on Tues. April 8.
The event started 14 years ago under the direction of associate professors Maria Luskay and Michelle Pulaski Behling of the department. It served as an opportunity for current students to network and acquaint themselves with alumni from Pace's communications and media program.
"Students hear from alumni with real life experience and learn about their field. It's not a text book, it's a bit more intimate," media and communications graduate Tamara Bonet said.
Victoria Alegria, a junior communications and media major and member of PREP, said the event used to be a panel, but now students get to talk to the alumni personally. The opportunity for a one-on-one talk was the highlight of the event because students can talk to people with the jobs that they want, according to Luskay. Pace undergraduates received advice and information from the alumni that they can use upon graduation.
Pace alumna Michelle Birch said the event allows students gain a perspective on the media and communication industry.
"Do as many internships as you can; it's not only about what you want to do for your career, find out what you do not want to do," Birch said. "Your most important network is right here at Pace, with professors, staff, and fellow students."
Samantha Bassford, who graduated from Pace in 2012 as a dance and communications major, felt that the University's media and communication department is already a great resource for students.
"The [communications] program as a whole prepares you for the field," said Bassford, who currently interns at Maria Fareri Children's Hospital at Westchester Medical Center. "Employers are surprised by Pace students' skill-sets and work ethics."
Alumna Tarah Aponte, who works for Dressbarn's corporate office, said Dr. Paul Ziek, a professor in the department, played an important part in her attaining an internship in New York City while attending Pace. Additionally, the stories shared by the alumni provided students with a context of what they can do within their fields and where job opportunities may be hiding.
"Just because you are in communications does not mean that you have to stay within the field," Pace alumna and former Coordinator of Student Development and Campus Activities (SDCA) Caity Kirschbaum said. "You can go as far with it as you want to."
Among the alumni who attended the event was Jonathan Quartuccio, who during his undergraduate years changed the school's newspaper from a monthly to a weekly circulation. Quartuccio, who now works as an editorial supervisor for NBC Sports, advised students to get involved in campus and take advantage of every opportunity presented.
Some of the most common advice that alumni gave was for students to take every internship and job opportunity that they may be offered, remember names and send thank you notes and be willing to help with everything; even those things outside your position.
Alegria said that this year the attendance doubled, and that PREP and the media and communications department are considering running a smaller version of the event during the fall semester.