Jasper Brooks: A Game Changer
Jasper Brooks, a West Coast native, is a senior digital cinema and filmmaking major with a minor in Women and Gender Studies here at Pace. He made the big leap of coming to the East Coast for a chance to dive further into one of his passions, film.
"Realistically, I had two choices; go to a school out in California or New York," Brooks said. "Both coasts have great colleges that offer film studies but I wanted to change my surroundings completely so New York was a no-brainer." 
Aside from the fast-paced lifestyle, Brooks adjusted well but he made sure to mention the huge difference in cultures; New York compared to his hometown in Phoenix, Arizona.
"Back in Phoenix everything is laid back and relaxed, coming out here there's a lot of pressure to get things done rapidly while making sure it's of quality, so I always have to be on point," he stated.
For a perfectionist like Brooks, making sure all of his work is of quality is a habit he's always had. Going back to his high school years, he was heavily active in the theatre club; making sure he was at the top of his game was a must. Dating back even further, when he was a child being booked to do commercials for various brands like Flintstones, he always had a certain level of perfection he needed to achieve.
When it comes to his work now, his scripts are his "babies," making sure he nurtures them and sculpts them into his version of a flawless masterpiece is a process that he says can take years.
"There's one piece that I've been working on for almost six years now, it's very important to me because I want to make sure I execute my vision perfectly," Brooks stated. "Sometimes it's harder for me to write out a script instead of just explaining it visually." 
As someone that enjoys love and joking around, Brooks' preferred genre in film is romantic comedy.
With hopes of one day owning a production company, producing and directing a variety of romantic comedies along with other films is the ultimate goal for Brooks. His main goal, specifically, will be giving queer people of color a chance to showcase their art through his company. As a young, black trans man, he knows what it feels like to be an outcast, and not having an outlet to display his talent because some people are not receptive to him, but he doesn't let that stop anything.
"At this point, I just do what I do without focusing on what society thinks of me," Brooks said. "My work will speak for itself and that will hopefully open doors for me, creating a new lane that's so desperately needed in this industry."
He passionately continued on, explaining that he will never bend for anyone who negatively views him due to his gender identity because their opinion is just that, an opinion.
Filmmaking is huge part of Brooks life; it's his passion. Creating stories in his own unique way will be the driving factor in breaking down barriers in a industry he believes needs diversity.
About the Contributor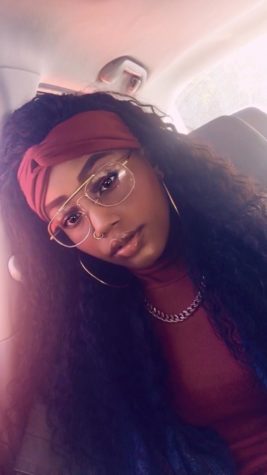 Nigeria Belizario, Contributing Writer
I am Nigeria Belizario, a Junior at Pace and I am pursuing a degree in communications. Ever since I was a little girl, I have had a passion for writing....