Environmental Museum to be Converted into Lab; Students Begin Petitioning
Pace's Marty McGuire Environmental Museum will be converted into a lab for the environmental department due to academic reasons, according to the Dean of Dyson College of Arts & Sciences Nira Herrmann, and has provoked emphatic student petitions.
President Stephen Friedman and Provost Uday Sukhatme mandated that of all of Dyson's Institute for Sustainability and the Environment activities be incorporated into the curriculum, according to Senior Associate Dean of Dyson Richard Schlesinger.
The museum space will be converted into a lab for environmental studies majors to store portable field equipment and other necessary research tools in and out of class. It will not become an office for one-of-three new environmental faculty members and is exclusively for students.
"In order to really provide [students] with the kind of hands-on experiential learning, that is part of Pace's new initiative with the Pace Path, we really need to have a lab facility," Herrmann said. "Space on this campus is very much at a premium and the space that seemed obvious was space in that environmental center building. The programs [on campus] that are growing now, require facilities that are somewhat different from the programs that we even had 5-10 years ago."
Herrmann and Schlesinger disclosed that this school year garnered the most declared environmental studies majors Dyson's ever had. Therefore, they needed to adjust accordingly.
Herrmann also expressed that the room is not "heavily utilized" and concerns from prospective students that the current museum animals aren't housed in the most "hospitable" circumstances and that they'd be better off in local preserves.
The animals will be relocated by Environmental Center Director Angelo Spillo and his staff, who have until this summer, according to Schlesinger.
The time frame is ample enough, according to Spillo.
The lab is in the proposal stage, however, and must be approved to determine capital expenses, which may not happen until next fiscal year, according to Schlesinger.
"The proposal is solely to renovate that facility for the lab," said Schlesinger, who said the final conversion may take approximately one-two years. "The only proposal is the museum, not the farm. Everything else stays."
Little faculty knew of the situation until this week, according to an anonymous source. Rumors prompted Herrmann to hold off on an official announcement until Mon., Feb. 6 where she elaborated on the state of the museum.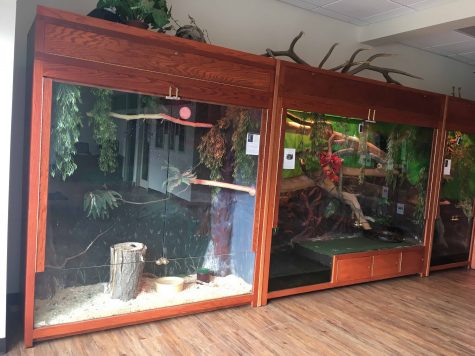 The museum was dedicated in 2011 to 2006 environmental studies graduate Marty McGuire who passed away in a car accident.
The museum houses animals such as a Moroccan Spiny-Tailed Lizard, Western Hognose Snake, and Chinese Water Dragon, who have all been either abandoned, injured, or orphaned.
Students see the museum as a stress reliever and a recruiting tool.
"[The museum's] a stress reliever just to watch the prairie dogs play around is very peaceful," said Noah Brennan, a freshman who plans on signing one of the petitions. "It also provides an intrinsic value along with an educational value."
Schlesinger and Herrmann both denied the museum as a recruiting tool, however, and that the farm served that niche better.
An online student petition has also started to prevent the conversion of the museum by freshmen and environmental center volunteer Samantha Mayrose, who created the petition on Jan. 31.
Schlesinger stated there are many "misconceptions" surrounding the petitions' reasons. Some claimed the farm and other facilities were being rid of in conjunction with the museum, according to Schlesinger.
"It is research space for experiential learning for the students and to support the faculty in a program we have to develop on this campus," Schlesinger said. "Something you need now; you may not have realized you needed then."
Mayrose and supporters plan on presenting the petition to Dean of Students Lisa Bardill Moscaritolo in the upcoming week.
"This is a very small community too, and the fact that so many people are coming together for one reason, that's to save the animals, to help spread the word," said Mayrose, who suffers from severe migraines and uses the museum as a stress reliever. "For people who don't have a voice in the community, I mean animals obviously don't, but also it's just important to everyone."
Mayrose's petition has reached 497 supporters, as of 5:08 PM on Mon., Feb. 6.
Various classes have also signed in-class petitions and a Student Government Association (SGA) petition is in the works, according to various student sources.
SGA President Mitchell Farrell issued a statement on Sat., Feb. 2 pledging his and SGA's support of the preservation of the museum.
Herrmann and Schlesinger confirmed that they are not reconsidering the conversion unless there's alternative academic area proposed.
CORRECTION 2/6: Initially, the author wrote online that President Stephen Friedman and Provost Uday Sukhatme mandated the conversion of the museum into a lab for environmental studies students. 
This was a mistake. Friedman and Sukhatme mandated the incorporation of all activities of Dyson Institute for Sustainability and the Environment into the academic environmental programs.