BSU's Fifth Annual Black Excellence Banquet
On Saturday, February 28, Pace's Black Student Union held their annual Black Excellence Banquet for the fifth consecutive year. It featured student performances; awards for academics, volunteering, and leadership; and a keynote speech from Pace's Chief Diversity Officer Tiffany Hamilton.
Performances included freshman Psychology major Amari Perez singing "Amazing Grace," senior Human Resources Management major Alyssa Chambers singing Whitney Houston's "I Have Nothin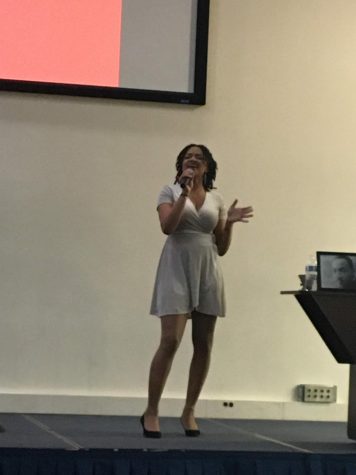 g," Pace Alumni Abigail Bucknor singing Whitney Houston's "Greatest Love of All," and a dance put on by brothers of Alpha Phi Alpha.
In addition to her performance, Chambers received an award for academic excellence, alongside Sabrina Boyd, Madeline Rodriguez, Michael Perez, and Erin Mason. Mason also received an award for excellence in the field for volunteering, as did Zenobia Robinson and Ike Obianke. Anaya White, Madia Bestman, and Tristan Thompson received awards for leadership.
In her keynote speech, Hamilton defined excellence as being outstanding and extremely good. She said that in order to attain that status, one must be willing to put in work and have a sense of purpose.
"In order to find your purpose," Hamilton said, "Ask yourself, what would I do everyday for free just because you love it that much?"
Hamilton also stressed the idea that excellence is not meant to only benefit the individual, but to benefit others.
"Excellence is about lifting as you climb," Hamilton said. "Your excellence is tied to who you bring along the way. You must strive for excellence for those outside yourself. We are stronger together."
Hamilton encouraged students to use their successes to battle systematic obstacles that continue to inhibit Black excellence. She listed three necessities for winning this fight: strategy, sustenance, and a song.
Strategy referred to knowing one's purpose and being able to devise a plan to achieve it through the talents and tools they have at their disposal.
When discussing sustenance, Hamilton presented the idea that "what you feed is what you grow". The results of what you do depend on that which you take in and devote your energy to. She encouraged students to "not always eat what others feed them, but to learn to feed themselves."
Lastly, Hamilton stated that having a song is important to one's cause because it encompasses both strategy and sustenance. A song can communicate one's mission and goals, and it can offer a chance to detox from the struggles one faces.
As Pace's first Chief Diversity Officer, Hamilton is in charge of supporting equity and inclusion for students, staff, and faculty. She oversees initiatives for recruitment and retention and seeks to ensure a welcoming environment for all cultures. She hopes to make Pace's policies reflective of its population by listening to their expectations and desires.
"I'm excited to be here to continue the work that has already been done and to elevate it even more," Hamilton said. "I enjoyed being part of an event like this because it creates a space to celebrate cultures and to reinforce a sense of belonging."
For more information on Hamilton and her position here at Pace, see Katie Walsh's profile on her at https://pacechronicle.com/feature/2019/09/28/14770/
Pace alumni Kevin Talbot, who returned to host the event, stated that he was proud of the BSU for being able to keep this event going.
"It's tough to do this every year, but they do," Talbot said. "It looks like they got a great turn out tonight. Events like this are really about people coming together. It's about unity."
According to BSU president Isaiah Fenichel, the planning process for the Black Excellence Banquet can start up to a year in advance. Students must first select a date, then create, propose, and receive approval on a budget. In the weeks leading up to the event, they coordinate with the caterers and the SDCA to ensure that all the moving parts of the banquet come together.
Fenichel has watched this event grow over the course of his time at Pace.
"It's become a staple event. It used to be just the BSU and a few of their friends attending," Fenichel said. "This year we made the tickets available online last Saturday, and they sold out by Thursday."
Fenichel described the banquet as a chan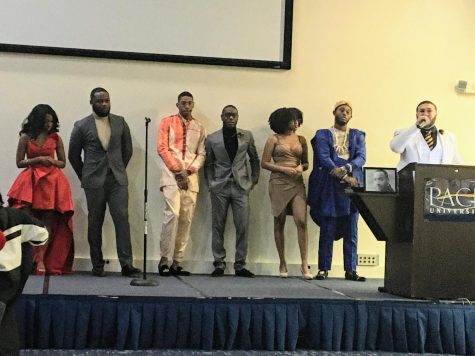 ce to celebrate and give a voice to students who don't always get the recognition they deserve for their achievements.
"Black excellence is a legacy of people who can overcome obstacles and succeed and excel in areas where others didn't want them to," Fenichel said. "And this isn't just for Black students to get involved in. Anyone can come and support this community and its achievements."
In a speech he made during the banquet, Fenichel asked attendees to raise their hands if they were aware that Pace offered a Black history class. Most students did not raise their hands and seemed surprised by the information.
The class, taught by Professor Durahn Taylor, is at risk of being cut due to low participation and awareness among students. There is a debate as to whether it will be offered as an in person or online class for the Fall 2020 semester. The amount of interest the class receives in the fall will determine if Pace continues to offer it after that.
"I considered myself to be knowledgeable on Black history," Fenichel said, "but I took the class, and it taught me things that I never would have seen in any other textbook. And it's crazy to think that they would cut it, because it's so important. Pace is usually pretty good about trying to be inclusive, but the fact that there was a room full of Black students celebrating Black excellence, and they didn't even know this class existed says that there's still more to be done."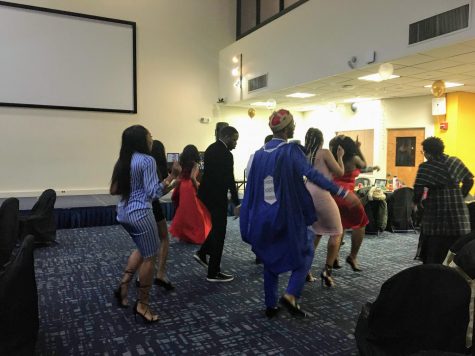 Fenichel went on to reference the 30 students sitting in at Syracuse University to make a statement about the importance of inclusion and representation and to advocate for stricter measures to be taken against students guilty of racially motivated misconduct.
"Culture is evolving, but there are still people seeking representation. What are you doing to change it?"