Pace officially unveils its Student Veterans Center
On Monday, Sept. 21, Pace held the grand opening of its Student Veterans Center. University President Marvin Krislov, New York State Senator Peter Harckham, and several campus leaders and student veterans attended the event, including Interim Dean for Students Rachel Carpenter, Director of Veteran Student Services Colonel Peter Riley, former president of the Pleasantville chapter of Student Veterans of America (SVA) Steven Garcia, and current SVA president Sukh Singh.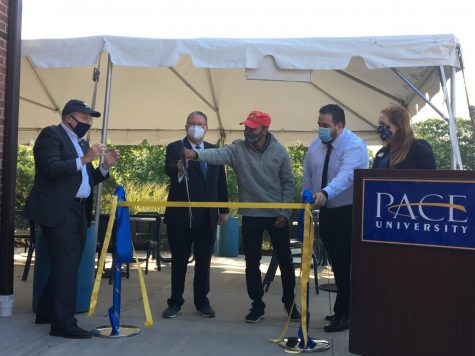 The event began outside Kessel, with Carpenter, Krislov, Harckham, Riley, and Singh each giving brief speeches about the veterans center and what it meant to them. From there, the attendees went inside to tour the center.
"We're so proud of our veterans," Krislov said during the opening ceremonies. "They've sacrificed for their country, and now they're back, and they're pursuing their degrees and we wanna do everything to support them. This space is gonna do that."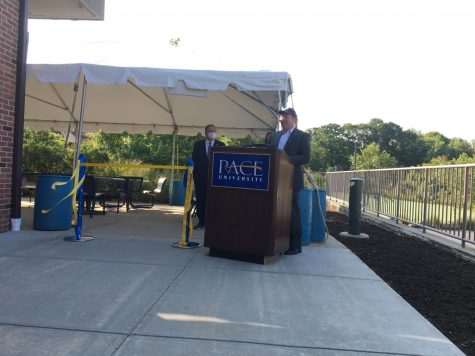 Krislov went on to thank Dean Carpenter for her involvement in the project, the workers who built the center, and Senator Harckham for acquiring the $200,000 state grant needed to fund it.
"Anyone who wears the uniform of our country, when they come back to civilian life and they want to be students, we owe it to them to do everything we can to empower them to be successful," Harckham said.
He shared the story of his father, a World War II veteran who dropped out of college after a year because he felt like he didn't "fit in".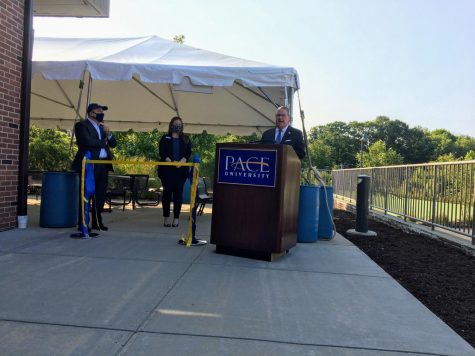 "He later found success in life on a different path," Harckham said, "but if he had had a place like this, where veterans can get together and network and share their experiences and help each other out and have access to resources, maybe he would have made [the college] path."
Dean Carpenter agrees that a sense of belonging is important for the retention of any college student, so it's important to make sure that student veterans' unique needs are met. The center will serve as a place where Pace's student veterans and military dependents can study, socialize, network, and access resources tailored to the lives of student veterans and military dependents.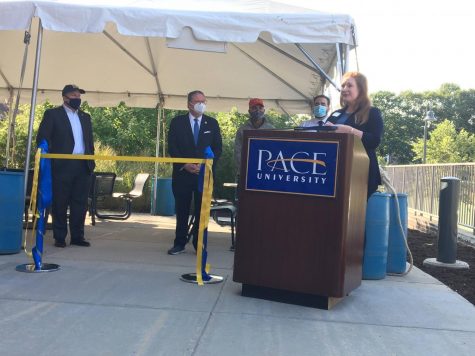 "I'm comforted knowing that our student veterans and our military dependents have an opportunity for a sense of belonging," Carpenter said. "When they come into the veteran center, they don't have to explain themselves. They don't have to give context to their experience. People just know."
Colonel Riley agreed with Carpenter's sentiments about the importance of the center and its role at Pace.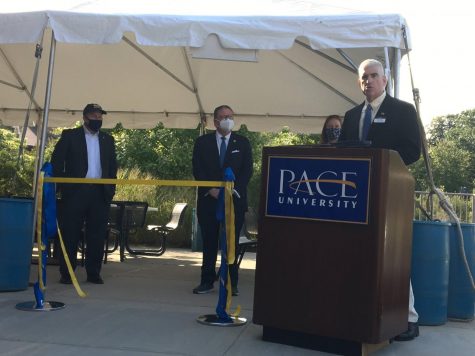 "It's very important for student veterans to come together, commiserate, share war stories, help each other out, mentor each other," Riley said. "It's very important for them to have a good time here on campus and also be more successful in life as well… I'd like to thank everyone for coming out. It's really about the student veterans… this is your center."
The student veterans themselves are grateful for what this center will provide for them, and they look forward to using it during the rest of their time at Pace.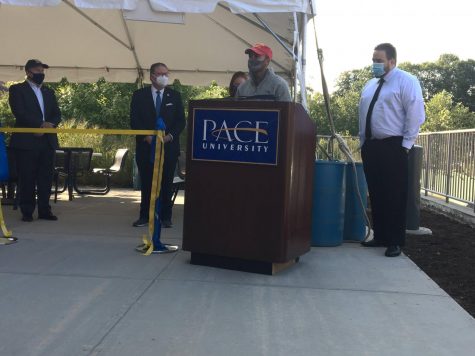 "Thank you for listening to us, wanting to support us. Thank you for understanding the importance of community to student veterans," Singh said. "I think this is a great place for student veterans to come together and share their experiences and also share knowledge and support when pursuing their higher degrees… I can't wait to social distance in there."
Construction began last winter and finished over the summer, with a few delays along the way due to COVID-19. There is talk of inviting veterans from the local communities to congregate in the center once COVID's prevalence has decreased.