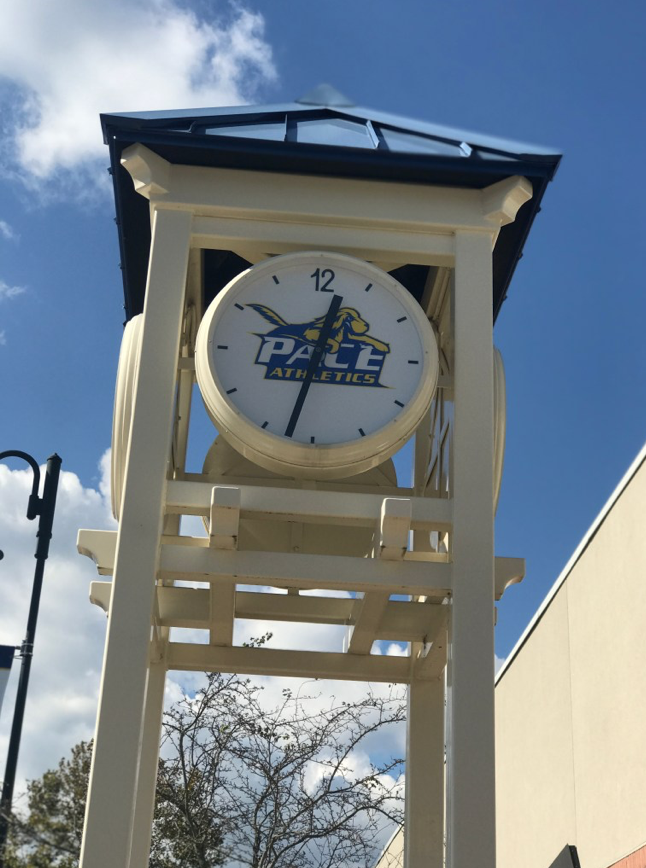 Brittany Noelle
One decade ago, a 20-year-old Pace University football player was shot and killed by a police officer outside of a bar in Pleasantville, not far from the university's campus. DJ Henry was a victim of racial injustice and police brutality. 
Being a football player, DJ Henry represented Pace both on and off the field.
As time went by, many Pace students are unaware of Henry's tragedy, legacy and personality.
Students have demanded more from Pace to honor Henry's legacy and properly educate future setters about what happened to him. The university has implemented a social justice week in his honor and has added his story to all incoming student tours.
In front of the Goldstein Gym, stands a memorial clock tower that was put together by Joseph O'Donnell, former Pace athletics director, in 2012.
"We started looking at clocks and we probably looked at 500 or so and one of the football players noticed one thing, that none of the clocks had numbers on them,"" O''Donnell told the Daily Voice. ""So someone suggested that we put DJ's number, number 12, on the clock and you''ll see that it's the only number on the clock and it's very significant.""
However, the athletics department has yet to retire Henry's football number.
In professional sports, teams honor their players by retiring their jersey so the number cannot be claimed by another player in the future. This aspect is typically done for players who have had a significant impact on the team through talent, heart or tragedy. 
The Pace community has created petitions, protests and conversations asking for Henry's number to be retired. By doing so, the number 12, will not be available to be worn by another Pace athlete. 
"The football team has wanted his number retired for a long time now. They have to go through the ramifications and I don't know how hard it is to retire," stated Brandon Joachin.
The BSU President, Amari Perez, strongly supports the decision of the retirement of number 12 as part of honoring Henry's name.
"I even think they can go as far as renaming the football field in his name," Perez said.
Joachim thinks that Pace did not ignore Henry's death but also believed that more could have been done to remember his name, advocate racial justice, and support his family. Henry's family founded the DJ Henry Dream Fund to raise awareness.
"It's not even like they generally want to do something out of their own heart. They did it more so because students were pressing them to do it and out of fear that they would look bad if they didn't do it because it's been over ten years and like they've never shown this much support for D.J. Henry," Joachim said.
After Henry's death, his family founded DJ Henry Dream Fund to help underserved children in Massachusetts aged 5-18. The fund provides sporting events, performing arts, and summer programs.
However, the fund is organized and run by Henry's family. The DJ Henry Dream Fund executives, parents of DJ Henry, want the Pace community to raise awareness of the organization.
"We think Pace students have brought more awareness to DJ's life and the school is now doing more to honor DJ", Angella Henry, executive director of the DJ Henry Dream Fund, said. "They can help raise awareness about the foundation and keep DJ's name and legacy alive."