Spring Semester Brings a Full Transition to Classes
2020 has been a year filled with academic changes at the university due to the pandemic. Notably, SDCA switched the student organization platform from OrgSync to SetterSync in the fall. The changes at the university level will be continuing in 2021 beginning with a switch of the learning management system (LMS) used. 
For over 20 years, Pace has utilized Blackboard, the LMS that is popularly known for discussion boards, assignment submissions, and online quizzes/tests. 
However, Beth Gordon, assistant VP for IT services, says it has been made clear that Blackboard is not the best LMS on the market anymore. Pace did test an upgraded version of Blackboard, Blackboard Ultra, but Gordon says about 60 faculty members tried it and were not in favor of the platform. 
The university decided to cut ties and adopt a new platform. This new platform is called "Classes," also known as, "Brightspace by D2L,"
 The decision to switch learning systems was intact prior to the breakout of the COVID-19 pandemic. 
"When the pandemic hit, we did have questions should we still go ahead with this. With anything, the feeling was more strong, We needed a better LMS since every course is online or has an online component. Problems were emphasized (with Blackboard) because everyone is using it," said Gordon. 
Gordon says one of the main reasons for the transition is to increase mobile-friendliness and accessibility for faculty and students. The app is not a needed component to access the system. Students and faculty can log onto the web on their mobile devices to utilize it for classes. This feature is particularly different for faculty, as they could not log-in to blackboard through their mobile devices. 
Gordon also identified that many students participate in classes through their mobile devices and this LMS would benefit that need. However, if students want to download an app for the system, there is one available. The app is titled Brightspace Pulse by DTL. It can be used for notification purposes as well.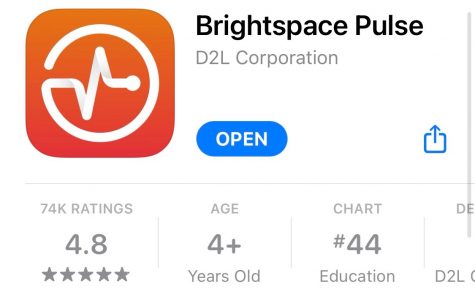 The platform allows for more personalization and automation in specific class shells. Faculty will have the ability to have more freedom when it comes to designing their own class. Moreover, Gordon explains that they'll be able to have more personalized interactions with students. This can consist of identifying risk students and finding various ways to help them. 
Despite the technological improvements, Gordon says there still will be a transition period as the site looks different and has a more modern feel to it. 
"Our Blackboard hasn't changed since 2015, So what people will see is that it's more in-line with other modern websites. I think students will take to it right away. Students are much more agile with new technology, "she says. 
In saying that, 50 faculty members taught over 100  classes on the new LMS in the fall. In addition, all winter courses were completed through Classes as well. 
"In general (Students and Faculty) they liked it, but it's a learning curve. In general, everyone's been really happy with the switch and it's much more mobile-friendly," Gordon explained. 
Jada Rojas took an online social media course during the fall semester that utilized the new platform. 
"With time I got used to the system. Our professor also helped explain the new layout as well. I just don't understand why the university would decide to change this when professors and students are already going and adapting to so many new unexpected changes. But we'll all get used to it sooner than later I guess," said Rojas.
The new LMS also provides 24-hour support through chat, text, or call if anyone needs assistance at any point. 
Over the course of the fall semester and winter break, IT held training sessions for faculty to improve their knowledge of the new site and has put together sources on Pace's webpage. 
"We have FAQ'S, Quick Start guides; we have curated videos to help users through Linkedin Learning, Brightspace Community, and YouTube. We have curated a good list to make it easier to faculty and students," explained Gordon. 
Rojas says with time she got used to the platform but was frustrated that Pace decided to switch at such a challenging time.
"I feel that classes was a lot more difficult to maneuver than Blackboard. But this could just be because I was simply used to Blackboard, she continued. "It had a lot more tabs and if teachers were not diligent in submitting particular grades, it was really difficult to see ones progress."