Lisdy Contreras: More Than a DREAMer
Lisdy Contreras' advocacy has led her to the center of the political stage, as she fights for the rights of immigrants in front of America's biggest politicians
Power, passion and love; three key elements Pace senior, Lisdy Contreras embodies in her everyday life as an advocate for the defenseless.
Contreras is a natural born leader. Being the voice for the helpless has been a reoccurring duty of hers as she believes everyone deserves a chance, and more importantly, deserves to be heard. Her brilliance has led her to speak in front of prominent government officials like former president Barack Obama.
Last month, Contreras introduced Senator Kirsten Gillibrand in her 2020 presidential campaign kickoff rally. 
"Although it has not been easy, I am working towards achieving my American dream, which I believe is vivid and attainable," Contreras said during her introduction.
"This is not just about the DREAMers or about immigrants, but about all marginalized groups."
"No se trata de solo luchar por los DREAMers o los inmigrantes, se trata de luchar por todos los grupos marginados." #bravewins pic.twitter.com/304s5XvIDc

— Lisdy Contreras (@Lisdy_Contreras) March 25, 2019
So what led to this trailblazing advocacy? Contreras comes from a tight-knit Guatemalan family, a country she immigrated from at the age of five in order to gain a new start and more opportunities.
"Honestly, I don't remember much about my journey to the U.S., all I can remember is the sadness I felt when I had to leave behind my loved ones in order to start a new life, but I am grateful my parents made the decision to move us here," Contreras, a criminal justice major, said. "This is what I consider to be home now."
A first-generation immigrant, Contreras has been through because some have viewed her as a nuisance rather than a valuable piece of society. Being able to flourish in a country that has mixed views on immigration and its policies is tough but Contreras is tougher.
At a young age, she realizes she had a story to be told, not just for herself but for others who are too afraid to speak up. By getting involved within her community in Westchester, NY, she made her way through various organizations and boards being the face for equality.
"I had to kick down doors no one would open for me, I never gave up on the change I wanted to see," she said. "I had to look for my own opportunities."
In order for Contreras to create different outcomes, her actions had to match. She made sure her views were heard so she can affect change and as a Deferred Action for Childhood Arrivals (DACA) recipient and a beneficiary of the Development, Relief and Education for Alien Minors Act (DREAMER), two polarizing policies that supports young immigrants, she is a prime example of what any immigrant can achieve. 
Both programs allow Contreras to strive in the U.S. by giving her the support she needs when it comes to receiving a proper education and job, two pivotal parts of her life today.
Brave to me means waking up each morning with fervent hope and strength to continue the fight while not crumbling at the face of adversity. But this is nothing new to me because I've grown up having to kick down doors where I have knocked and no one has opened them @SenGillibrand https://t.co/JZ7xYzxLpG

— Lisdy Contreras (@Lisdy_Contreras) March 23, 2019
Now in her final year at Pace, Contreras' choice of majoring in Criminal Justice and minoring in Psychology will shine through in her future endeavors. While continuing to be an advocate for the voiceless, she's striving to become a prosecutor but she doesn't want to stop there. Running for a spot in Congress and one day having a seat at the Supreme Court, like her idol Justice Sonia Sotomayor, are at the top of her list.
"Sonia Sotomayor is someone I look up to because she is what I hope to become one day, she did not let her circumstances keep her down and look where she is today," she said. "She has accomplished so much."
Her admiration for glass ceiling-shattering leaders like Sotomayor is daily motivation and a reassuring key that the sky's the limit and anything is possible as long as she continues to embody her key elements of power, passion and love in everything she does.
"Remember, don't stop dreaming no matter how big it may seem," Contreras advised. "You can achieve it." 
About the Contributor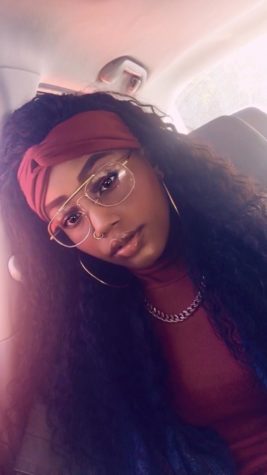 Nigeria Belizario, Contributing Writer
I am Nigeria Belizario, a Junior at Pace and I am pursuing a degree in communications. Ever since I was a little girl, I have had a passion for writing....