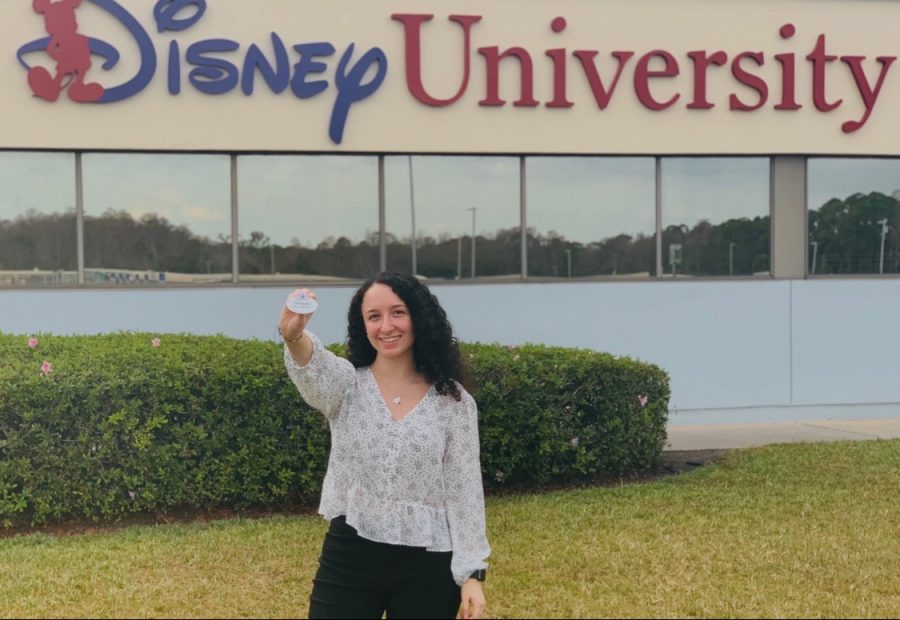 Courtesy of Tiffany Decker
Dreams came true for upper sophomore Tiffany Decker on September 3rd, 2019. It was that day, the digital cinema and film major discovered that she had been accepted into the Disney College Program for spring 2020. 
She remembers that moment vividly, sitting in a dorm room and sipping Starbucks with two of her closest friends, crying tears of happiness and immediately calling her family to tell them the good news. 
The Disney College Program gives college students the opportunity to gain internship experience while working in Disney World for approximately five to seven months. Members are required to work 30-plus hours a week and with two random days off.
Decker recalls that during her first week on the job, she completed 45 hours. In addition to the program, the sophomore was enrolled in two online courses at Pace. 
"I didn't think I was physically going to be able to get through it, especially with doing online classes, but I did," communicated the Pace sophomore. 
Even though it was physically demanding at times, Decker looked forward to heading to work every day. 
In order to become accepted into the program, there is a three step application process. The first aspect of the process is to submit a resume determining interests and desired roles. The program calls for two separate interviews, one is a web-based interview and the other is a phone interview. 
Decker picked merchandise, attractions and photo pass as her top choices of where she would prefer working if she was accepted. Her placement ended up being merchandise in Disney Springs. 
The program officially started in January and Decker had to complete training prior to beginning working. However, once she was able to get to work, the experience positively impacted her.
"I worked in a story called Disney Style. It's actually very nice. We had very different training from other places in the parks… because we're not technically in a Disney park, but we still have to present the Disney look to guests," explained the cast member. 
For her Disney Springs location, Decker stated her uniform consisted of a pair of jeans, a shirt from the store, a jacket and her name tag. The name tag consisted of her name and had the Pace University name located on it.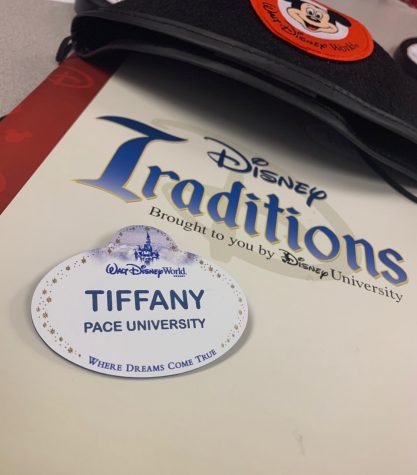 Once she traveled to the backstage of her store, she would receive her assignment of the day which consisted of either being on register, floor interactions or stocking.       
The floor interactions, in particular, helped the Pace student grow as a person. 
"It gave me more confidence.. I'm not the biggest person to start a conversation with strangers, it is actually very hard to just go up to a person that you have no idea anything about them and just ask them how their day was or just ask them about their Disney vacation, exclaimed Decker. "I had 40 minute long conversations with guests while I was on the sale floor."
Moreover, the interactions she encountered in Disney were with a diverse set of people as guests arrive at the parks from all over the world. She also complimented the managers and coordinators that were vital helpers in transitioning to the working atmosphere in Disney.
 During her time on the floor, Decker specifically remembers one conversation she had with a family that struck the perfect timing to turn around her day.
"I was having a rough day  and I met this family and they came up to me… and they were asking about my college program and they were asking questions about myself and I was asking them questions and we had a conversation that was almost an hour long, just like about Disney in general and it was like really nice to have a conversation with someone you don't know." recalled Decker. 
As the conversation continued on with that specific family, it even attracted more families, as well as her co-cast members to join in. 
Even though Decker was hard at work for the majority of the time, she was able to experience new things during her free time. Alongside other cast members, she was able to explore the area of Orlando and took her first trip to Universal Studios. 
As a member of the Disney College Program, she was also able to experience exclusive opportunities in Disney.
"One of my favorites was being able to attend a cast preview to a brand new ride in Hollywood Studios," stated Decker.
In addition, she acknowledged the program, not only helped increase her confidence, but also allowed her to become more independent as she was completely on her own, 
Decker first realized she wanted to apply to the program when she was in middle school and always knew it was a part of her Pace Path Plan. She determined that second semester of her sophomore year would be the perfect timing for the experience. 
However, it was unknown that the world would be involved in these unprecedented times and her joy of achieving her dream would be cut short due to COVID-19. In March, Decker's roommate had come into the apartment with news that she had heard they were all being sent home. 
Although Decker did not want to believe it at first, reality set in when she and other cast members received an email regarding the early departure of the students. The program would end over 2 months earlier than expected. 
Disney gave all cast members four days to move out of their housing arrangements. The quick turn-around was difficult to figure out travel plans, specifically due to the international and national travel scene at the time. Decker did acknowledge though that they did provide housing for a slight extended period of time for participants who could not get home right away. 
Members of the program continued to be paid through the end of March with their weekly housing deductions taking place immediately. 
The cast did receive their program certification of completion of the Disney College Program. Furthermore, they received a certification at their workplace. Decker, also reached out to Disney Recruiting to receive the number of hours she completed, to be able to be granted internship credit for her work time in Disney. 
The devastation, tears and grievance over the end of the opportunity of a lifetime still catches up to Decker even a month after the fact. Despite that, she is grateful for the time she had and is glad that everyone who was a part of the program is home safe. Decker hopes to be able to return one day as a member of the Disney Alumni Association Program. 
After they were sent home, the Disney cast member said she was reached out to by the Disney Alumni Association in an email. The email informed the members they could still sign-up to be a part of the association, since they completed their program and received certifications from Disney.
Decker decided to join the program, as she hopes to make her mark on Walt Disney World. Although she loved her time working merchandise, she would also be open to trying something new such as attractions or photo passe. However, she explained that if she was granted the chance to return she would do anything to be able to expand on her Disney experience.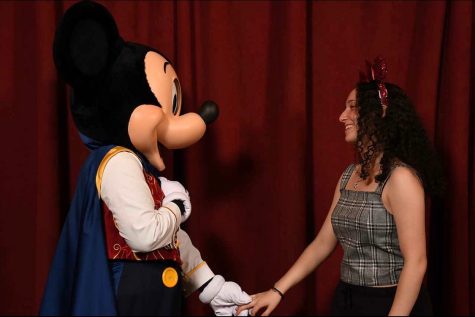 Furthermore, she envisions herself working for the Walt Disney Company one day with a career in the realms of the digital cinema and film making industry. 
The  Disney College Program Alumni, recommends any student who has the chance to apply and attend the program to take the opportunity, even if they don't consider themselves a Disney fan. The experience provides a resume enhancer and allows the opportunity to create friendships with fellow cast mates, as well as, grants the ability to interact with a diverse set of people from all over the world. 
"I was there for less than two months and it totally changed everything," exclaimed Decker.