Men's Basketball Wins Two Games in a Row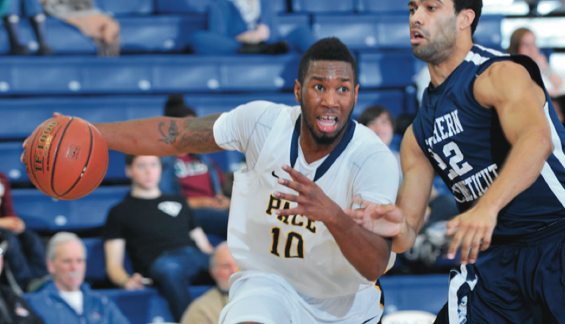 Starting off the season 0-4, the men's basketball team got their first victory of the season on Tue., Nov. 26, in a thrilling overtime win over Southern Connecticut State, winning by a score of 80-78.
They followed that performance with another victory on Sat., Nov. 30 when the Setters took on the Georgian Court University Lions, scoring the most points so far this season with their 90-75 victory, improving their record to 2-4.
The Owls had control of the game for most of the first half but the Setters chipped away, eventually taking the lead briefly, before the Owls came back and ended the first half with a lead of 45-38.
In the second half, the Owls took the lead early once again, but the Setters fought back, taking advantage of a couple of free throws to pull them within two points.
With just a few seconds left in the game, Nick Johnson tied the game up at 70-70 to go into over- time. The Setters kept the momentum going, taking an early lead. A jump shot from Michael Mallory gave the Owls a 78-76 lead, but Jaylen Mann came back with the go-ahead three point shot for the Setters, while a free throw from Johnson sealed the victory with 10 seconds left in the game.
Being the first win of the sea- son, Coach Pat Kennedy knew that it was a very important one.
"Considering all of the hard work and effort our players have put into the preseason, this is a very important win," Kennedy said. "It's a team win."
Assistant coach Kevin Clark agreed, stating, "The team grew as basketball players and learned how to pay better attention to de- tail."
The Setters continued with their second win against the Lions on Sat., with Pace having its first dominant game of the sea- son, having a lead throughout the whole game.
Jonathan Merceus led the Setters in points in both games, with 23 against Southern Connecticut State, and 24 against Georgian Court University.
The next game for the men's team will be at home against Adelphi University on Wed.,
Dec. 4 at 7:30 p.m. The women's team goes on the road, looking for their first win of the season as they take on Dominican College on Tue. Dec. 3 at 7 p.m.