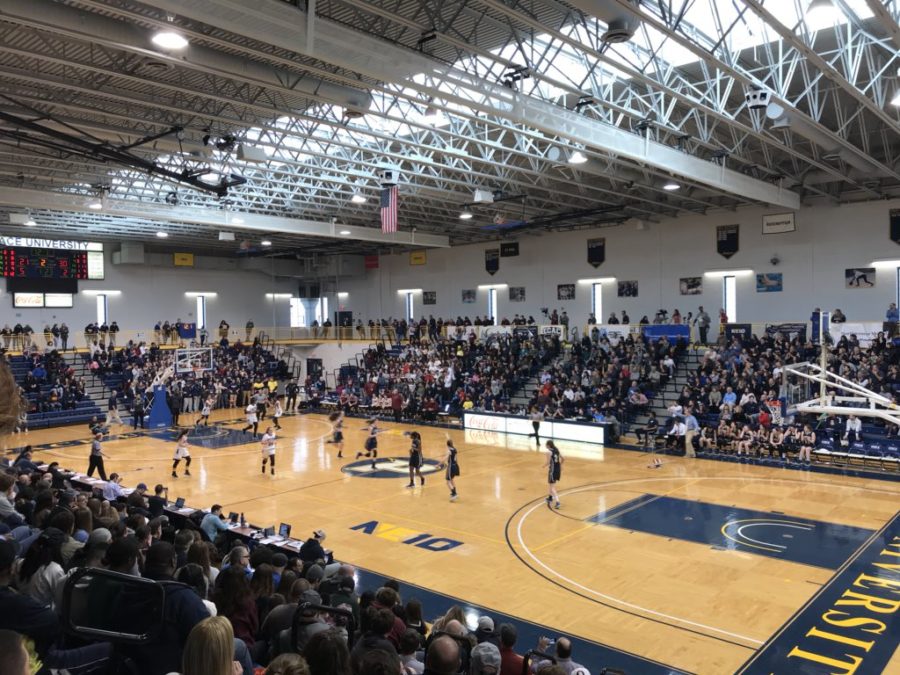 The Goldstein Fitness Center was home to a miracle play last Saturday that has gone viral and can be seen on national television sport networks including ESPN and Fox Sports 1.
Julian McGarvey, an Ardsley High School basketball player, used his quarterback skills to heave the ball beyond half court and convert a miracle buzzer beater that won his team the Section 1 Class A championship against Tappan Zee, and earned the top spot on ESPN "SportsCenter's" Top 10 plays list.
McGarvey has become an overnight star, and thus, the Goldstein Fitness Center–a venue that many opposed to hosting the Section 1 Championship games–has won a great deal of public recognition.
"It is just awesome," Assistant Athletic Director Mike Winn said. "For people to see the Pace logo and the NE-10 logo all over social media is just great. The fact we were able to get our university, in some aspect, on the national spotlight is amazing. We pride ourselves on being a great marketing tool for the university and the Pace brand, so this could not have gone any better."
Winn appreciates the recognition Pace has received, but he is more proud of the athletic department's execution in hosting the Section 1 championship games, especially after the controversy that erupted over Section 1's decision last December to move the championship games from the Westchester County Center to the Fitness Center.
Journalist Kevin Devaney, who did color commentary for the Section 1 games, filmed the miracle shot that has now gotten one million views on his twitter profile, along with millions of other views due to media outlets Bleacher Report, SB Nation and Barstool Sports posting it.
"We showed people who may have not known already that we have the ability to host great events," Winn said. "Obviously, people love tradition and the County Center. I won't dispute that. However, in terms of running an event, I think our university is capable of doing as great of job as any venue."
While many Section 1 head coaches, players and even Westchester politicians were expressing their disapproval after the news broke of the decision, Winn and the athletic department immediately focused on strategy to put on the best event they could.
"We began the preparations for hosting the championships as soon as we agreed to do it," he said. "We laid out a tentative plan in the first week of December. Their schedule changed a couple of times, so we broke up to the games to two separates weekends, but we were ready. In our business, you need to be prepared for everything and think about all that can go wrong."
Pace's facility staff, event staff, Mt. Pleasant Police and student athletes all came together to assure operations ran smoothly.
"We tried to think of every scenario that would cause people stress or make people unhappy or unsafe, and then found a way to eliminate that potential hazard," Winn said. "So, it was fun and what is really awesome about running these events with our students is it gives them great experience too."
Mike McGinnis, Pace Athletics' play-by-play broadcaster, was impressed by the department's ability to empty and fill the facility considering the large crowds the 12 teams competing over the weekend brought along.
"I have never seen the [Fitness Center] packed like this before," McGinnis, who called the Section 1 championships for the first time of his career, said. "The way Pace ran that thing was phenomenal. I was amazed how they got all these people out, only for crowds to come back in with more and more people each and every time. [Devaney and I] had fans come by us all day long, and the reviews were very positive."
Pace Athletics' will continue to be home to New York high school basketball championship games this month, as the Goldstein Fitness Center will be host to the Class AA regional final this Friday.