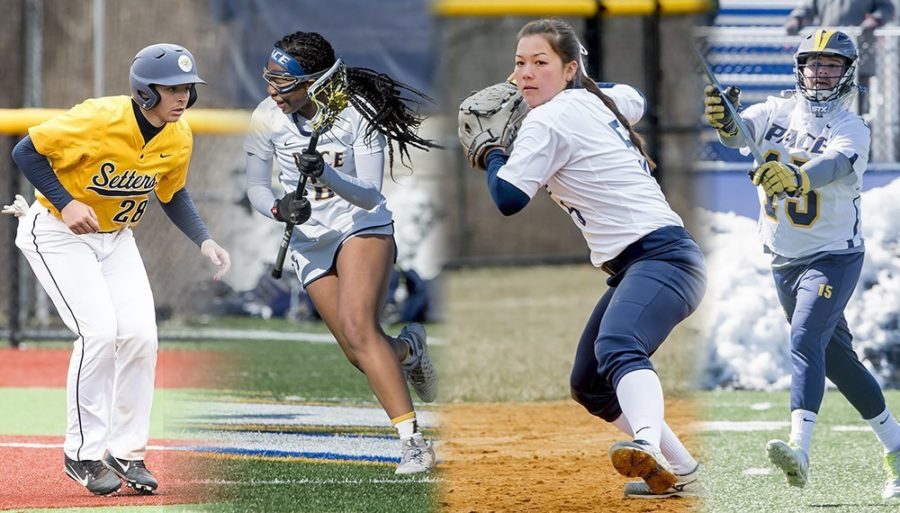 4/12-4-14: Softball head coach Claudia Stabile recorded her 700th win Thursday afternoon with a 12-8 victory over Caldwell University. Stabile became the 22nd head coach in Division II softball to record their 700th win. Along with the milestone victory, softball has gained some steam recently. With a three-game sweep of American International College (AIC) on Saturday and Sunday, the Setters have bounced back from their 2-10 start to the season, and now sit at 14-16.
4/13-4/14: Baseball clashed with AIC in three straight games over a two-day span. The Setters won the first two outings, but lost the final. Their first victory, 9-3, saw senior Kyle Cashman pitch the Setters to success by allowing only three runs in six innings, and striking out four batters. Ryan Aquino, another senior pitcher, dominated the following game the next day by striking out 10 batters in a 9-0 win. However, three times was the charm for AIC, as the Yellowjackets defeated Pace 4-1 in the final game of the three-game series. The Setters are now 14-11-1.
4/14: Despite its recent surge in the win column, women's lacrosse could not pull out a win in a highly competitive contest against No.20 Bentley on the road. The 14-13 loss, which saw senior captain Casey Gelderman score a team-high five goals, snapped the Setters 4-game winning streak. However, the Setters still sit comfortably with an impressive 9-4 record.
4/14: Men's lacrosse came into the season ranked fifth, but a 17-7 home loss to No.2 Merrimack marks the third straight loss for the Setters, who are now 5-5. The Setters have dropped four out their past five games as the season nears its end, but one must account for the fact those losses came against some of D-II's best teams, including No. 1 Le Moyne, No. 5 Adelphi, and No. 20 Saint Anselm. Men's lacrosse now hopes for a late-season win streak, which would be reminiscent of past seasons.