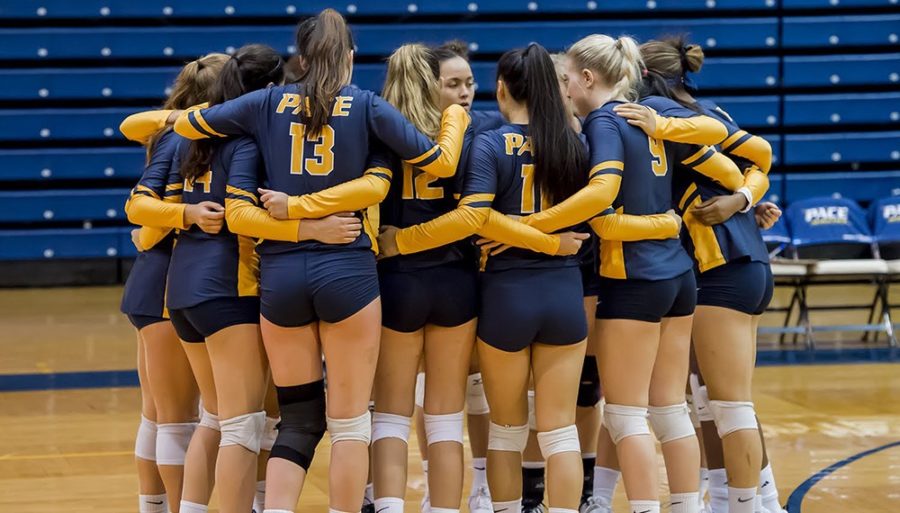 Pace University Athletics
Pace volleyball head coach Karrin Moore officially left her position earlier this month, leaving the team in an interim period lead by assistant coach Nora Rugova. Moore has been with Pace athletics for nine season, coming off of a three-season coaching career with Bentley University and playing Division-I volleyball herself at Northeastern.
This loss of staff is not surprising, due to Moore's family residing in Arizona, but it is definitely saddening for Pace athletics. Over time, priorities change, and Pace Athletics director Mark Brown is understanding of this.
"When you lose someone you have worked with for nine years, it can get emotional," says Brown. "Karrin's been great, and I wish her nothing but the best."
While losing someone like Moore who had a very close relationship with the Pace community is upsetting, it is not uncommon, especially in recent events. From 2018-2019, Pace has lost not only Moore, but also its swimming and diving head coach and the cross-country head coach.
Luckily for the Setters, the other two positions have been filled. Swimming and diving stayed in-house by hiring Alexis Chochianowski, who was previously the assistant coach, and she led the teams to an award-filled NE-10 Championship performance. The cross-country head coaching vacancy was filled by Ed Stickles, at the beginning of February.
The new volleyball coach opening has officially been posted, and the athletics department has already begun their search process, and expect a short turnover period. Until that ends, Brown believes the Setters are in good hands with Rugova, who was an All-Conference player at Pace before taking the assistant coaching job in 2013.
"We're very fortunate to have Nora, who still lives in the area," said Brown. "She was a tremendous player when she was here. There will be very little disruption."
Luckily for the Setters, this is the right time–if there ever is any–to lose a volleyball coach. It's just after volleyball season and right before the next year starts, following the steady college athletic timeline. It's unlike the inopportune resigning of former swimming and diving head coach Dan Allen, who left just two months before the season began.
As for cross-country, their turnover process was slightly different, only because this head coaching position is considered part-time.
"That's sort of how the cross country position is structured," said Brown. "It's hard to find somebody that is able to come in and sustain an existence. It's not a salary position that has full benefits, it's an hourly position. Many candidates have full-time jobs and just do this on the side."
While this situation is not uncommon, it seems slightly out of character for a head coaching position to only be something that people do "on the side." When making their decision on where they will reside for the next four years, athletes take their coaching staff into a lot of consideration. They want a supportive and committed coaching staff that they know they can always depend on, and it is uncertain if the part-time position allows for that kind of athlete-coach relationship. Brown acknowledges this possible concern.
"The student athletes will have a voice in the process, because we do recognize that their college decision was based in part on the perceived relationship with the coach," said Brown. "We're not going to bring in anyone who is unqualified or we feel doesn't adhere to the values that we feel are important. We bring a lot of focus to our celebration of diversity and inclusion, and we hire people who believe in that same philosophy. Yes, there might be slight personality changes, but the students are a part of the process."
While Pace athletics understands the kind of implications that the constant moving of names and position around has for some athletes, they believe there should be no worries on the outcome.
"Generally, everyone sort of knows who the best fit is," said Brown. "It seems to work. We'll find someone who is really good and positive for our community. While Karrin was really tremendous, we can find someone else who will be great, I'm sure."