While universities are trying to figure out how to hold campus classes while also following CDC and state guidelines, Pace announced the adjustment of the academic calendar to maximize dorm use, minimize semester length and minimize travel away from campus. The official statement regarding the calendar changes was published on the Pace webpage on June 22nd, and details regarding dorms, housing, academics, etc.. have not yet been released.
Leading up to these announcements, a survey was conducted for faculty members, and another conducted for the performing arts students. However, these two populations are not representative of the student population as a whole. 
The Pace Chronicle determined that a survey was necessary, to yield results regarding student concerns, needs and desires about the upcoming fall semester. The survey questions were created based off of similar questions faculty members received in the survey distributed by the Faculty Affairs committee. Questions were altered, taken out or added to cater to the needs of the students, which can vary from the needs of faculty members.
Our survey was a total of 16 questions, with 3 open-ended responses, 12 multiple choice and 1 matrix table. The survey was created through Qualtrics and was mainly distributed through The Pace Chronicle's social media pages. 
While The Pace Chronicle survey did yield results with different opinions, situations and concerns, there is a small sample size relative to the population as a whole.Pace's website reports that there are 13,312 students enrolled amongst all three campuses, as of October 2018, with 9,000 undergraduates and 4,656 graduate students. 345 of these students participated in our survey. However, the answers honestly and accurately reflect students concerns.
Due to the summer season, a switch from Orgsync to Settersync and lack of certain populations like first-year takers, law school students and College of Health Professions students, the survey does fall short of reaching an adequate amount of the Pace community population. However, despite The Pace Chronicle's home location of Pleasantville, there were more NYC students who took the survey, which represents the population split of the majority of students being members of the NYC campus.
All of the recorded data, graphs, charts, and responses can be found in our published survey results document: https://pacechronicle.com/uncategorized/2020/06/24/survey-report/
The administration staff at Pace has stated that a key component in the return-to-campus plan is that students hope to return to on-campus learning.
Based on our survey results, 146 students stated they would prefer in-person courses, 113 students stated they would prefer courses to be run as hybrid's and 78 said they would prefer remote options.
Furthermore, in the open-ended answers it was evident that a large portion of students that opted for the in-person choices were in the preforming arts program at the NYC campus. These courses are hands-on and are challenging to do remotely.
" My family is not extremely wealthy so paying for pace is a big sacrifice. My parents were willing to pay because of the top notch training and experience I would get as a PPA student. My concern is that without shows, auditions, safety in the city as a whole, and possibly having to move my dance classes online again, I won't be getting the experience that I'm paying for."
 "As a PPA student, I believe having in-person classes for my core curriculum is vital. There could be some limiting to being fully back and in-person, but having all of my classes online again is unacceptable to me. As for my academic classes, I do not care whether those are online or not. I would like for at least my performing arts classes to be in-person, though."
 "I am a PERFORMING arts major. We cannot do remote classes. It is absurd to think we are "getting the same education" and absurd there is no tuition reduction. This is showing us that the school has no care about us but it's institution only."
Moreover, many students also indicated they were concerned about the immunocompromised and high risk individuals that could come in-contact to COVID-19 on-campus, and about the possibility of bringing it home to a loved one.
"My mom is disabled and undergoing neurosurgery scheduled right before I return to school, so she will already be on bed rest for several weeks, and she's close to the risk group age so I don't want to make her health circumstances even worse, but I'm also scared that if I don't go to required classes (like labs) I will be penalized. (Which is why I think hybrid is the most ideal where students are only required to go to their labs but lectures can be conducted online because lab stations are already spaced out, we wear gloves, and essentially that is the only acceptable context for me to go to class)"
"Wearing a mask all day, particularly for those with health conditions or those who have 3 classes back to back, will be difficult. It will not be easy or comfortable to do it, so I imagine that a lot of students will be miserable. A lot of college involves group work and presentations, another difficult aspect to overcome because masks make it more difficult to hear one another and you can't sit close to classmates. With the volume of people at Pace, especially because there are people who dorm, it feels like the virus has an easy way of spreading from person to person. Even if classes and number of people in the building were limited, it would be difficult because there are too many students, faculty, classes and schedules to accommodate to. All in all, these are huge health risks for those who commute and their families."
However, there are also students who are more concerned about being remote again, and the impact it will have on their ability to perform their best academically.
"I want to come back to school. I need my campus environment to thrive. I need to be in the library to do work. I need my routine to be stable. I need pace again."
"Depending on restrictions/regulations like smaller class sizes or being online, I'm worried about getting the most out of my education. Online learning is harder. And with smaller class sizes, we've already registered. How do they plan on reducing class sizes without setting anyone back?"
Even though students have a desire to return, there is concern about the health and safety precautions not being upheld by the community. In addition, students are also demanding for tuition changes, since no matter what the experience is, the campus return will look different than what they agreed to pay tuition for.
"Regardless of what Pace does, the city is a hotspot for COVID. There's no way to prevent students interaction with the city. It's impossible to completely prevent COVID from entering the pace community. Along with this, it seems that Pace, along with all colleges, is unconcerned with student safety and are willing to risk community health to make money. My classes need to be done in person and I know pace will not lower my tuition despite the fact I would be getting a lesser education remotely. It feels like a lose-lose situation due to Pace's drive to make money."
"I'd be pretty upset if I was in a class and "some" of the class got to be there in person, but I was stuck watching from a computer."
"I'm concerned about paying for less of an education. If classes are online, I will most likely take the semester off. I don't want to pay an insane amount of money to sit at home paying for WiFi to be in class."
"People won't follow social distancing rules and there will be another spike and classes will have to be online again. Professors won't be accommodating at all just like how they disregarded students situations when we went remote"
I'm also concerned about the crowded [cafeteria]. There's no way social distancing will work there with more than a few people and people need for at peak times. Also, there are many surfaces that need to be constantly cleaned (desks, computer keyboards, glass doors etc)"
"I don't know if I'm willing to pay the same amount for much less of the college experience."
Furthermore, some students expressed concerns regarding campus commutes. Pace's campuses are split amongst residents and commuters, which can make this return-to-campus more challenging. Many students hope to take classes on multiple campuses to enhance their educational experience. Since Pace is located in NYC, Westchester and White Plains, public transportation is a key component for students, staff and faculty.
43.79% of survey takers reside on-campus, 14.2% stated they commute via car, and 42.01 % indicated they use public transportation to get to their classes.  In addition, although most students stated that they are very comfortable/comfortable with their commute, (which could be a resident,) the graph showcased that there was no a large difference amongst all options.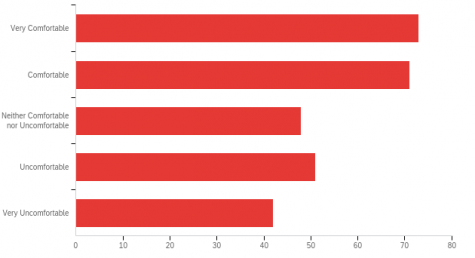 "A big concern is commuting to and from Pace. Public transportation is unavoidable.
"I work with children with severe disabilities and I am unsure of how we will be able to work in precautions because of their severe cognitive disabilities. Also, I have two school aged children myself. I need to get to Pace on public transportation. To me, there are too many variables as it stands now that will put me and others at risk by my attending classes in person."
As commuting is an issue, there are also concerns with residing on campus. Students are in-close contact with each other, rely on dining halls at common times, have communal bathrooms and live in tight areas. Anytime students enter a common area, masks will be required. Many expressed concerns about students being "too comfortable" and foregoing this requirements. Pace has indicated they are working to lower the number of student density to help with social distancing and reducing the spread. However, they have not released information regarding that plan, or how that will impact the move-in/move-out processes. In addition, there are still students located on a housing wait-list from initial housing registration, due to the large response.
124 students revealed they would feel comfortable in dorms, but 57 students said they would not.
"Pace tends to house people like cattle."
"Living with others who come from all over the country and may be in contact with those who are sick/have been sick. If others get sick, we are in a close proximity to them. In addition, we are sharing laundry rooms, kitchens, lounges, etc. The quality of "life" while dorming will greatly diminish due to the necessary guidelines and measures that will be put in place to keep everyone safe. Dorming is all about meeting others, living with your friends, going to events, etc. – all of that is taken away to a certain extent. Even getting food/meals will be another challenge. What about pace perk? Kessel? How do I trust that those cooking my meals are taking the necessary precautions to keep themselves and others safe?"
I don't have many concerns as long as the building is monitored and cleaned regularly."
"A lot of colleges are doing singles for everyone which would feel safer. A shared living space with people that aren't blood relatives is an uncomfortable idea right now"
"One of the perks of pace is that students are almost forced to interact with NYC. However, because of this it means that students are constantly in a hotspot and if one person gets COVID after a trip to the cafe, it's almost guaranteed it will spread like wildfire."
"Elevators, being stuck in one tiny room and not being able to go anywhere else"
"Daily interactions and weekend night life might spike cases"
"Usually when one person gets sick in a dorm then everyone gets sick. The cleaning crew doesn't clean enough. There should be less people in the dorms."
Moreover, not everyone gets to pick their roommate, and are unable to predict how their roommate will take precautions.
"Dorming with someone who may not follow the minimal requirements such as washing hands and keeping a clean environment in the dorm."
"I'm most afraid of rooming with someone who has been exposed to the virus, especially since, as of right now, I don't have a roommate yet."
As stated earlier, the main intention of Pace's reopening of the campus is to execute what students want. Based on our survey, where results were taken prior to the announcement on June 22nd,  71.89% stated they would return, 3.86% stated they are not planning on returning and 24.26% stated they were unsure at this time, and need more information from the university.
It is important to keep in mind that the majority of survey takers were upperclassman. The main concern is keeping retention from the rising sophomore class and the incoming freshman.