Benefit Dinner Raises Awareness and Funds For MS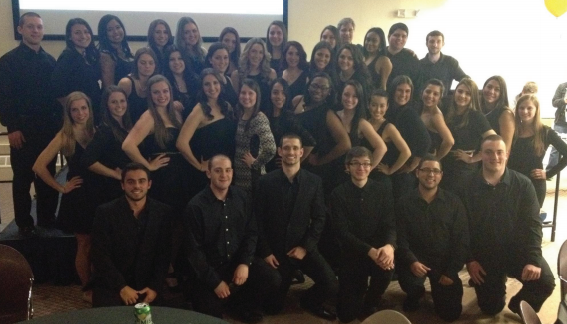 Dozens of Pace students gathered in Gottesman room Saturday night with the common purpose of enjoying food and music, and raising awareness for Multiple Sclerosis (MS).
Hosted by the brothers of Alpha Chi Epsilon (AXE) and the sisters of Delta Phi Epsilon, the dinner was held in honor of members of both organizations touched by MS.
"Both of our organizations have had alumni recently affected by the disease, and with March being MS Awareness month, we really wanted to give back to the alumni who gave so much to us," senior history major and AXE brother Andrew Linthwaite said.
Despite their initial goal of raising one thousand dollars, a total of $1,642 was raised.
All proceeds will go to the National MS Society and contribute to their efforts in researching and treating MS, as well as providing support and resources for individuals and families affected by the disease. The majority of the funds were raised prior to the event through the society's fundraising website from online donations.
"Our original goal was set prior to the creation of the online website," Linthwaite said. "None of us could have expected the support that we received. It was truly outstanding."
Guest speakers Ann-Marie Johnson of the MS Foundation and Delta Phi Epsilon alumnus Deveney Zebrowski, both afflicted with MS, gave speeches at the end of the event.
Zebrowski, who was diagnosed during her undergraduate career at Pace and quoted her organization as a major source of support in her battle with the disease, received a standing ovation.
MS is a disease that attacks the nervous system with no explicit cause or cure. Both Johnson and Zebrowski described feelings of numbness and "pins and needles" as early symptoms they experienced.
Linthwaite and junior  physical therapy major Carla Ayoub of Delta Phi Epsilon MC-ed the event, introducing each act punctuated throughout the night.
Glee members, sophomore business major Rodiel Galvez and senior communications major Patrika Cheston, opened with Jason Mraz's "I Won't Give Up."
"AXE asked us if a few members from Glee would be willing to sing a song for [the event], and we knew we had the perfect song for the occasion," Galvez said. "It was [originally] a solo and we rearranged it to make a duet where our voices could accent each other and it came out great."
Musical performances were also given by sophomore communications major Ryan Shields and junior communications major Joanna Derosa, and a strolling performance was done by the brothers of Alpha Phi Alpha.
For more information about MS or to donate, visit www.nationalmssociety.org.