Pace Reacts to Nike's Controversial Colin Kaepernick Ad
"Just Do It." Or maybe "Just Don't Do It?"
On Monday afternoon, the world erupted. The sun stopped shining, the birds stopped chirping, the sky fell out of the…sky. It was all because of one, life-changing Tweet.
And the ad.
And then the commercial.
Yes, Colin Kaepernick is the new face of Nike.
Colin Kaepernick has been the face of controversy ever since he kneeled during the National Anthem in 2016. The action was a protest against police brutality and racial inequality plaguing America.
When Kaepernick announced his sponsorship with Nike, many people lost it. Not only was it Kaepernick's face on the ad, but the caption clearly stated what side of the political fence Nike was on.
Even President Trump noticed the ad, calling it "a terrible message that shouldn't be sent." He, of course, took to Twitter to express his dissatisfaction.
Trump's eldest son, Donald Trump Jr., also took the liberty of "fixing" the ad.
Americans were so disgusted with Nike's ad that they did what any angry American would do: turn to social media.
Many took videos and pictures of themselves cutting their Nike apparel. Others used a more creative approach and burned their Nike gear.
Moments after Kaepernick posted his tweet, Twitter exploded with the hashtag, #BoycottNike.
Despite the negative reactions, however, there were numerous supporters of the ad, including fellow Nike sponsors Serena Williams, LeBron James, and Odell Beckham Jr.
At Pace, some students also supported Nike's decision.
"I support [the ad], especially given his situation and the quote on the picture, " Darius Vil, a junior at Pace, said. "The ad literally supports his beliefs in a respectful manner."
Vil also called the destruction of Nike gear "an over-exaggerated response." "Plus it's just a waste of merchandise," he added.
Other students found the backlash funny. Taylor Williams, also a junior at Pace, called the situation "laughable."
"Nike already has the money of the people who are now burning and throwing away their products," Williams said. "Not to mention that Nike is such a huge international company with so many connections, that if about 1 million [people] stopped purchasing from them in the US, it's truly not going to affect them."
The junior also said she felt hurt by the negative backlash.
"It saddens me that people are so upset about Colin's face being on the ad," she said. "If anybody else's face was on it with the same message, no one would be reacting this way."
Williams is also the secretary of the Black Student Union (BSU) on campus. Last semester, Willams organized a kneeling protest during the National Anthem at the Homecoming football game.  Like Kaepernick, Williams also faced backlash from the protest.
"It had gotten so big that the president of the school had been contacted as well," Williams said. "Although it was scary, I and the people who knelt with me kept our cool and remained peaceful. We, of course, received some negative backlash, but it was nothing compared to the positivity I received."
Also present during the Homecoming protest was Darius Jones. Jones, who is a junior, is a member of the football team. He expressed support for Nike, calling the ad "a big step in the right direction."
"What Nike did was a good idea and showed what they stood for morally," Jones said. "Also, since Nike is the sole athletic apparel provider for the NFL, it kind of makes the NFL address the [Kaepernick] situation at hand after trying to seemingly avoid it for so long."
Jones also thought the destruction of Nike apparel shed light on the country's racism issue.
"I think it's stupid because they already purchased it," Jones said. "But I also believe that it's a form of hidden racism that people are truly angered by the entire Kaepernick situation."
"Peaceful protests are an influential part of our democracy," he continued. "This whole situation just shows that we as a country have a lot to work on to keep moving forward."
Although Nike's latest ad is controversial, this is not the first time the brand has spoken out on social issues. Cornell Craig, Assistant Dean and the Director for the Office of Multicultural Affairs, says Nike's marketing approach is nothing new.
"…Nike has made a decision that appears to be radical and cutting edge, but it is actually more in line with some of the marketing strategies it has used in past decades, " Craig said. "Nike has, for many years, been tapped into countercultural and progressive marketing strategies."
"They are reaching out to a younger, more politically progressive customer base that resonates with the idea of taking an unconventional route and blazing their own path."
As for the whirlwind of negativity Nike and Kaepernick have received, Craig feels both parties have nothing to worry about.
"Nike has received an estimated 40-plus million dollars in free advertisement through news and other media reports," the director said. "The other side of the outrage are individuals that are committed to supporting Colin Kaepernick and in turn Nike.  Kaepernick is the only no-active NFL player with a top-50 selling jersey.  He ranks number 39 in jersey sales."
At the end of the day, whether people support Nike or not, putting Colin Kaepernick on their ad got people talking. And this time, talk definitely wasn't cheap.
"The old saying is,'There is no such thing as bad publicity,'" Craig said. "And this may hold true in this case."
About the Writer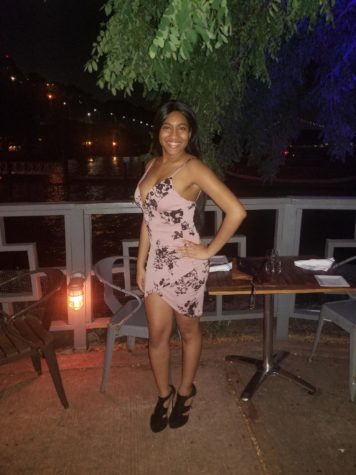 Infiniti Styles Bowie, Features Writer
Infiniti Styles Bowie is a senior Communications and Journalism at Pace. While creative writing her passion, she is an aspiring actress who one day hopes...