Assortment of Family Weekend Events makes for Successful Turnout
From this past Friday to Sunday, Pace's campus was filled with a wide range of family-oriented events, starting with a mentalist and illusionist and ending with a community service event. Members of the Student Development and Campus Activities Office (SDCA), Rachel Carpenter and Syed Hasan, were responsible for the weekend's activities.
The witty and talented mentalist and illusionist, Wayne Hoffman, kicked off the weekend with an hour long performance that blew the audience away. This star was previoulsy featured on NBC Phenomenon, CNN, National Geographic and America's Got Talent. 
"This event is family friendly and his illusions are perfect for all ages," SDCA graduate assistant Syed Hasan said. "What student doesn't like to see their parents pulled on stage?"
Hoffman preformed five interactive illusions and pulled multiple guests up to the stage including a mother daughter duo.
"With every trick he did, he continued to blow my mind," sophomore Alexandria Colamaria said. "Especially when he brought me on stage. You don't realize how real the tricks are until it actually happens to you."
Saturday morning was jam packed with more events. The options included a breakfast with faculty and staff, a tour of the Nature Center, an LGBTQIA open house, a Women's Soccer game, and more. After a packed morning, the afternoon was laid back with Fall Festivities.
At 3 p.m., there was a 'first generation' social in Kessel's Gottesman room. Dean Lisa Bardill Moscaritolo, who was a first generation college student herself, opened with a few words.  This event was dedicated to the families of students who are first generation college students, meaning neither their parents went to, or graduated from, college.
This event generated conversation and ensured families that they were not alone in the complicated college process. Two first-generation student speakers, Camilla Sibiga and Bryan Abunaw, spoke about their experiences leading up to their college careers.
"It is important to me because I am here to support all students and their endeavors," Bardill Moscaritolo said. "Families are still trying to figure out what this all means."
The rest of the afternoon was less structured and gave families a chance to explore the campus and hit the town of Pleasantville for dinner. There was also a program in Kessel's Setters Lounge for the enthusiastic children.
On Saturday night, the casino event gave families the chance at friendly competition. Tables were lined with games including blackjack, roulette, and Caribbean poker as. There were ticket drawings for upscale prizes such as a FitBit.
Sunday morning concluded family weekend with a community service event. The service took place on campus, but served several local community organizations.
"I had a really amazing time during family weekend," Colamaria said. "It was good to see my mom and spend time with her."
About the Writer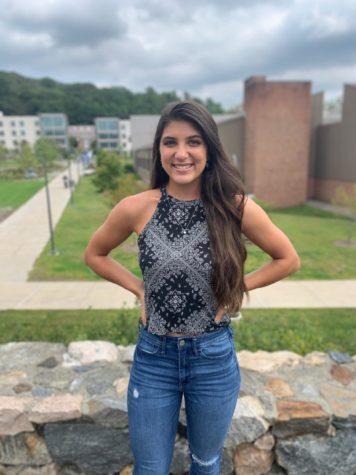 Christina Bubba, Editor-in-Chief
I am a senior Digital Journalism major with a minor in Public Relations. On campus, I am Editor-in-Chief of the Pace Chronicle, captain of the Cheerleading...