Job and Internship Fair: Helpful to All?
Twice a year, Pace students dress in their most professional attire and perfect their resumes in preparation for the Job and Internship Fair. Students visit the fair to meet with future employers and hope to nab a job or internship.
The Job and Internship fair that was held this past in the Goldstein Fitness Center week saw 119 employers show up to meet and talk to students. They included Madison Square Garden Company, CVS Health, Wegmans Food Markets, and The Westchester Bank. However, some students question whether the fair actually helps students of all different majors.
Senior marketing major Paige Predmore believes that the fair is heavily geared towards business and communications majors.
"I do not think the job fair is helpful to all majors," Predmore said. "A lot of companies are listed as 'hiring all majors,' but those are mainly sales positions that are looking for employees with any four-year degree."
Of the 119 employers that were posted on the Pleasantville Job and Internship Fair page on Handshake, 65 of them were listed at "hiring all majors." Other than that, listings included Internet and Software, Healthcare, Legal and Law Enforcement, Social Assistance, Management Consulting, Media & Communications, Accounting and Government.
Like many other students, Predmore has gotten an internship opportunity from attending the fair.
"I have been helped by the career fair," Predmore said.  "I had an internship through TMPG my junior year. I have gone seven times in my fours years."
Goldstein becomes quite packed with students, employers, and several rows of tables spread out on the gym floor. Companies hand out pamphlets, popsockets, candy, and more goodies to entice students to visit their table. Some tables have lines of people waiting to talk to companies, while others are eager for a student to stop by and chat. The noise level of Goldstein can make it hard to even hear the person you are trying to have a conversation with and deliver your best introductory pitch. 
"I don't know where else it could be held but it is very loud and hard to hear the person you are speaking with," Predmore said. 
About the Writer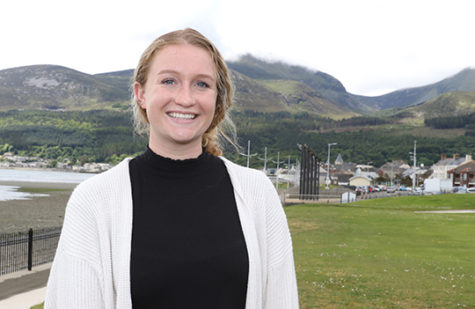 Alexis Nieman, Media Editor
Alexis is a junior Communications major and Public Relations minor. At Pace I am the News Editor for the Chronicle and a member of Entrance One PR club....