The World's Most Magical Internship
Disney–the multi-billion dollar mass media conglomerate that one either loves or hates. Either way, no one can deny the impact this major company has on the world.
The Disney College Program at Walt Disney World, located in central Florida, brings in college students from different backgrounds and fields of interest to complete an internship at the "most magical place on earth." The appeal for this internship lies in the opportunity to work your way up through the company to gain leadership positions.
Every internship provided by the program is paid, and interns live in housing complexes located near The Walt Disney World Resort. Housing fees are deducted from the cast members weekly paychecks to make it less of a hassle to pay their rent. According to DisneyCareers.com, The Disney College Program has two main focuses of their program: Exploring Disney, a series of offerings designed to show how Disney does business in a variety of areas, and Career Connection, created to guide participants in their career path and development.
Pace sophomore Katie Doyle is currently in Disney for the internship program. 
"I wanted to do the Disney College Program because, as a film major, I hopefully want to work for the Walt Disney company in the future, and it's a really big help in the application process when the company sees you've already worked for them because they know you have a good understanding of how the company works and their values," Doyle said. "Also, I just love Walt Disney World, so being able to live here for a semester is amazing."
Doyle applied for the program in late August, and after a phone interview, she was offered the position last September. She works as a bus greeter and is assigned to a different Disney World park every morning, with the task of making sure the buses are running smoothly and guests know where to go. The internship offers Doyle a chance to gain hands-on experience with a company she hopes to move up in and allows her to attend seminars and networking sessions that are connected to her future career in film.
"During this program, I have made friends that I know I'll have for years to come," she said. "I've gained so much knowledge and so many skills from working for the Walt Disney Company, and I got to go to Disney World for free for four straight months. So yea, I'm kind of loving it."
Doyle credits being an orientation leader at Pace with helping her gain skills that matched Disney's requirements.
"If I'm being honest, I applied for the program and accepted a position with them before even talking to or asking anyone at Pace about it," she explained. "However, I can say that me being an orientation leader at Pace was one of the most talked about things on my phone interview with the Disney recruiter. A lot of the skills I gained as an orientation leader were skills that Disney was looking for."
About the Contributor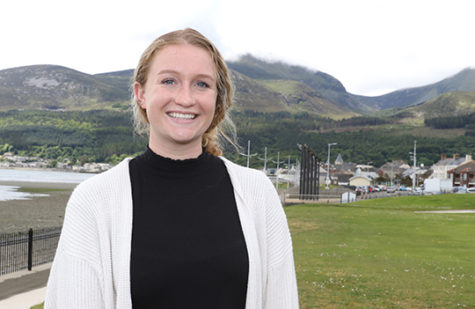 Alexis Nieman, Media Editor
Alexis is a junior Communications major and Public Relations minor. At Pace I am the News Editor for the Chronicle and a member of Entrance One PR club....