NY LGBTQ+ Film Festival picks short film made by MCVA students
In November of 2019, five Pace MCVA students stayed after class for hours with Professor Lou Guarneri discussing their final project for their class, Lighting: The Craft of Cinematic Artists. What started as a simple short film, metamorphosized into a piece selected to be shown at The New York LGBTQ+ Film Festival, NewFest.
"All of the Signs" is a delightful piece of film centered around a gay student, Amelia, trying to figure out if the girl she likes is gay or straight. The short film demonstrates the struggles that many LGBTQ+ individuals face when trying to see through all the stereotypes to determine if the person they like could ever like them back.
Senior DCF major Sam Roppola, the accredited Script Writer, knew that she didn't want to the characters seem "creepy," so she helped to create a way for the characters' curiosity about her crushes sexuality seem more innocent and comical.
"We really just wanted to make it a gay love story, and we wanted to make a joke out of it, but for gay people," states Roppola. "We wanted to show the stereotypes from our side. It's dumb that there are stereotypes, but sometimes they do sneak into our daily lives. So, I made it a point to make it more of a dream sequence. What they're really doing is looking through her Instagram, but that wouldn't be good on film, so we had to show what they were looking at in a different way."
As Amelia and her best friend, Sasha, peel through Amelia's crush, Maeve's Instagram, the audience is taken into this dimly lit room with a diagram on the wall made out of red string and pushpins. The two friends are wearing hats made out of aluminum foil to complete the conspiracy look. They reminisce back to moments they shared with Maeve, "Was she wearing a flannel at Pride Club? Did she have any pins on her backpack?"
Co-Director Sue Carine, a Senior DCF major, knew that the powerful message of the film was something that she wanted to help come to fruition.
"This is a representation of a little bit of what it is to be a part of the LGBTQ+ community," stated Carine. "This is stuff that a lot of people go through. I wish I would've had something like this when I was younger because you go through the motions of trying to find love without having any sort of guide. We wanted that validation where our audience can see that other people go through this, they aren't alone."
The cast and crew worked through the entire fall semester of 2019 filming a love story in the basement of Wilcox Hall. They found the perfect cast members, a diverse group of women who were also the crew's friends. Eventually, they submitted the film to both Cinematography and Lighting as final projects, but their journey doesn't end there.
"When we made the film, we were really proud of it and we thought it would be cool if we submitted it to some places," stated Co-Director Samantha Felix, Senior DCF major. "I was looking online, and I found the NY LGBTQ+ Film Festival. A week after I found their website, they were accepting submissions. I honestly forgot that we submitted it for a while, because we submitted it in February, before the pandemic even hit us. When our acceptance email came through, I was like, 'Oh my god. We are in a film festival, that's a thing that we did!'"
Now, the film has over 42,000 views and 90 comments on YouTube. The comments are all very positive and reflect how many people were truly moved by this film.



"My favorite comments we received were people really finding it funny and relating to it," said Felix. "I think it's really important that when we joke about queer people, the jokes are being told by queer people, by us. It's not people making fun of us, it's us joking about the kind of stereotypes that we see every day. We're not straight men trying to write about lesbians."
"I cant get over the fact that we're in an LGBTQ+ film festival," Felix continued. "Five out of six of us are LGBTQ+, and we created an LGBTQ+ film. I'm so proud of our group and the story we told."
The 32nd Annual New York LGBTQ+ Film Festival will take place October 16-27, 2020. "All of the Signs" will be shown virtually after a Q&A with Roppola.
Cast: Nicolette Camacho, Kaitlyn Lizardi-Foster, Brittany Taubman
Crew: Sue Carine, Ashley DeSalvo, Katie Doyle, Samantha Felix, Korbin Kepner, Sam Roppola
About the Writer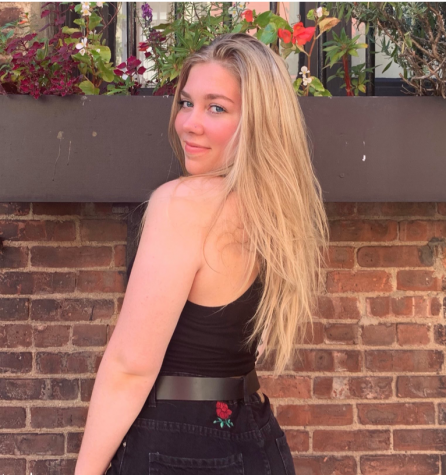 Sequoia Cumming, Editor In Chief
Sequoia Cumming is an honors-level senior majoring in Digital Journalism and minoring in Sports Media and Broadcasting. While starting as a contributing...