Springing into Spring Fashion: what's trending, what's to come, and how to stay in the fashion game
As winter comes to a close, we can all begin packing the heavy winter coats and snow boots and say  bring out the colors, tank tops and say hello to spring.
With fashion trends constantly evolving and new trends coming into light, fashion lovers, Allison Phillips '21 and Rachel Wyman '22, are embracing current trends and anticipate what's to come this spring. 
Both Wyman and Phillips get their style inspiration through social media influencers, specifically on Instagram and TikTok. Wyman, a junior public relations major, describes her style as more comfy chic, while Phillips, a senior digital cinema and filmmaking major, describes her style as more neutral but changes with the seasons.
Despite their personal styles being very different from one another, there's one thing it's safe to agree on: winter calls for neutral colors. Neutral colors including black, gray, white, brown, and green are simple but essential staples to keep in your closet. With spring just around the corner, the two are excited to bring more color into their wardrobe, from pastels to vibrant colors, for the warmer season.
"In the spring, I'm going to try to add more color into my wardrobe," Phillips says, "color kind of scares me but we're going to try." 
Piecing together monochrome outfits and layering neutral colors has been a popular trend this past winter season, but once the sun begins to stay out and the flowers begin to sprout, the pastel colors come back in season. 
"Pastels are always a trend for spring because the colors outside are changing so people wear green, blue, pink, like, natural pastel colors," Wyman says, "but I think [the trend] this year is going to be a lot more vibrant colors, like, more bright and more bold stuff." 
Incorporating multiple colors into different outfits could be a challenge when dealing with different shades, tones, and hues, but adding simple pops of color into neutral toned outfits could bring that twist that makes all the difference. 
Adding statement pieces and accessories is the perfect way to bring some texture and pop to some basic outfits for spring. One of Phillips' favorite pieces trending right now are her chunky black boots. 
"I wear my black chunky boots every single day," Phillips said. She likes to style them with baggy pants and an oversized blazer. "I feel like everybody could rock the oversized blazer, but it honestly depends on what you feel comfortable in."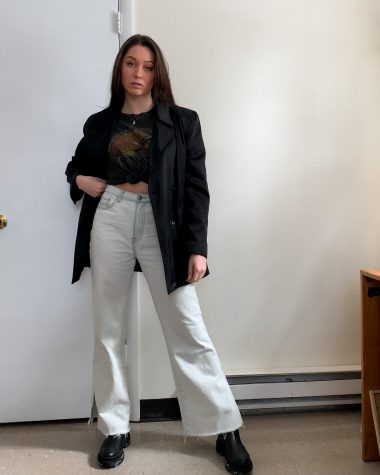 Wyman's favorite way to dress up her more casual outfits is by layering. Whether it's playing with jewelry, adding a jacket or upping the shoe game, layering can transform an outfit into a completely different style. 
"So, you have an outfit– tank top, jeans, sneakers," Wyman says, "if you want to change it up, change the sneakers to booties or heels and then throw on a blazer and jewelry." 
Wyman adores her cozy style. Being comfortable is the top priority and she feels anyone can rock the baggy pants and t-shirt and luckily, the oversized fashion trend is all the rave right now. 
"They're [oversized pants] easy to be comfortable in and I feel like everyone could be confident in them," she says, "it's popular now, you don't have to worry about if you look 'frumpy' because that's the style now." 
If you're going for streetwear, Wyman suggests styling baggy pants with sneakers or platform sneakers, and layering with accessories. For a dressier look, switch the sneakers for heels or booties and add more jewelry.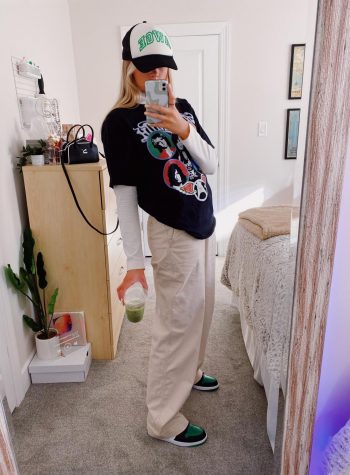 A staple piece in Phillips' closet that she recommends for everyone are her trusty pair of Levi jeans. 
"I would say invest in a good pair of levy's because levy's never fail," she says, "they're pricey but you'll have them for a long time." 
Phillips recently challenged herself on her Instagram to wear a different pair of pants every day and to try to base her outfits around them, calling the challenge "February of Pants." 
"I came back from break and I was reorganizing my closet and I was just looking at all of these pants like 'wow i only wear one pair of Levi jeans, like, I don't wear any of these pants,'" Phillips says, "so, I thought I would challenge myself to wear a different pair everyday and make an outfit out of it." 
The challenge was not only a fun way for Phillips to test her ability to style the more unique pairs she owns but also a way for her to decide which pants would be making an appearance this spring and which would probably stay in storage.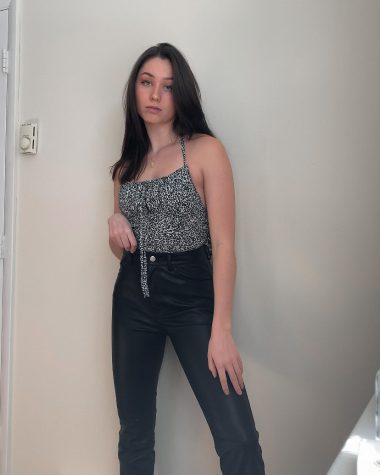 While trends change from season to season, and maybe even week to week, Wyman shared her staple pieces that she feels will always be in style and that are versatile enough to wear and style all year round. 
"Invest in a single good pair of jeans that you love and that you can wear with anything and dress up or down," Wyman says, and that you could never go wrong with accessorizing and layering jewelry. "[Wearing] lots of rings, like, stacking rings because rings have always been popular and they'll always be popular but I just think the types of rings will change."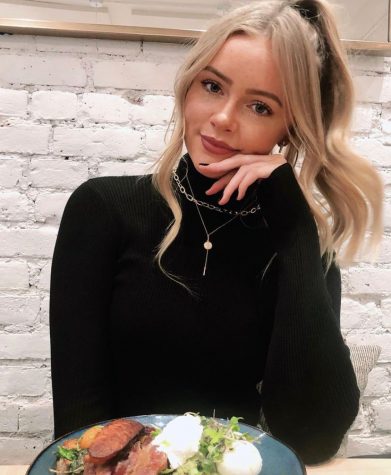 Phillips shared some shopping tips that she feels everyone could benefit from, especially those looking for budget-friendly ways to stay on top of the fashion game. 
"Don't buy into fast fashion," Phillips says, "It's better to step back from that and go thrifting. You can find so many good things at thrift stores."
She also suggests shopping at more local thrift stores as opposed to thrifting in more metropolitan areas, where sustainable and vintage fashion pieces are higher priced.
"I feel like trends always come back, like there's a cycle of trends," Phillips says, "so, if something was trendy years ago, it's probably back in style now, so you can find those at thrift stores."
Although some fashion trends may circulate the media more than others, personal style is very individualized. While certain trends may appear to be followed more than others, personal style is whatever evokes confidence in the individual wearing it. 
"I know not everybody's going to go for the leather pants," Phillips says, "and not everyone's going to feel comfortable wearing leather pants on a daily basis." 
With so many trends and fashion statements making their way to social media, experimenting with style and wearing what makes one feel good is the first step to finding your personal style and discovering what's next in spring fashion.