Setter Spotlight: Shahab Gharib, the 13-year-old freshman attending Pace University
With a passion for reading and museums, Shahab Gharib may seem like an average 13-year-old. However, Shahab Gharib is far from average as he attends Pace  as a history major on the New York City campus. 
Shahab Gharib, born in Germany and living in Florida, began his academic ventures at the age of three with his father, Bardia Gharib, who would read newspapers to him to spark discussions on varying topics.
"I love the opinion of three or five year old Shahab to complex problems because it got him thinking and narrows them down to only key points,"  , Bardia Gharib states.
It wasn't until second grade that his parents were notified that he was more advanced than others his age.  
"I got my gifted test and I had no idea what a gifted test even was," Shahab Gharib continued. "They put me in special high achiever classes the next year, but I was still ahead." 
Even in high-skilled classes, Shahab Gharib  excelled ahead of his peers. To fill his boredom, he read his school's entire library.
The academic scholar transferred to a gifted school in fourth grade where he took his first PSAT, passing with a score of 1250.
While he attended sixth grade, he chose to take high school credit electives through Florida Virtual School, a statewide online public school. Without realizing, Shahab Gharib had only three courses left before he was finished with high school.
"When I was counting my credits, I went to my dad and said I think I just finished high school," he states. 
With the utilization of Florida Virtual School and CLEP exams, Shahab Gharib graduated high school at 12 years old with 12 college credits, equivalent to the minimum credits taken in one semester.
Bardia Gharib remembers being proud of his son for his accomplishment, but also worried about what his college experience would be. He feared his son would only focus on attending class and finishing assignments instead of growing socially.
"I wanted him to experience theater, concerts, operas, ballets, everything, and you can't experience that in Florida," Bardia Gharib said. "The deal was if he wanted to go to college, we had to apply in New York or we don't do it."
However, with age restrictions being 13 or over to create specific online accounts, Shahab Gharib struggled to register for any admission tests, specifically the ACT, for the colleges of his interest.
"My dad helped me a lot and I am thankful," Shahab Gharib said. "He took over the administrative role of making phone calls and writing mail, while I took care of all things academic."
Pace  accepted Shahab Gharib to join the class of 2024, dubbing him one of the youngest students to attend the university.  In an article with Teller Report, President Marvin Krislov said, "It is a pleasure to teach Shahab."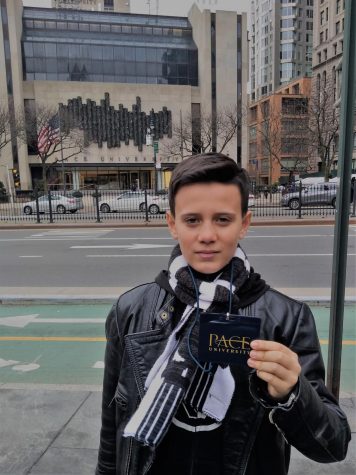 After his acceptance, his family did not hesitate to move to New York from Florida.
"My wife was just promoted to nurse manager and I had just finished building a library room in our house, but that one day changed it all," Bardia Gharib said.
Shahab Gharib shares that he is thankful for the sacrifices his parents have made for him. He has witnessed the determination and work ethic of both parents, which has molded him into the person he is today.
Shahab  Gharib plans to graduate from Pace in only three years at the age of 16. He hopes to further his education by obtaining a master's degree and going to law school.
"I am hoping to be the youngest to finish law school, but I don't really care about beating records," Shahab Gharib states.