Dr. Janes Collins kicks off Pace University Poetry Festival with Black Student Union and Students of Caribbean Awareness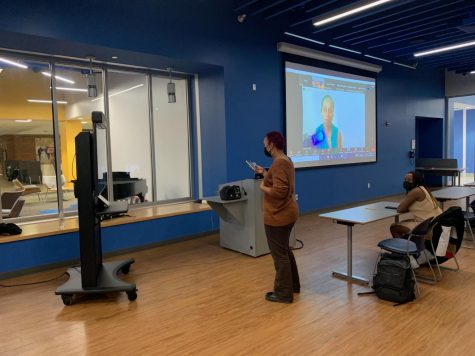 PLEASANTVILLE, N.Y. — The second Annual Pace University Poetry Festival kicked off a week of events with a poetry reading from Rochelle Ward hosted by the Black Student Union, Students of Caribbean Awareness Writing and Cultural Studies Department Associate, Professor Dr. Jane Collins.
Rochelle Ward is a Pace alumna where she studied creative writing and literature and graduated with a Bachelors in English and Communications. In 2004, she received the Hilary Becker Poetry Award and was remembered by her professors as being a gifted student. Today, she is a poet and teaches English and Literature at St. Maarten Academy where she attended high school and first began writing poetry.
In the Kessel multipurpose room on Monday evening, Rochelle Ward met with students via Zoom to read multiple poems from her debut book, "Tangle," which explores ideas of Caribbean History, race, womanhood, and nature. Following the poetry reading, two students, Tinuade McClish and Shea Teague, had the opportunity to interview Ward.
McClish referred to the title "Tangle" and the relation is has to natural hair. "I wanted to begin by asking what your reason is for choosing this title and what your relationship with hair was growing up and how that influenced your upbringing?" Ward reflected on what "Tangle" means to her and how it is all about pushing through difficult situations to bring out the best in ourselves.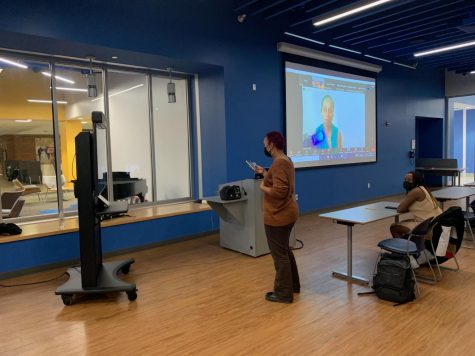 "For me, I learn how to appreciate my hair, I learn how to understand it…to master it and for me that has taught me a lot about resilience, about patience, about courage. Because I may have a bad hair day, but I'm not gonna change that course, that direction of me becoming somebody greater and better. Also I learn how to push through difficult situations in order to bring out the best in my hair, in myself."
Following Tinuade McClish's interview, Teague asked the special guest about any advice she may have for students who want to continue their creative work after college. Ward says to maintain your habit of writing because it is apart of who you are. "You can still have a life with writing because it is your duty it is who you are meant to be." She finished her point by also saying, "When you leave school, take all of you with you.".
The Butterfly Clips event concluded with a writing workshop where students in attendance had the opportunity to write their own version of a poem inspired by Rochelle Ward's work. After a limited amount of time to create their poems, many students were brave enough to read aloud what they had wrote.
If you'd like to learn more about the festival you can follow @pacepoetryfestival on Instagram or check out the student and literary arts magazine at @chroma.pace.