Shaking Things up for Spring Commencement
Big changes are coming to this year's spring commencement. On Wednesday, November 10 President Martin Krislov officially announced the new venue. The Billie Jean King National Tennis Center will be home to the Spring 2022 Commencement Ceremony. 
The University's team working on commencement has been carefully sorting through different locations, trying to find the perfect place to accommodate guests and students alike.
President Krislov expressed that there is, "considerable uncertainty about the COVID situation," especially in regards to New York City's vaccination status policy. The Billie Jean King National Tennis Center is a COVID-friendly open space. 
However, the change in venue isn't all due to COVID-19. The scale of the ceremonies was a considerable factor. While Pace Pleasantville's Goldstein Gym has played host to commencements in the past years, it had been reaching maximum capacity. In changing the venue, more tickets have become available for students. For the main ceremony, 4 tickets will be allotted to each student. For the school-specific ceremonies, 6 tickets are available. 
President Krislov expressed enthusiasm about this new location. He feels that it is much more capable of "bringing the people together in a meaningful way." 
Not all share his sentiments. Gina Gelchie, a graduating senior, says that she was sad to hear that this year's commencement would not be held in the gym. 
"We started off in the gym with Convocation freshman year," Gelchie says. "It would be really special to end with Commencement in the place where it all began. It would be a full-circle moment." 
The ceremonies themselves will also look a lot different this year. The classes of 2020 and 2021 will be invited back to walk across the stage. Since their graduation took place at the height of the pandemic, it was important to Pace to be able to provide them with an actual ceremony as soon as possible. Ensuring that every Pace student has a chance to experience hearing their name called and walking across the stage is a high priority for President Krislov and the team in putting together Commencement.
However, the ceremonies will not be broken down by year. Instead, after the unified ceremony, each school will have their own individual ceremonies. These ceremonies will feature students from 2020 through 2022.
Current seniors have conveyed some concern about this idea. They feel that every graduation should be individualized to the class. While they sympathize with the alumni who never had a chance to talk across the stage, they still wonder how the ceremony can be made to feel personal. 
Alumni who have graduated are excited at the prospect of getting a more formal ceremony. I spoke with Constance Labatt, a graduate of Spring 2021. Labatt says, " I would love some type of ceremony made for those who didn't get one. Whether it's combined with other years or just the class of '21, I wouldn't care."
Labatt goes on to say that she feels that Pace is doing the right thing by the alumni in offering a chance to walk across the stage. When reflecting on her own graduation ceremony, Labatt explains it as a lack of closure. "Right now, my only memory of graduating from Pace was walking across a small stage in an empty Pace gymnasium with no friends and no family around to witness it and I grabbed my diploma out of a bucket. It was impersonal and cheap."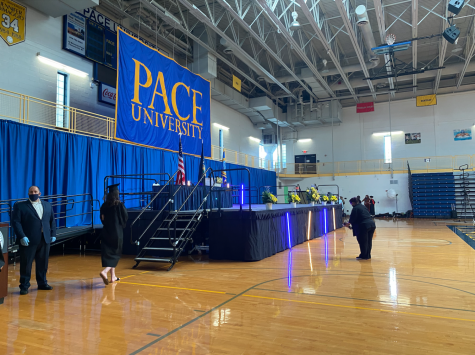 A second chance at a graduation ceremony will be able to provide students the opportunity to experience graduation as it was meant to be. 
After ceremonies, activities will commence. All of the details for this have not been finalized. The commencement team is still working and would love to hear ideas from students about what they would like to see happen. Krislov really emphasized how crucial student engagement for this is.
"All ideas are welcome. We are open… not all plans are in place," said Krislov. "If people have particular ideas or traditions they feel are worth pursuing, we would love to hear them."
The commencement team is still working on ways students can get in contact to submit their ideas. More information on that will be forthcoming.
Plans for pre-commencement celebrations are also underway. Krislov wants to ensure that Pace comes together as one large community to celebrate such an important day but also recognizes that the two campuses deserve their own celebrations.  
There is still much to be done, and more updates will be released as the Pace Chronicle receives more information.