Pace students and alumni come together for a professional film shoot
On Saturday, February 12, Pace students and alumni came together to shoot a film on behalf of Music to Life, a nonprofit organization that provides resources for musicians interested in using their art to make social change and improve their communities.
This collaboration started about nine months ago when Music to Life director Liz Sunde reached out to Pace MCVA professor David Freeman. She had seen the work with the music community and was interested in creating a project with him.
They spent months talking, floating different ideas, and discussing the potential benefits and challenges of each before they finally landed on their plan: Music to Life would find artists and bring them to Pace. From there, student filmmakers would interview them and record them performing. The whole thing would then be cut together into the pilot episode of what Sunde hopes will be a limited series exploring the cross section of music and social justice.
Freeman and Sunde ran two focus groups leading up to the shoot to see what topics, elements themes, and content they would be most interested in seeing. Freeman reached out to assistant clinical professor Lou Guarneri to assemble the production team and take care of the shoot's technical aspects. Prior to production, the team met over Zoom to determine what the filming process would look like and the roles that each team member would fulfill.
The production featured four Asian American musicians who are using their music to explore identity and social change: Taiyo Na, Treya Lam, Ashni, Jason Kao Hwang. The film crew recorded them performing for and conversing with one another and conducted one-on-one interviews.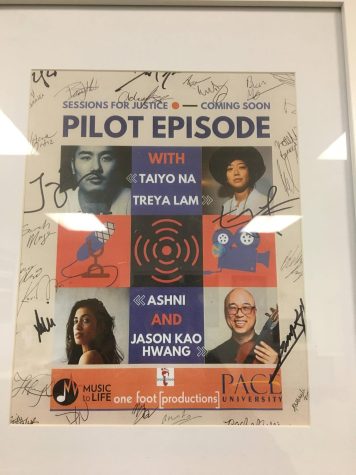 "The thing about that shoot that I found a little difficult was the scope was very large," Guarneri says. "There are four artists, and essentially, they needed to have cameras on them the whole time. So there was a lot of moving parts, and we'd broken into teams, which led to us really needing to be very specific with our communication and our timing of everything."
Despite this challenge, Guarneri says that he was impressed with the students' and alumni's ability to work together, communicate, and cooperate in order to get the job done. Even though he has not viewed all of the footage yet, he is sure it came out great, simply because of the way that the production team conducted themselves during the shoot, from the assistant director Sarah Morge, who kept everyone on track, to the rest of the team for carrying out the work so well.
"There were so many instances where I would be across the room and be able to look at Adam or Diana and have, like, a telepathic conversation with them," Guarneri says. "…it made me happy and proud the way they carried themselves, how professional the set was… Think about it, it's a Saturday, they like, killed a whole day to be on this set. They didn't have to be there, and they did it because they care about creating stuff, they care about the process, and it was really cool to see how tight the community is here… It was a long day, there was a lot to do, but there was a lot of really positive stuff on our end… I don't want anyone to ever underestimate our students because we have amazing, amazing students here."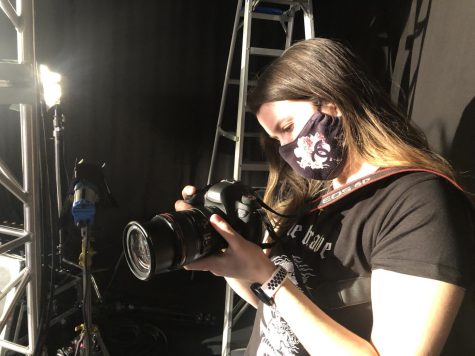 Freeman was also impressed with the crew's work ethic, and both he and Guarneri say that the product they created would not have been possible if those involved had not been as
"Without the energy and participation and the hard work and positivity by the students, nothing that Lou and I put together here would be possible," Freeman says. "It has everything to do with the students being down with working with us. I'm just thankful and grateful."
Now that Pace's film makers are done with their contribution to the project, Music to Life will hand the footage off to a third party, who will cut a trailer and the full episode. From there, they hope to find funding to produce a full series.
Freeman and Guarneri enjoy having the opportunity to incorporate music related projects and initiatives to the MCVA department. They both have personal connections to music, and Guarneri believes that producing music videos is a great way for aspiring filmmakers to break into the industry. He and Freeman also believe that having hands on experience is essential for students.
"It's just like learning how to swim," Guarneri says. "You can either talk about it, or you can jump in the pool and do it, and I think that the only way to improve is to jump in the pool… the more time spent making stuff I think genuinely creates better media professionals."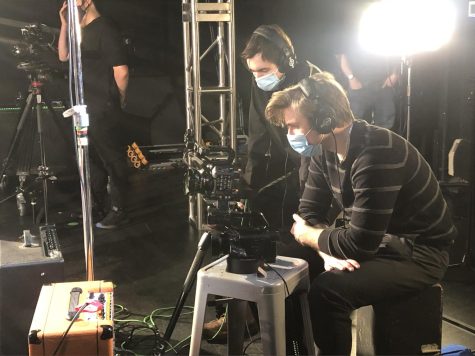 Guarneri also says that, in the case of this particular shoot, he hopes that students gained more than technical skills. Most of the team already had experience with cameras and audio equipment, and they knew how to use everything quite well. However, this shoot gave them the chance to learn how to work in larger groups in order to execute a client's vision. He hopes that this experience helped them hone their people skills in the context of a film set.
"Your flexibility is probably one of your most important skills in the video production world," Guarneri says. "I feel like that's my hope, that they learned to work with others, work as a team, respect the team and know that we can go into this with the expectations of it working out this way and problems come up, and it's not something that we need to yell at each other about, not something that we need to get upset about, it's 'hey, we need to pivot, we need to make this happen, because we're all here to make a film'."
Freeman values the lessons that students can gain from extracurricular film projects like that. He admires the crew's ability to rise to the challenge.
"I really like the fact that we're producing more music here in our department and bringing real life production experience to our learning community and having the students not produce just projects for their classes, but to work with outside production partners is really important experience," Freeman says. "I also personally love testing our limits and testing and increasing our capacity here in the department, to see what we can do and test what we're capable of doing. After the shoot, I think we've proven that we're able to do so much. I'm really proud of this department."