Drug Test Failures Call Athletic Policies Into Question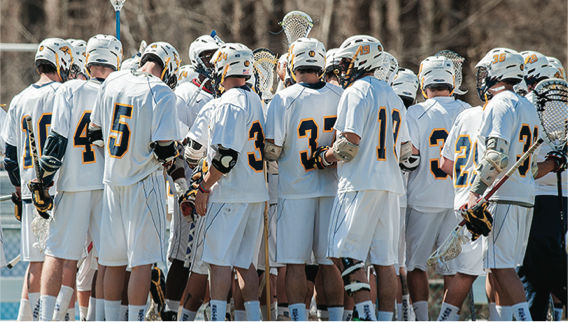 Recent allegations that two members of the Pace men's lacrosse team had tested positively for "street drugs" last week have brought into question the logistics of the university's drug testing policies.
"A few of the lacrosse players were caught using [recreational drugs]," an anonymous source said. "They were temporarily suspended and have to take weekly drug tests."
Both players who are alleged to have failed the test declined comment. Pace Athletic Director Mark Brown was unavailable for comment.
"I know other programs where if you even think about doing drugs, you get kicked off the team," head men's lacrosse coach Tom Mariano said. "If [Pace's drug policy] were up to me, I think a lot of people might not like it."
Pace's Athletic Drug Education and Testing Program requires that athletes who have tested positively can be "retested at any time within 30 days of the initial testing date" and "deemed financially responsible for any necessary costs for the retest."
Athletes who test positively are additionally suspended from a minimum of 10 percent of regular season games.
All student-athletes are required to read the Drug Education and Testing Program and sign a consent form, in order to participate in and receive scholarship for Pace athletics. This program is in accordance with the National Collegiate Athletic Association (NCAA) and its policies.
"Student-athletes are responsible for anything they ingest," the NCAA drug policy pamphlet reads.
The same Pace Drug Education and Testing Program describes the way in which drug tests will be administered and how student athletes will be notified.
"[The Athletics Department] tells you the evening before through a text, phone call, and e-mail, and you go in at 6 a.m. and fill out a bunch of forms and wait for them to call you in," said senior cross country runner Keith Collazo regarding the drug testing process. "Then you piss and someone literally watches [you]. And, your pee has to be a certain pH, and if it's not they make you run around the track and sweat, so it can either be really quick or really long."
However, Pace's drug program also states that student-athletes can be tested without prior notification.
"…all student-athletes may be subjected to no notice testing," the Program reads. "Student-athletes will be responsible for reporting to the designated testing site within thirty minutes of notification. These procedures are set forth to protect the integrity of the process."
Additionally, the program states that student-athletes may be tested under suspicion by the Director of Athletics or any sources deemed reliable by the director.
"When you're a student athlete, you can be tested at any time," Mariano said.
He noted the many benefits of participating in college sports, despite the arbitrary drug tests.
"You have kids on scholarship. That's a benefit," Mariano said. "There are a lot of perks, like the alumni community and connections."
An anonymous lacrosse player begged the question of Pace athletes who were not on scholarship, and therefore "not a liability to the school."
"As an athlete, you're representing Pace and your team," said freshman lacrosse player Brandon Donnellan, who feels that the athletic drug policy is fair. "How can you compete at your best when you're taking drugs?"
The NCAA website specifically lists the negative side-effects of banned drugs to an athlete's game, in addition to the disadvantages of alcohol and tobacco use, which are only banned for rifle sports.
"No one can prove that drugs are beneficial to you; in fact, studies show that it doesn't help you at all," Mariano said. "You're choosing to take a drug that could kill you."
The Pace athletic drug policy adheres to NCAA standards, but places any additional penalties for athletes at the discretion of the coaches.
A second positive drug test will result in the athlete's dismissal from the team and ineligibility to participate in other collegiate competitions.
"[Athletes] have a freedom of choice, not freedom of consequences, and at Pace, those consequences are clearly laid out," Mariano said. "Follow the rules, or don't play."