Pace Bids Farewell To Caity Kirschbaum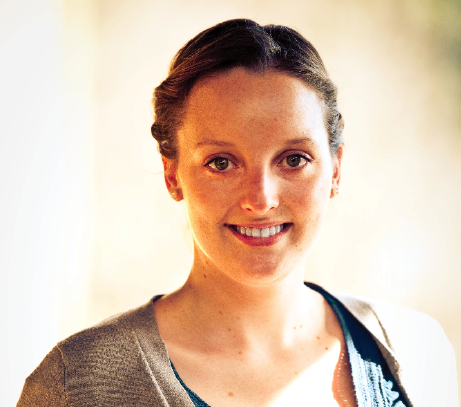 Caity Kirschbaum will be leaving her position as Coordinator of Student Development and Campus Activities (SDCA) on Fri. March 28. Starting this spring, she will be serving as Manager of Fundraising and Community Relations for Maria Fareri Children's Hospital at Westchester Medical Center.
As a Pace University alumna and faculty member, Kirschbaum has spent the last seven years at Pace, making it her home.
"I have mixed emotions of sadness and excitement as I embark on a new chapter of my life," Kirschbaum said. "I will miss the day-to-day student interactions that I have working here. I like being able to see that the effects of my work shown through the students that come into my office. As a student that was looked out for, I like being one of the SDCA staff that is here to look out for students."
Kirschbaum was a commuter student during her undergraduate years who worked in the SDCA office in order to stay active on campus. She explained that she was the type of student that came to Pace with the high school mentality, but soon realized that she didn't "want to make the same repeat of the last four years," she wanted "to make the most of [Pace]."
Working with the orientation staff, Kirschbaum came to her position as Coordinator of SDCA and while maintaining her position, also completed a masters in Media and Communications this past May.
"Thinking about leaving Pace is never easy, but I could never think about leaving if I wasn't going somewhere that I could make a difference," Kirschbaum said. "Hopefully P4K [Pace for Kids] was able to link my passions for Pace and Maria Fareri's Children's Hospital together."
When Kirschbaum was a sophomore at Pace her brother, Chris, suffered an aneurism that placed him in a medical induced comma at 13 years old.
Her brother was taken to Maria Fareri's Children's hospital where the cause of the problem was found to be cerebral arteriovenous malformation (AVM), an abnormal connection of the arteries and veins in the brain. The doctors explained that he was the youngest case they had seen in the region, and, due to the complexity, said he had a fifteen percent chance of survival. Chris underwent eight hours of surgery with two different procedures, and remained in the hospital following the surgery for two months.
Today, Chris is alive because of the team of doctors and nurses at the Maria Fareri Children's Hospital.
"I always knew I wanted to give back to Pace and to the hospital and now I will be able to do that," Kirschbaum said. "Finding your passion is not always where you expect it, but when you do find it, run with it and make the most of everything that you do!"
Many students and faculty are both saddened and excited for Kirschbaum's new role at Maria Fareri. Sophomore communications major Rachel Avilez acknowledges her personal grievances, yet wishes Kirschbaum only the best in her future endeavors.
"I've worked closely with Caity and these opportunities have allowed me to get to know her on such a personal level," said Aviles, who has considered Kirschbaum to be a mentor. "Maria Fareri's hospital is lucky to have her, Pace will miss her, and, most importantly, I know that she would never leave Pace unless an opportunity to challenge, and push her would arise so I wish her luck on this next adventure of her life."
It is expressed by many that Kirschbaum will be missed but will be able to expand her generosity to more people in her new position. Ashley Lora was able to connect to Kirshbaum through her close work with SDCA.
"Caity was great at her job — not because she was a hard worker, but because she can relate to the students.  Caity was a Pace student before her position in SDCA," the junior history and political science major said. "She knows the 'Pace Struggle' and is able to communicate and relate to students at Pace.
Like many students, orientation was what sparked Kirschbaum's passion for Pace, which did not go unnoticed early on.
"I first met Caity at her very own orientation and I immediately knew this young woman would make an impact at Pace,"  Associate Director of SDCA Shawn Livingston said. "Four years later and after having subjugated herself as an office employee for us all four years we offered her a full time position as our Coordinator.
"Caity has left an impression on so many in her time at Pace. Unarguably we know how much the entire community will miss her dedication, wit and customer service. I will miss her too — but I wish her nothing but the absolute best. I knew in 2006 and today that Caity will continue to be an asset to Pace and anyone else in her future."
Halle Champion is yet another example of a Pace student who Kirschbaum has impacted greatly. When Champion attended her orientation, Kirschbaum urged her to become involved in SDCA. Further, she applied for the position and was hired where Kirschbaum became her boss through her junior year and during her time as an orientation leader.
"[Kirschbaum] was an excellent boss who not only pushed me to do better but she even put me in my place when I needed some guidance," the junior adolescent education major said. "Caity has become a mentor for me and she has continued to encourage me to be the best that I can be."
While Kirschbaum is busy helping and impacting others, her colleagues and associates are deeply moved by her capacity to learn and dedication to her work. Director of SDCA Rachel Carpenter first met Kirshbaum in the summer of 2010 when she served as a leader in the summer orientation program.
"I was so surprised she had just graduated a few weeks before, Carpenter said.  "Caity immediately impressed me with her maturity, professionalism, thoroughness, and ability to rise to any challenge.  It was evident to me she would go above and beyond for the program and for the office."
Carpenter noted that Kirschbaum office served as a "classroom of life," and the two, comfy chairs are often occupied by students, debriefing from their day or seeking advice. Like many, Carpenter has established a personal relationship with Kirschbaum and considers her to be her pop-culture twin.
"She is someone I always look forward to discussing the latest episode of a series on television, she appreciates when I send her articles related to conversations we have in between all of our meetings and projects," Carpenter said. "She will be greatly missed – but I am so incredibly proud of her and happy for her!"
Those who know Kirschbaum may best relate to Ashley Lora
"While Caity's new position is a big gain for her, it is a greater loss for the Pace community."
As a new window of opportunity in Kirschbaum's career has just been cracked, Pace's doors will always remain open for her.