Update: Weight Room and General Locker Rooms Reopen After Pipe Burst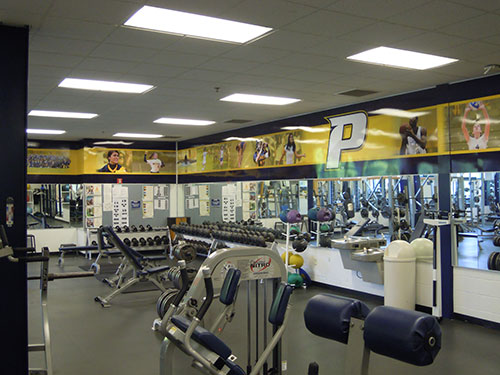 The weight room and general locker rooms in the Goldstein Fitness Center (GFC) reopened on Friday, April 25 a pipe burst early Thursday morning. The cardio machines were off limits while the other facilities were accessible due to flooding that interfered with the electrical wiring. The flooding and necessary repairs were made by buildings and grounds and maintenance.
Some members of the football team were in the weight room for a routine weight lifting session when the incident occurred. "I was there this morning around 9 a.m. and it just like, started raining," said freshman linebacker John O'Leary. "We all just left."
Aside from a few ceiling tiles that need to be replaced everything is up and running, according to Assistant Athletic Director for Facilities and Campus Recreation Jeremy Pouncey.
About the Writers
Cecilia Levine, Managing Editor
Cecilia Levine is a senior applied psychology major from West Hartford, CT. She began writing for the paper as Feature Editor in the spring of 2013. When...