SJP's Palestine 101 Turns Into Debate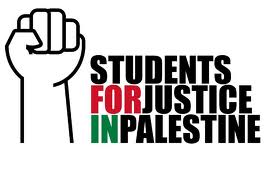 What started as an informative panel turned into an energetic debate during "Palestine 101," an event held by the Pace University-Pleasantville chapter of Students for Justice in Palestine (SJP), on Mon., March 7 at Lienhard Lecture Hall, as part of its "Israeli Apartheid Week."
SJP planned the event as an opportunity for students to become acquainted with the issues surrounding the Israeli-Palestinian conflict. Various members of the Jewish communities at Pace and Westchester attended the event, and, once the Q-and-A session began, they went back and forth with the panelists on a number of contentious issues.
SJP President Nihal Al Qawasmi opened the event. For her, an essential point was the idea that the conflict in Israel is much more than a fight for territory, it is about human rights.
"The relationship between Israel and Palestine is one of oppressor and oppressed," Al Qawasmi, a sophomore, said.
Dr. Joan Katen, Adjunct Professor of Political Science and Peace and Justice Studies at Pace, then gave a historical overview of the Israeli and Palestinian territories. Katen said the current conflict in Israel does not qualify as war, because a war presupposes that both sides are even.
After Katen, Nada Khader, director of Westchester People's Action Coallition (WESPAC), a local peace and justice action network, further discussed the conflict.
"The current status quo is unsustainable," said Khader, who has directed WESPAC for the past 14 years.
The Peace and Justice Studies professor at Pace spoke about Boycott, Divestment and Sanctions (BDS), a movement that targets entities that benefit from the Gaza and West Bank occupation. BDS was inspired by similar boycotts during the era of South Africa's apartheid.
The last panelist was attorney Natalie Kabasakalian, member of Jewish Voice for Peace – Westchester (JVP), a community that "seeks an end to the Israeli occupation of the West Bank, Gaza Strip, and East Jerusalem," according to its website.
Tears came to Kabasakalian's eyes when she remembered the violent events in Gaza last summer. She spoke about the experience of growing up surrounded by an ethos that favored Israel, and beginning to identify—and reject—sentimental anti-Palestinian rhetoric.
Once the panelists finished and Al Qawasmi opened the floor for questions, hands immediately went up.
Ethan Behling, chapter advisor for Hillel at Pace University-Pleasantville, asked the panelists about the offer of Gaza and the West Bank by Israel to Palestinian authorities several years ago, and the subsequent refusal of Palestine.
The panelists responded by arguing that said offer did not contemplate the return of refugees to their homes, and that, moreover, the separation of territories would be an unhealthy fracturing of Palestinian society.
At one point, Khader called the creation of a Jewish state a catastrophe for Palestinians.
Sarah Friedson was one of the most vocal members of the Pace Jewish community at the event. She said she was there to defend "the truth, [her] heritage, and Israel's right to exist."
Friedson denied the usefulness of BDS's efforts. The junior also questioned the validity of the pre-Israel Palestine map shown by the panelists, saying that there were different categories of land ownership, and that Palestinian Jews owned part of the land.
In response, Khader said that, even if the map is excluded, there was still plenty of evidence of Israel's annexation and of its continuous settlements in Palestinian lands.
An especially controversial issue during the Q-and-A was the discovery of weapons at a school in Gaza reported by the United Nations Relief and Works Agency for Palestine Refugees in the Near East (UNRWA) in July of last year. Some of the people present argued that this validated Israel's attacks on schools, while others denied altogether that such discoveries had taken place.
Jewish attendees brought up Hamas, a Palestinian Islamic organization operating in Gaza that claims Israel's destruction as one of its goals, as an example of the danger of recognizing Palestine as a state.
However, Al Qawasmi said that Hamas does not speak nor stand for Palestine. She also said that non-Palestinians do not have a say in how Palestine is run.
Additionally, Katen said that once Israel and Palestine reached a fair accord, fringe elements, like Hamas, would be taken care of.
Another criticism directed at Hamas was that it endangered Palestinians by advising them to stay in their homes during Israeli bombings. Kabasakalian replied that it was Israel who put Palestinians at risk in the first place by threatening to and then bombing civilian targets—a "categorically illegal [action] under all circumstances," Kabasakalian said.
A recurrent idea throughout the event was that people on both sides have become attached to scripts.
"People grow up with a story about their lives," said Katen, who has been a consultant to the United Nations Economic and Social Council. "But they have to be able to let go of these scripts, these preconceived notions, for there to be peace. I believe peace is possible."
For Katen, what is needed is stronger leadership and a dialogue that looks to the future instead of the past.
Behling said that Jewish students had gone to him after they saw the "Israeli Apartheid Week" was happening, and wanted to present an alternative.
"It was heated. I enjoyed the dialogue," Behling said. "[The panelists] left certain things out, but they were willing to listen."
Various attendants, among them Katen and Cornell Craig, Director of Multicultural Affairs and Diversity Programs, agreed that the event was a unique opportunity for dialogue, and said Pace could use more events like this about a variety of topics.