President Krislov and Pace Community Speak Out on Guns on Campus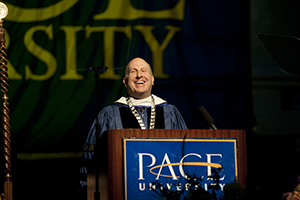 Kwadar Ray, Managing Editor
March 3, 2018|195 Views
The mass shooting that took 17 lives at Stoneman Douglas High School in Parkland, FL has the United States searching for solutions to prevent another school shooting.
Some, such as New York Assemblyman Tom Abinanti, have proposed stricter gun control laws and background checks.
"It is a problem that we need to deal with," Abinanti said at a press conference last week. "Guns are not toys and we need to stop treating them like toys. Guns are weapons of mass destruction."
However, others, including President Trump, have proposed arming faculty and staff of educational institutions to prevent further school shootings.
Pace University President Marvin Krislov disagrees with Trump, and stated guns have no place on a college campus.
"My feelings are that guns should not be on campuses," Krislov said. "Guns create opportunities for mischief. I'd be very skeptical of the idea of having teachers or students with guns. I think there are so many instances where people have made mistakes and thought guns were not loaded and it turned out it was. The only people who should have guns are the ones whose profession it is to have guns."
New York law prohibits the carrying of firearms on school and college campuses–including those owned by concealed carry weapons permit holders.
Lisa Bardill Moscaritolo, the dean of Pace's Pleasantville campus, supports the current law. Moscaritolo believes there is too much risk and not enough reward for allowing gun owners to carry on campus.
"[Executive Director of Safety] Vincent Beatty and I have talked about it in the past, and we both felt philosophically, that we both felt we wanted no guns on campus," she said. "There is a lot of things that happen on campus like stress, anxiety and other things students go through, and we worry that a gun will just make matters worse. We want our campus safe, but having guns isn't the way to go for us."
Moscraitolo says if students felt strongly about arming the campus, she would consider a change of heart.
However, rather than giving the green light to arming faculty and staff, she advised the Pace community to visit the university's website and watch the active shooting training video that instructs steps to take to find shelter in an active shooting scenario.
Jacinto Fombona Iribarren, a gun owner and Spanish professor at Pace, also believes there is a more feasible way to combat mass shootings than arming the campus.
"Instead of arming professors, we can invest a lot of money in mental health counseling," he said. "[Parkland shooter Nikolas Cruz] had lost his parents and was obviously depressed, but if he had support and the community behind him, then you could have had something different."
Survivors of the Parkland massacre have become voices in the gun control debate, bringing their pleas to the White House, Capitol Hill and news networks in the form of rallies. The student-led "March for Our Lives" rally will take place in Washington D.C. on Mar. 24.
Lindita Kulla, a Pace sophomore, organized a "Never Again" rally last week to stand in solidarity with the survivors and call for national gun reform.
Kulla believes any proposal to arm faculty, staff or students is a distraction from instituting gun control laws.
"It is a huge deflection," she said. "It is a pointless discussion and you can not even have pepper spray on campus, so what makes you think you can have a gun on campus and not create mass hysteria. Imagine everyone with a gun during finals week. That would be terrible."
Second amendment supporters such as Iraq war veteran and Pace student Christopher Nockett are also cautious about arming professors.
"The real problem with everyone carrying is everyone may not be trained," he said. "Even if you have undergone personal training, you still have not worked with the person on your left or right, so you do not know how you will interact with them if an emergency arises."
Michael Letizia, a Pace alumnus, agrees that untrained individuals should not be allowed to carry weapons on campus, but he is not opposed to trained professors carrying weapons.
"It definitely should not be a requirement for professors to carry, but if they voluntarily choose so and are well-trained, then I would fine with that," he said.
Ajay Dogra, a junior at Pace, considers arming students and professors a "disastrous" idea, but he would support arming security.
"Security is more trained and prepared than students and professors," Dogra said. "So, if there were anyone to carry a gun, security would be the best group to do it.
However, Joseph Ryan, the chair for the Department of Criminal Justice and Security at Pace University, believes that no individual on campus should carry a firearm.
"Guns begin violence and I think we need to find ways to deescalate violence," Ryan, a gun owner and former member of the NYPD, said. "The whole idea of education is open ideas and if I have a gun, then a student might be afraid to question me."
Ryan has been opposed to using guns in any setting his entire career in criminal justice. He does not want to see an armed campus, even if there are "good guys with a gun."
"An academic environment is not stimulated or enriched by adding guns," he said. "You can not create the moment of violence like an active shooting situation. And when the violence erupts, you are no longer a good shooter. I might try to shoot the bad guy, but I might end up shooting a student in the classroom. It is that moment of panic that is just way too dangerous for a classroom."
Ryan, however, does believe there are steps that can take place to better secure the campus.
One step the university can take, according to sophomore Jessika Pietryka, is to install locks on classroom doors.
"In case of emergency, someone can open the door and shoot fire on the entire Miller Hall," she said. "We should definitely install locks before we start arming everyone."
Rebecca Mendela, a junior, strongly opposes guns on campus, but believes security can "step it up" and follow protocols to prevent dangerous individuals from entering the campus.
"Security often does not check IDs up front in the entrance or check IDs on the bus," she said. "So, you do not really know who is coming in and out. That is something they can improve upon."
Several members of the Pace community are opposed to arming faculty and staff, which means there are slim chances guns will be allowed on campus in the near future. With no guns on campus, it is up to students to find safety, and security and local police to combat an active shooting situation.
A more in-depth look on the school's security and local police's strategy to prevent a mass shooting from occurring at Pace will be covered in the next edition of the Pace Chronicle.