Pace Athletics Receives $1 Million Gift in Honor of Peter X. Finnerty
Pace Athletics was gifted $1 million from B.J. Finnerty, the wife of the influential Peter X. Finnerty, to create more financial stability for the program and to honor her husband.
Peter X. Finnerty founded the Pace athletics department in 1947 and served as the athletic director from 1947-1988. His presence in the creation of the athletic department was instrumental in transforming club teams into varsity level opponents. His 40+ years of dedication to Pace were spent not only by forming the department, but also by coaching the baseball and men's basketball teams for more than 20 years. Due to these groundbreaking accomplishments, the university's baseball field was dedicated in his honor in 1989.
According to Athletics Director Mark Brown, Finnerty's legacy and his family will always remain influential to the Setter's community.
"He cut the grass, scheduled the games, he was dean for students, he worked for alumni relations, he did everything," said Brown. "We lost him in 2001, but his family has never really been far from Pace."
Finnerty's son, Brian, played baseball at Pace, and he graduated in 1972. He is in the Pace Athletics Hall of Fame, and serves on the Athletic Alumni Advisory Board. B.J. Finnerty recognized her family's historic relation to Pace, and the effort it takes to maintain the NCAA standards of fields and other facilities.
"The best way, in her mind, was to set up an endowment, which will be able to keep our facilities top-of-the-line," said Brown. "It's one thing having a great facility now, but every year there are things that we need to do, like to replace fencing and snow removal. Most of the money will go into an endowment that ensure maintenance of that field in a first class manner."
The rest of the gift will go towards furthering scholarship opportunities for athletes struggling financially. The Finnerty family does not want Pace athletes to quit doing what they love just because they cannot afford to keep playing.
"Peter X. Finnerty was a big proponent of trying to create opportunities for students who might not have been able to come to pace otherwise," said Brown. "I am so thankful, and so appreciative of the Finnerty family."
This gift is appreciated by the entirety of Pace athletics, and is seen as a way to honor not only the Finnerty legacy, but also the Opportunitas mission statement on campus.
About the Contributor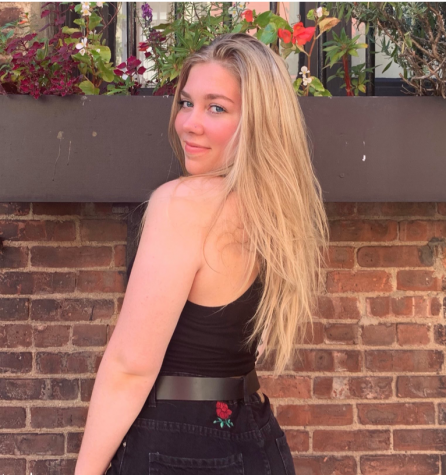 Sequoia Cumming, Editor In Chief
Sequoia Cumming is an honors-level senior majoring in Digital Journalism and minoring in Sports Media and Broadcasting. While starting as a contributing...