English Department to Introduce 'Writing and Rhetoric' Major by 2020
The English and Communications major that many people study at Pleasantville is getting a whole new look. If approved by the appropriate parties, by fall 2020 the major will change from English and Communications to Writing and Rhetoric and will focus more on writing and less on literature. 
The English and Communications major focuses heavily on literature, which some people in the Department of English and Modern Studies thought should be switched to writing because the separate English major also focuses heavily on literature. Writing and Rhetoric will, of course, include literature, but will put more of an emphasis on writing; creative writing, professional writing, and composition studies. 
Dr. Laurie McMillan, who chairs a position in the Department of English and Modern Languages, says that the revised major responds to 21st-century career opportunities associated with writing, research, critical thinking, digital communication, and versatility.
"We hope this revised major will appeal to students who are also interested in other fields like science, psychology, and business–it can really help students stand out when they have a unique combination of interests and experiences," McMillan said. "With such a wide appeal, we hope to double the number of majors we currently have."
The revision of this major took a collaborative effort within the whole department. New courses for this major were designed by Dr. Robert Mundy and Dr. Travis Webster. One of the main reasons for this revision was to hopefully reach students who are interested in writing, as either a primary or secondary major. Students who enjoy creative writing can also gain the skills of professional writing and have an in-depth understanding of writing to become well-rounded in the field. 
"Both of our majors include an internship requirement so students have opportunities to explore future careers," McMillan said. "At the same time, we believe students should be engaged in their coursework and excited about what they are learning. This connection between classroom learning and practical application is important in both our majors."
Writing and Rhetoric will not be available on the New York campus. They have a related major called English Language and Literature. The department is hoping to get the word out so students can learn about this new opportunity. They are sharing information with admissions, advisors, as well as on their social media and blog accounts.
"A lot of parents worry that students studying literature or writing will not have solid careers with good salaries, but that's a myth," McMillan said. "Studies show that students majoring in the humanities do quite well. Career paths are extremely open for English majors or Writing & Rhetoric majors, so we make sure we provide guidance through ongoing advising, campus opportunities to gain practical experiences, and internships that help students test out possible career paths."
About the Contributor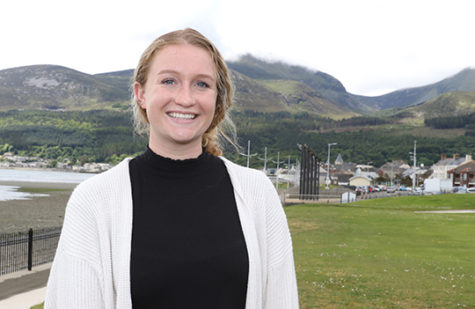 Alexis Nieman, Media Editor
Alexis is a junior Communications major and Public Relations minor. At Pace I am the News Editor for the Chronicle and a member of Entrance One PR club....