Unveiling Ceremony for New Solar Tree
The brand-new solar tree, which is "planted" right outside of Kessel, has been completely installed and is ready for student use. The 15-foot, 2,755-pound tree boasts seven solar panels attached to the branches, an LCD screen for interactive use, Wi-Fi, a panic button, USB ports, and nighttime illumination.
The tree's official unveiling ceremony took place this past Friday. Those who were in attendance included Pace University President Marvin Krislov, Pace faculty, staff and students; Jane Solnick, Director of Westchester Regional and Community Affairs, and members of the Consolidated Edison Company.
The solar tree was funded by the Consolidated Edison Company of New York, one of the largest energy companies in the nation, in support of renewable energy. Unlike real trees that produce photosynthesis, the solar tree gets all of its energy from the solar panels and is completely self-sustainable. Pace students who attended the ceremony are excited about the future of this tree. 
"This is something students saw that we needed on this campus, and we wanted to allow this opportunity for students to be able to have a more green approach on this campus and be able to help our environment in any way possible," Pace student Grainne McGinley told News12 Westchester. "A lot of residents live here in these dorms, and this is a reminder for them to really think about conserving their energy in their dorm room."
The main purpose of installing this solar tree was to serve as a central, outdoor spot for students to connect while representing Pace's dedication to the arts, sciences, and environmental stewardship. The tree, which provides a shaded area, also has benches that can fit up to six people. 
The idea for the solar tree was proposed back in March 2017 by two students in Pace's Environmental Policy graduate program. Environmental Studies Associate Clinical Professor Michelle Land, JD, served as the students' faculty mentor on the project. Pace began talks about how to proceed with the new tree in October of 2017, but the project plateaued for a while, until January of 2019 when the project started to gain traction once more.
"This originated with the students, a group of students; they worked together, they came up with the idea, they came up with the design, and now it's coming to life," Martin Krislov told News12 Westchester. 
Although the cold weather is already upon us when it's nice outside students can enjoy an outdoor space to sit, connect, and charge their devices.  
"The beginning of this semester, I actually saw them kind of build it up and put it in, and I think what's special about this tree, is that it's in the middle of campus,"  Pace student Kelly Lang told News12.
About the Contributor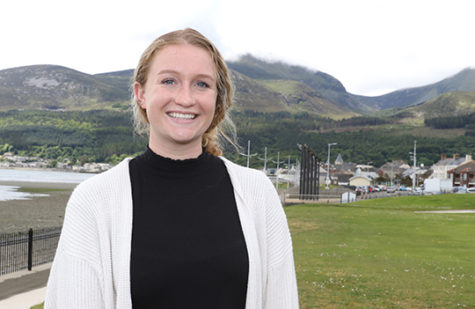 Alexis Nieman, Media Editor
Alexis is a junior Communications major and Public Relations minor. At Pace I am the News Editor for the Chronicle and a member of Entrance One PR club....