Entrance One becomes the newest student-run Public Relations organization
Entrance One public relations agency is one of the newest student organizations on campus. They are a student-run public relations agency, whose goal is to help students gain real-world public relations experience before they graduate college. 
Entrance One started as an idea last spring in Professor Jennifer Magas' PR Campaigns class. The students in that class felt that many clubs on campus could benefit from having a PR agency help them promote themselves and plan events. The agency is also a way for students of any major who have interests in social media, writing, video production, advertising or PR to build their resumes. 
The first goal for Victoria Rooney when she became the President of Entrance One in October, was to get the club officially recognized by Student Development & Campus Activities (SDCA) in order to get a budget for this semester. Rooney completed her goal, and the club was officially recognized in December. Rooney and Entrance One continued to prove themselves last semester as a well-oiled PR machine. 
"Entrance One helped promote, plan, and do social media for almost every MCVA event," Rooney said. "Our big event was planning the 'Connections in Communications' event, where we bring alumni back and give students the opportunity to network and talk to people who were once in their shoes. We were able to promote, plan, and run the event. The result was 140 attendees and over 35 alumni. We were so happy that many students walked away with internships."
This semester, Entrance One is hoping to get the word about their agency out on campus, in hopes that more students will want to become involved. They also want to be able to help other student clubs and prove themselves as a reputable PR agency. One way that they got to promote themselves was by having a table at the student involvement fair, which was a big goal that they met this semester. In addition, Entrance One hopes to be able to work with the Pleasantville community in the long-run and establish ties and relationships within the town. 
Entrance One is planning to help promote and plan many upcoming events in the MCVA department this semester. The biggest one being the MCVA Showcase, an annual event where students show off the work they have done that school year, and can win awards. Other events Entrance One is working on for this semester are "Career Services on the Block," "Faculty Art Show," "MCVA Jamboree," and "Mission Market Yourself."
Rooney is optimistic about the talent of Entrance One and is looking forward to this semester. 
"We can do it all," Rooney said. "We have a monthly newsletter for the MCVA Department, called "The Pitch," in which our members who have an interest in writing summarize events, speakers, internship opportunities, etc. We can write a story in "The Pitch" for other organizations and clubs, provide social media services, make flyers and other materials and publicize and plan events." 
If you are interested in joining or learning more about Entrance One, contact Victoria Rooney at [email protected]. 
About the Contributor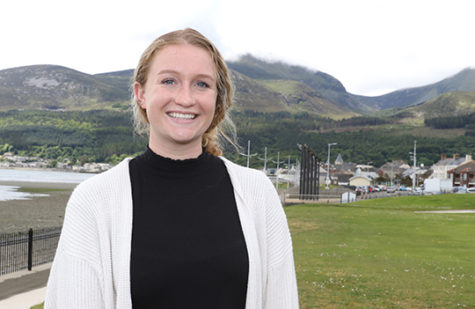 Alexis Nieman, Media Editor
Alexis is a junior Communications major and Public Relations minor. At Pace I am the News Editor for the Chronicle and a member of Entrance One PR club....