The mess of communal living facilities at Pace
There have been recent sightings of lackluster conditions in the residence hall communal facilities. The weekend of February 1, 2020, Martin bathrooms ran low on paper products and trash cans overflowed. An incident was reported last semester by senior, Paige Touse, in which someone vomited and it was not cleaned up for at least a day. Roughly a week later, one of the showers broke so that hot water was perpetually dripping from the shower head. A trash can had to be used to prop the door open to vent the steam.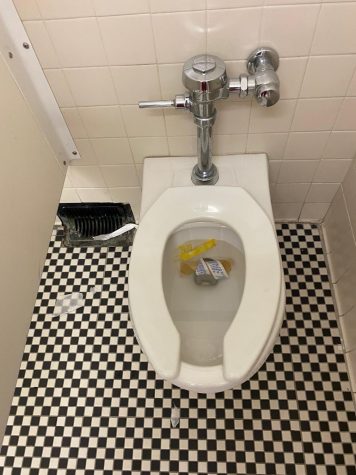 Throughout her time residing in Martin this and last semester, Constance Labat, a sophomore english major, has seen food in the sinks, pee in the toilets, and hair in the drains.
"I see the janitors clean up every single morning," Labat said, "but by like three o'clock the students have completely dirtied it."
Ryan Sultan, a junior accounting major and two year resident of North Hall, has noted similar occurrences in the bathrooms in his building.
"It's mainly in the guy's bathroom," Sultan said. "The gender neutral is usually fine, but the guys room is normally disgusting. And the cleaning staff make it as clean as they can every morning and it ends up the same way every day. The weekends are even worse."
The unsanitary conditions go beyond just the bathrooms. Senior criminal justice major Mackenzie Morgan has seen stove tops in Alumni's communal kitchens covered in grease, which she says is more than just gross; it's a fire hazard.
Sultan attributes the frequent messes found throughout Pace's communal facilities to an "it doesn't bother me so how would it bother anyone else," attitude on behalf of students.
"Simply put, most people don't care," he said. "It could also be that they just assume since it's cleaned every day and messes just always disappear, there isn't any downside to leaving it like that. That's what it seems like at least."
Labat believes that it is mostly the responsibility of the students to be responsible for maintaining the communal living spaces.
"I'd say like 75 percent should be students being responsible for their own mess, and the other 25 percent should be Pace helping us kids keep the space clean, healthy, and safe," Labat said. "Our RAs have put fliers on the stalls and walls and talked about it during meetings. Honestly, the only other thing I can think to do is to have the bathrooms cleaned twice a day, because there are so many people living in one building."
According to Alerie Tirsch, the Assistant Dean for Students and Director of the Office of Residential Life and Housing, and Aisha Moyla, Assistant Vice President for Facilities and Capital Projects, Pace's communal bathroom facilities are cleaned and stocked by employees of Collins Building Services, Inc. (CBS). There are two CBS employees working eight hours a day each (for a total of sixteen hours of coverage) Monday through Friday. On Saturdays and Sundays, employees work from 7:30 a.m.-4:00 p.m. Those that work on the weekends are responsible for restocking paper products, removing trash, and cleaning messes in multiple student housing buildings.
"CBS is responsible for cleaning and maintaining the campus grounds," Tirsch said. "However, we ask that students also ensure they are cleaning up after themselves. This includes, however is not limited to, cleaning up kitchen messes, not overfilling garbage bins, and reaching out to facilities if something needs to be addressed."
She encourages students to contact Pace's Facilities Department at facilitiesrequest.pace.edu or at (914) 923-2725 from 9:00 a.m.-5:00 p.m. Mondays through Fridays. If facilities is unavailable to address a request, or if there is a situation that requires immediate attention, she encourages them to contact Security at: (914) 422-4300.
Tirsch and Moyla say that they will be evaluating staff schedules to ensure that communal facilities are well maintained, and they ask that students do their own part to minimize the work that maintenance employees have to carry out.