Pace implements 'Mindfulness Month' events throughout February
The entire month of February has been dubbed Mindfulness Month at Pace and is full of events and activities that promote self-health and wellness. Many groups and organizations on both Pace Pleasantville and Pace NYC have gotten in on the theme by hosting events.
Mindfulness Month was mentioned in the weekly university newsletter "The Pulse," as a way to use "mindful techniques" during the spring semester. Events at the Pleasantville campus go on throughout the month. They include: a volleyball tournament put on by the Future Educators Association, Smashing Prejudice by Phi Lambda Phi, Finer Strokez put on by Zeta Phi Beta and Wellness Wednesday put on Zeta Phi Beta.
The first event of the month, the volleyball tournament, took place on February 19, and Finer Strokez took place the next day. One of the last events of the month is Protect Your Balls Dodgeball, an annual dodgeball event put on by Colleges Against Cancer. The event is a fundraiser for Relay For Life, who fundraises for the American Cancer Society. Teams of six can register to play for two dollars each and winning teams get a $25 Visa gift card for each member. 
"We started this event in 2017 and it's definitely grown," Colleges Against Cancer president Kristin McInerney said. "It started out with us basically wanting to put on another event to raise money for Relay, and we thought of doing something athletic to get a lot of people involved. We call it "Protect Your Balls" to try and raise awareness for testicular cancer (testicular cancer awareness month is technically in April but we have a bunch of other stuff going on then so we do it earlier in the semester) and basically just have a fun time while raising money for Relay and cancer awareness."
Pace NYC has events such as Sip'N'Paint, Let's Talk About It: Mental Health, Therapy Dogs and V-A-R Training. 
Students can practice mental health and wellness by using the year-round Relaxation Room, which is located in the lobby of Elm Hall. After a brief training session, students are allowed to use the room for thirty minutes at a time. 
"I think Mindfulness Month is a good idea, especially on a college campus," McInerney said. "It is definitely good to have events like these so students have time to relax and think about or do something other than schoolwork. I do think it should have more promotion. I definitely think more clubs and students would be more involved in it if it did."
About the Contributor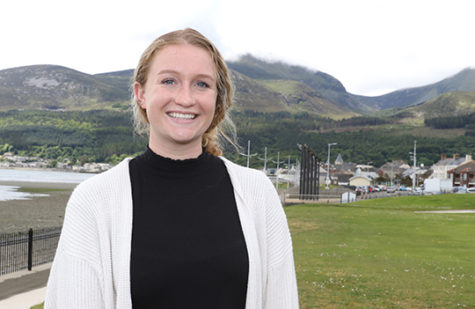 Alexis Nieman, Media Editor
Alexis is a junior Communications major and Public Relations minor. At Pace I am the News Editor for the Chronicle and a member of Entrance One PR club....