Pace students tell their stories regarding the coronavirus
From study abroad cancellations to a student fleeing campus, this is how the corona virus impacted Pace.
Governor Andrew Cuomo declared a state of emergency on Saturday after the number of coronavirus cases reached 76 in New York. In the case of a campus wide shut down, Pace's most recent precaution is a new online platform for students, faulty and staff to go to complete courses remotely.
Pace University is closely monitoring the evolving public health situation with Coronavirus (COVID-19). Learn more about Pace's updates to travel policies, academic and business continuity, and preventative information at https://t.co/z1y8Ypeoie. pic.twitter.com/PerymKrjLM

— Pace University (@PaceUniversity) March 4, 2020
One of the first precautionary measures the university took was suspending study abroad trips to China and South Korea.
On Friday, the MCVA Producing a Documentary course announced that they will no longer be traveling to France on spring break to film their documentary on beekeeping.
Due to the outbreak of the corona virus here and abroad, our university has cancelled our trip to France. We will continue to focus our documentary on Beekeeping, both commercial and local on the EAST COAST. We are now reaching out to you. Who do you know? And please, stay safe.

— PaceDocs (@PaceDocs) March 5, 2020
This course, that takes place each spring, is a semester long project dedicated to the creation of a documentary on a new and important topic, often with an environmental focus. They travel as a class to the production site over spring break, staying on location for five days to a week. Most recently, the class traveled to Hawaii and Puerto Rico.
Junior Allison Phillips is upset that they not going to France, but is confident in her team. Phillips is a first time member of the documentary class and runs their Instagram page.
"I honestly feel like I'm now missing a lot of experiences with filming in another country that I could've had," Phillips admitted. "… [but] even though we aren't going, we have an amazing doc team that is tackling this obstacle and pushing on to make a great documentary."
Another student is taking a precautionary measure against the virus by fleeing campus. Senior Shannon Mueller left her dorm room on Saturday to head back to D.C. after someone tested positive for the corona virus in the building she works in.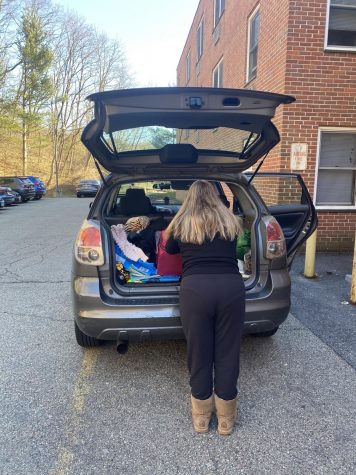 Mueller is an intern at a nonprofit organization located less than five miles from Pace Pleasantville. She is in the office three days a week and was notified on Friday that someone two floors above her has the virus. According to Mueller, approximately 26 people were notified that they were most likely in contact with the unidentified employee and were sent home.
Everyone on the floor she works on was told to report to the office as usual, but Mueller made the decision on Friday evening to pack up a week before spring break. She spoke with her R.A. after her shift on Friday and notified the university of her situation.
"I think it is the best decision to leave because I am on campus with a bunch of college students and I room with two other people," Mueller said. "I am taking the necessary precautions in case I do end up getting it, I am no where near campus."
Yet another student is worried about corona virus exposure. Senior Marisa Moudatsos student teaches Monday through Friday at a school district in close proximity to a synagogue where the virus was reported.
A man who is linked to Young Israel of New Rochelle synagogue tested positive for the corona virus early last week. The synagogue closed and the man has since been hospitalized. According to Moudatsos, students that go to the school she teaches at also worship at Young Israel of New Rochelle and could have been exposed.
"Schools need to take this more seriously even if no one is confirmed with virus in the school they should still close to extensively clean because thinking of the children's and staffs health and taking these precautionary measures are more important than extending the school year by a day or two if need be." Moudatsos said.
This education major is taking her own precautions by washing her hands twice every hour and disinfecting everything from her steering wheel to her cell phone more often than usual.
In the latest email issued by Pace Provost on Friday, March 6, Quiñones outlined new travel policies for foreign and domestic travel and new precautions Pace has put in place.
"We have plans in place for academic and business continuity should there be a serious and widespread outbreak in our area," Provost and Executive Vice President for Academic Affairs, Vanya Quiñones stated in Friday's email.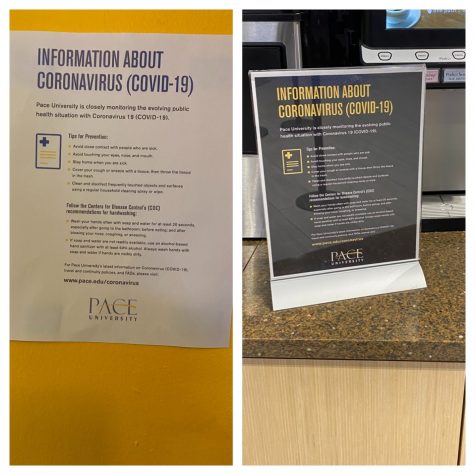 Pace launched a new website that can be used as a resource and has been posting information regarding the virus around campus.
New York universities, such as Columbia and Hofstra,  are already in the process of closing and transitioning to online classes. Columbia is suspending classes Monday and Tuesday and Hofstra is canceling in person classes all week. It is up to the discretion of Pace professors if they want to hold classes online this week.
Disclosure: Shannon Mueller, who was interviewed for this article on Saturday before her departure, is the reporter's roommate.
About the Photographer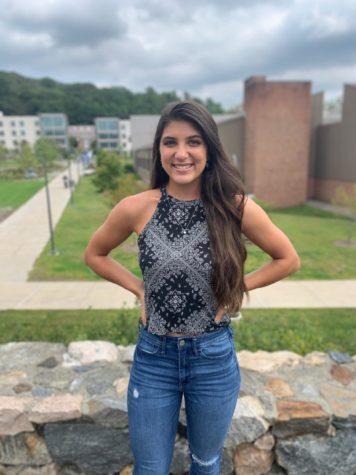 Christina Bubba, Editor-in-Chief
I am a senior Digital Journalism major with a minor in Public Relations. On campus, I am Editor-in-Chief of the Pace Chronicle, captain of the Cheerleading...