Pace faculty residents remain on campus
Pace Professors Jane Collins and Michael Finewood share their experiences living at Pace during the COVID-19 outbreak
While most of Pace's students have vacated their dorms, Pace's two resident faculty members, Jane Collins and Michael Finewood, remain in their respective apartments on campus. While their living situations have not changed, both professors had to make changes to their daily routines and class structures in response to the COVID-19 outbreak.
Finewood, who works in Pace's Environmental Studies and Science department, lives in the faculty apartment in Elm with his wife, baby and dogs. Since he and his wife are no longer able to take their child to daycare and are both working from home, they had to create new schedules. While one works, the other watches the baby and then they change shifts.
Collins, who works in Pace's English department and lives in the Alumni Hall faculty apartment, had to give up her usual trips to Pace's gym to do laps in the pool. Now her exercise routine consists of walking around Pace's campus and taking trips up to the nature center. Prior to the shutdown, Collins was planning an expressive writing workshop to teach students how to use creative writing as a coping mechanism. Now those workshops will take place through Zoom at 3:00 p.m. on Fridays, starting April 3. She encourages students who are interested to contact her at [email protected] for more information.
Finewood says that since the campus is home for his family, they do not feel as though they are trapped without everything they need. However, he acknowledges that the campus does have an unusual feel to it now.
"There's a lot less people," he said. "There's sort of a weird vibe here right now, and I don't think it's just at Pace, I think it's all over, you know? When is it appropriate to make sure you're social distancing? You're looking at other people and thinking, 'Oh, I don't want to get sick. Is that person sick?' I think that is happening here a bit, although there's really not that many people. Sometimes I can go the whole day, and the only other people I see are my wife and the baby."
Finewood conveyed the idea that COVID-19 has managed to give life a sense of both monotony and unease.
"We're all just sort of up and down… Some days it seems like I'm giving my wife a pep talk," Finewood said. "This morning she gave me a pep talk. She went grocery shopping today, and that created some anxiety for us, but she seemed to handle it better than me. We're trying to go for walks, break up our days just to kind of make them different. A lot of our family and friends are not from New York, so they're worried about us being in this hotbed. I talked to my mom this morning, and she's all worried about us. You know how moms are."
Collins moved to campus this past July, so this is not the first time she has been at Pace while it is mostly empty. However, she does mark a distinction between summertime empty and quarantine empty.
"At least over the summer there would be some people around, a few Pace employees," Collins said. "Now no one is here. There are no cars in the parking lot. Security is still around to chat, but that's about it."
Collins expressed concerned for some friends of hers who are nurses and fighting on the front lines of this issue. She says that while she anticipated the campus shutdown and believes that Pace did the right thing to ensure the safety of its students and staff, the presence of COVID-19 is still a difficult reality to accept.
"It's hard to imagine, because we've never experienced this before," Collins said. "I still wake up and I have to say to myself, 'Okay, we're still in a global pandemic'."
Collins has been using Zoom calls to keep in touch with her friends through this time of isolation. So far, she had a call where she and a friend sat and knitted together and she and a group of her peers had virtual "happy hours" where they sit at their computers at a designated time with a drink of their choice to chat for a while.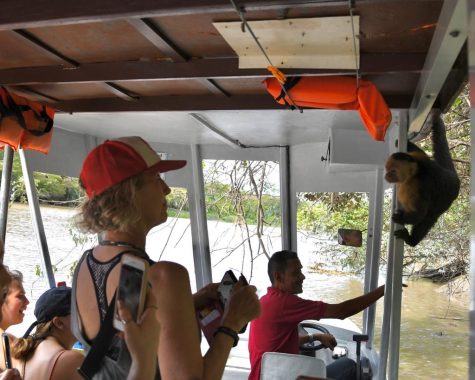 On Sunday, March 29, she will host a "reunion call" with students who took her faculty-led trip to Costa Rica, along with the trip's tour guide and bus driver. When she was asked to send in photos depicting her experiences with social distancing, Collins sent in photos from the Costa Rica trip instead in order to emphasize the importance of holding on to connections despite being forced to remain physically distant, unity, and positivity.
"Those photos seemed more hopeful," she said. "And even though there are not many people on campus with me, maybe we can focus on the ways that we still maintain our Pace connections and our Pace community."
In addition to adjusting their daily lives, Finewood and Collins had to adjust their class structures. Finewood has been delegating with his students to see if it is better for them to meet synchronously, or at the same time via video calls, or if they should do their work asynchronously, or independently, and submit it by a given deadline. While he is leaning towards having synchronous meetings with some asynchronous work mixed in, nothing is set in stone yet.
"When you design an online class, it takes some time," Finewood said. "When you flip your on the ground classes to online, it's not seamless, especially with the amount of stress people are feeling. I'm trying to make things easier as much as possible and still have a class. I've adjusted assignments, reduced some expectations, I'm going to try to shorten the amount of time we meet synchronously and really just feel it out."
Collins teaches several classes in which face-to-face, hands-on experience is an integral part of the curriculum. She runs the Dyson Scholars in Residence program, which includes a service-oriented learning experience in collaboration with the Successful Learning Center (SLC), a local organization for disabled adult learners.
Through this program, Pace students serve as creative mentors to the SLC students, helping them craft visual narratives like puppet shows, cartoons and short films. To keep this program going, even though face-to-face interaction, is no longer an option so the class coordinated a Zoom call. Pace and SLC students were paired off into groups and found a way to create four-minute videos together, all from their own houses.
"This sort of class isn't about the subject, it's about the relationship," Collins said. "My students understood this and wanted a chance to hang out with their SLC friends again. The SLC staff said they couldn't believe what they managed to accomplish."
Collins teaches another course in which students attend screenings at the Jacob Burns Film Center and then discuss the films through an online forum. Since Jacob Burns is not open at this time, her students have been selecting films to stream through Netflix to use instead.
"Students are really creative, willing to take chances and try things, to figure out how to have these intellectual and cultural experiences from home," Collins said. "The video calls can be pretty funny. Dogs will show up, parents will talk in the background. One student had to run to their door and shout 'Mom, I'm having class!' It creates a greater sense of community. We're learning a lot and supporting each other. I've given students a chance to discuss how they're effected by all this. These classes are a good way to end isolation for all of us."
Despite the bumps in the road, Finewood believes that Pace has done the best it could to make this adjustment as smooth as possible.
"I'm curious to see how things will be when this is all done," he said. "There have been lots of changes. We'll see if any of these changes will be permanent, or if they're not permanent, we'll see if they lead to other changes. I just hope everyone stays healthy. We will get through this."
Collins expressed optimism for the Pace community and, like Finewood, gave her best wishes to its members during this difficult time.
"We're a strong community," she said, "We just have to try our best with this new normal and keep our fingers crossed that we can come back as soon as possible. I can't wait to look out my window in the fall and see cars pulling up. I'm really looking forward to getting my neighbors back."