Dyson Scholars in Residence Program continues work with Successful Learning Center despite going virtual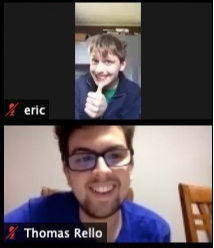 Before Pace went virtual, the Dyson Scholars in Residence Program ran a service initiative with students from the Successful Learning Center (SLC), an organization operating in Westchester, Rockland, and Orange counties that offers adult learners with disabilities a chance at a college experience that they might not otherwise get. The Dyson Scholar Residence Program is a year-long learning community in which participants live in the same residence hall and take part in a three credit seminar per semester.
Since Pace made the switch to online learning back in March, the SLC and the Pace students involved in this program got creative in order to continue their work together and preserve the community they had developed before the COVID-19 shutdown.
The SLC started at Dominican College in 2008 and came to Pace in 2011. They also have locations set up at Fordham, Mount St. Mary's. Westchester Community College and two community centers. Their goal, according to SLC Director of Administrative Affairs Melinda Placanica, is to offer "alternate learners" the college experience with classes and curriculum modeled off of the traditional liberal arts diploma. This semester, they are running 16 different courses at their Westchester County locations and 25 classes total, including but not limited to music and culture, creative writing, African cultures, current events and values in literature. The focus of the class running at Pace is visual media.   
Back when students were still on campus, a typical class with the Dyson Scholars and the SLC began with what junior English and Communications major Anna Giacalone referred to as "theater games" and other ice breakers to get everyone moving and having fun. From there, they go into their main activity for the evening, making puppets, flipbooks, comics and videos.
"[The SLC students] always brought such great positive energy to the room," Giacalone said. "You might have had a really rough day, but it was hard not to have a good time because they were just so happy and excited to be there."
According to Placancia, the SLC's concerns about COVID-19 impacting their work started as far back as January when the virus first made the news.
"I had traveled abroad and had just come back and was hearing about this terrible thing that was going around in China," Placanica said. "When we started, we were kind of making a lot of plans with, you know, what do we do if we have to send some students their assignments if they don't feel good. It was part of the discussion at the Successful Learning Center, like, 'What would happen if…?'"
Concerns increased in February as the virus became more prevalent. By March, the SLC saw schools in the area closing their campuses, and the thought that they too might have to go virtual became all the more real.
"Here, what we mainly do is we try not to worry. We try to plan," Placanica said. "Any time we see our staff or our teachers start to worry, we try to take a step back and say, 'Well what would we do if we had to plan for this?'
They found out that Fordham was closing for two days on March 8 and on March 9, they were already discussing options for a longer closure.
"During that meeting, the campuses already began closing one after the other in each county," Placanica said. "The Successful Learning Center decided together as a whole that no matter what the scenario was, we would find a platform to keep the students engaged and that we would finish the semester no matter what happened."
The SLC would be taking their spring break the following week, so the staff converted the next few days' worth of lessons into worksheets. They then contacted the Pace participants and started brainstorming and evaluating potential methods of virtual communication. They decided that the paid version of Zoom would suit their needs that best.
The switch to a virtual platform came as a surprise to the Pace students involved in this program. According to sophomore DCF major Emily Alfieri, the Dyson Scholars class did not even know that the SLC discontinued in person learning until they showed up for class on March 9, the day before Pace announced its online switch- to find that the SLC students were not coming.
"I was initially in denial to the shutdown," Alfieri said. "We woke up on that Monday thinking we'd have class as normal but went to class that night with no SLC students. I was in the school of thought that we'd be back after spring break, but when it was announced that we wouldn't be returning this semester, I was crushed…I really believed that there was no way the class COULD continue, that we'd just turn in our final paper and that'd be it, and I didn't want that at all."
Giacalone, like Alfieri, was unsure whether or not this class, which seemed dependent on hands on projects, could survive through a virtual platform.
"I'm gonna be honest, I didn't think there was a way to make it work," Giacalone said. "None of us had ever heard of or used Zoom, we had no idea what SLC wanted us to do with the curriculum. I honestly though, when I heard what was happening, that this was going to be a mess for the rest of the semester."
Despite these initial concerns, Placanica, Giacalone, and Alfieri now agree that, given all that this class has managed to accomplish over the course of the past month, it is still effective.
"It's much more effective than we even could have hoped for," Placanica said. "It was a bit of an adjustment to teach the students that we weren't going to meet on campus anymore this semester and to teach them how to actually manipulate the technology. Some of them don't have good motor skills. Some don't have the same cognitive ability. We had to teach them to come into a class muted, and if they want to speak, they have to hit the space bar, how not to speak over each other . . . after the third or fourth day, it was as if they had never done anything else. They were much more at ease, and they were beyond happy to see each other every day."
The class had to make some changes to the activities they do and the way that the execute them. They still begin each session by joking, socializing, and catching up from one another. Sometimes the students families will pop in and say hi. Then, Dr. Jane Collins, the Pace faculty member running the Dyson Scholars in Residence Program, uses a function on Zoom to break the class up into mini video chat rooms consisting of both Pace and SLC students so they can work on their project of the week.
Since physical interaction is no longer an option, their latest works have been more technology-based, such as animations and music videos. SLC students offer creative ideas, and the Pace students edit the project together to show at the next week's meeting. After the groups finish working for the night, they reconvene to discuss what they worked on. From there, the SLC students log out of the call, and the Pace students start planning for the next week.
"There are some downsides to this format," Alfieri admits. "I, for one, find it harder to interact on Zoom… However, we generally still have some great conversations and interactions and you can tell by the smiles on their faces that the students are having fun and appreciate what we do… When the students see themselves on the screen in the finished video and their classmates are all cheering them on, there's no comparable feeling."
Giacalone finds the most important element of this class to be the sense of community it creates and thinks that running the class online has kept the community alive despite physical distancing.
"The whole point of this experience is not necessarily about how well the SLC students are able to come up with video ideas or make puppets. It's measured by how good of a time they're having and how they're able to connect with others and socialize with others," Giacalone said. "We can still talk to them and joke around with them even though it's over Zoom . . . the class is different in terms of what we're hoping to achieve, but I feel the connection hasn't suffered at all."
Alfieri agrees that the connections that this class developed are vital, especially in the present climate of uncertainty and isolation.
"It's important that this class continues because now, more than ever, we need people," Alfieri said. "The whole point of this class is to create interactions and friendships and make the SLC students feel valued and included regardless of their disability. Now we're all trapped in our homes, we've all been taken away from our friends. It can be very easy to feel lonely, so it's nice to have a time where we can all log onto Zoom, see each other, share some stories, talk about what we've been up to and create some great content."
Placanica is extremely grateful to all the Pace students and SLC staff members who have made it possible to continue to do this work. She expressed optimism and determination about keeping the program alive for the remainder of the semester.
"We have until May 15, and we are finishing," Placanica said. "That is our goal, and we will not miss it. And we're getting ready to register for summer. As long as everyone is healthy and safe, our students will continue to learn and the Pace students will continue to work, and really, I couldn't ask for anything more."